Published:
October 23, 2023
---
Do You Have an Upcoming Humanitarian Outreach Trip Planned?
Apply before the November 15 deadline.
---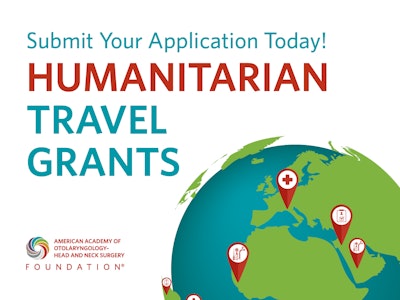 Apply for the AAO-HNSF Humanitarian Travel Grant. It provides residents who are Academy members an opportunity to contribute professional service to people in countries with limited resources. Humanitarian work can be a refreshing change from the frustrations of clinical practice and can be intensely rewarding. November 15 is the deadline for grant applications for outreach trips taking place January 1 – June 30, 2024.
Find out more and how you can apply by the November 15 deadline.
Want to read about recent Humanitarian Outreach Efforts? Following are a few of the most recently published reports in the Bulletin, but search "Humanitarian Travel Grant" for more!  
One Drop Less, University of Cape Coast School of Medicine, Ghana
AAO-HNSF Humanitarian Travel Grant Report: Kampala, Uganda
AAO-HNSF Humanitarian Travel Grant Report: Vietnam National Cancer Hospital
AAO-HNSF Humanitarian Travel Grant Report: Los Alcarrizos, Dominican Republic
AAO-HNSF Humanitarian Travel Grant Report: Blantyre, Malawi Madgy Malawi Foundation 2022
AAO-HNSF Humanitarian Travel Grant Report: Malindi, Kenya
AAO-HNSF Humanitarian Travel Grant Report: Migori, Kenya
AAO-HNSF Humanitarian Travel Grant Report: Kigali, Rwanda
AAO-HNSF Humanitarian Travel Grant Report: Eldoret, Kenya