---
AAO-HNSF Humanitarian Travel Grant Report: Kigali, Rwanda
We worked at the Kibagabaga Hospital beginning with an intense screening process of patients from all over Rwanda, some of whom had traveled as far as four hours by bus to be evaluated for surgery.
---
Meredith A. Lilly, MD, Emory University Department of Otolaryngology
---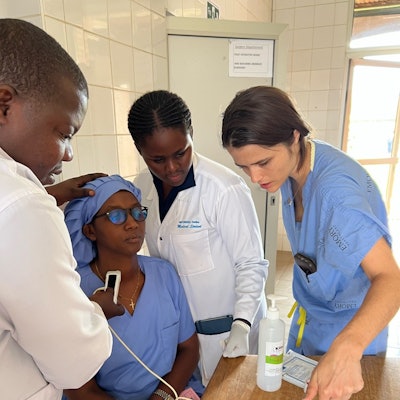 In October 2022, a group of otolaryngologist-head and neck surgeons, including myself, and nurses from all over the United States traveled to Kigali, Rwanda, to work with Rwandan physicians, residents, and medical students to deliver ENT care. The group was led by Jagdish Dhingra, MBBS, FRCS, of Tufts University and Merry E. Sebelik, MD, of Emory University.
The week began at Kibagabaga Hospital with an intense screening process of patients from all over Rwanda, some of whom had traveled as far as four hours by bus to be evaluated for surgery. A total of 34 patients were screened, and 22 patients ultimately underwent surgery. Twenty-one patients underwent thyroidectomy for goiter and one patient underwent excision of a large deep neck space lipoma. We had the distinct honor to work with Ernest Munyemana, MD, the hospital's Medical Director, and Etienne Ndamyiyumva, MD, the sole ENT physician who works at Kibagabaga. Without their dedication and assistance throughout the week, the mission would not have been a success. Additionally, Dr. Etienne's presence at Kibagabaga ensured that patients will undergo long-term follow up.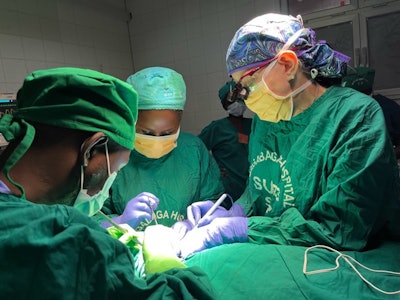 The week progressed with long days of surgery running two simultaneous operating theaters. Each morning, the surgical team rounded on the previous day's patients with medical students from the University of Rwanda. After rounds, small didactics sessions were held that focused on postoperative care of head and neck surgery patients as well as the anatomy and physiology of the thyroid. On the last day, we were able to hold a small ultrasound workshop that touched on the principles of identifying the thyroid gland and transcervical evaluation of vocal cord motion.
The week culminated in a Head & Neck Challenging Surgery Conference hosted by the Otolaryngology-Head and Neck Surgery Department at King Faisal Specialist Hospital and Research Center. The agenda included lectures from Emory faculty on locoregional reconstruction of head and neck cancer patients. At the close of the conference, challenging local cases were presented, and these patients were examined by the Rwandan and American medical teams. Using point-of-care ultrasound, which connects to a smart phone, the teams were able to locate a parathyroid adenoma in a severely symptomatic patient that was previously unable to be localized.
This trip would not have been possible without Medical Missions for Children (MMFC), a non-profit organization that dispatches medical teams to low resource communities around the globe to deliver surgical and dental care. MMFC sends teams all over the world from Central and South America to Africa and Southeast Asia. We were thrilled to join in the first trip to Rwanda since the COVID-19 pandemic.
My part in the trip was made possible by the AAO-HNSF Humanitarian Travel Grant. This mission provided me with clinical knowledge and surgical skills that I will carry with me for the rest of my career as an aspiring endocrine head and neck surgeon. I am grateful to have been a part of the work we were able to accomplish and plan to participate in international humanitarian work for the rest of my career.