Published:
April 17, 2023
---
AAO-HNSF Humanitarian Travel Grant Report: Malindi, Kenya
Brentley Lindsey, MD, shares his experiences of treating patients in Malindi, Kenya.
---
Brentley Lindsey, MD, University of Cincinnati Medical Center, Department of Otolaryngology
---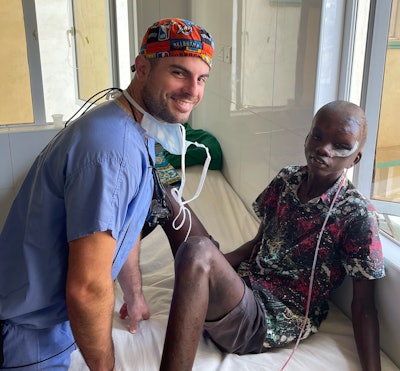 Thank you to the AAO-HNSF for selecting me to receive a 2022 Humanitarian Travel Grant. Our group from the University of Cincinnati Medical Center was able to meet up with James L. Netterville, MD, and his organization out of Vanderbilt University to provide care to the local population of Malindi, Kenya, at the Tawfiq Hospital. We served to provide a broad spectrum of care from complex head and neck cancer resections with free tissue reconstruction to a procedural clinic removing lipomas and keloid scars. The main mission of the camp was to train local ENT surgeons on more advanced surgical techniques to supply them with the skills and training needed to continue to perform some of these more complex procedures at their own institutions throughout the year.
Hundreds of patients were screened with about 30 to 40 complex operating room-based procedures performed over the two weeks I spent in Malindi, as well as 20 to 30 clinic-based procedures. The surgeries included composite resections with free tissue reconstruction, tracheal resection and complex airway surgery, large parotid and thyroid tumor resections, and resection of an extremely large facial plexiform neurofibroma in a teenager. The days were long, and the hospital staff accommodated us by extending the hours of operation well past their normal ones so to provide care for as many patients as could reasonably be seen. 
Thank you again to the AAO-HNSF for your support.