Published:
October 23, 2023
---
New Academy Position Statement: Button and Coin Battery Technology
Academy releases new Position Statement recognizing the dangers of button and coin cell batteries to children.
---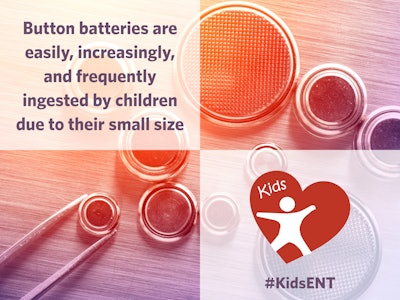 Following initial drafting and editing by the Pediatric Otolaryngology and the Airway and Swallowing Committees, as well as a thorough review by the Physician Payment Policy (3P) Workgroup, the AAO-HNS Executive Committee approved a new Academy Position Statement on October 4. As outlined in the new statement, the AAO-HNS recognizes that button or coin cell batteries can cause life-threatening tissue injuries of the esophagus, trachea, or major vasculature, and strongly encourages all battery manufacturers to act immediately to bring a safe button or coin cell battery to the consumer marketplace.
Read the full Position Statement.
---
Patient Resources:
Kids ENT Health: Awareness of the dangers of button battery ingestion in children