Published:
September 18, 2023
---
Paths to Otolaryngology Leadership: Part I
Being an Academy member is not just about membership in your specialty society, it is a commitment to optimizing care and continually striving to improve patient outcomes.
---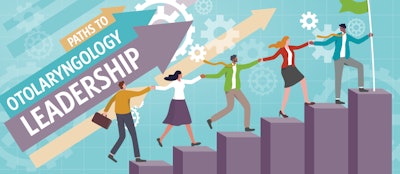 The infrastructure that supports the work of the AAO-HNS/F is comprised of a high level of member involvement. To achieve the AAO-HNS/F vision—"The global leader in optimizing quality ear, nose, and throat patient care"—requires the ongoing collective dedication to quality patient care and the enduring commitment to advance the specialty through excellence, innovation, and involvement.
Throughout the Academy's 127-year history, it has been the giving of members' time and expertise that is woven into the fabric of the practice of medicine and creates the solid ground for which otolaryngology and the AAO-HNS/F stand. Being an Academy member is not just about membership in your specialty society, it is a commitment to optimizing care and continually striving to improve patient outcomes. It is partaking in specialty unity to address regulatory challenges, to collaborate for patient care, to advance research in the field, to enhance the reach of our voice, to network and connect, and to share ideas and experiences. Each and every member is what makes otolaryngology remarkable, and in turn you make the Academy remarkable.
The Bulletin staff connected with the following four members who have demonstrated a commitment to the field of otolaryngology and whose passion for positively effecting change has led them to leadership. Their dedication to lifelong learning and service has guided their careers within the specialty. As stewards of patient safety and quality care, their work and leadership clearly emphasizes the essential role this level of member engagement has on the outcomes of the work of the AAO-HSN/F on the house of medicine, practices, and patients.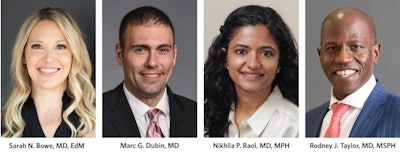 Inspiration on Your Path to Leadership 
Dr. Bowe: Ever since I was in third grade, I wanted to be a doctor. I actually had a cousin that was my parents' generation. He was an otolaryngologist and I called him Uncle Peter. He would always say, "You have to check out otolaryngology – you will love it." And of course, I wanted to rebel against anyone telling me to do a certain thing. I went to medical school thinking I was going to be a pediatrician. I loved my pediatrics rotation and actually put surgery further toward the end of my third year not necessarily really thinking that. I was required to pick two electives during my surgery block, so I picked trauma and otolaryngology. Basically, I spent one day on otolaryngology and went home and told my husband that I thought I had gone in the totally wrong direction. I spent the next two weeks on the otolaryngology rotation and absolutely loved it. I worked with Kenneth M. Grundfast, MD, who was Chair of the Otolaryngology Department at Boston University School of Medicine and Boston Medical Center. My experience with Dr. Grundfast changed my entire direction as I wanted to learn more.
Dr. Dubin: I knew when I went to medical school that I wanted to be a surgeon. I am the physician who always wanted to be one and always wanted to be a surgeon. When I was deciding on surgical specialty, I spent a day in the OR with Jeffrey M. Rosenbaum, MD, who is a close family friend and who practiced otolaryngology in East Brunswick, New Jersey, where I grew up. I remember his caseload for the day, like it was yesterday: tympanoplasty, superficial parotidectomy, and septorhinoplasty. I thought that was the absolute most fantastic variety of surgery I had ever seen and couldn't imagine any other field that could come close. With the benefit of 20 years of practice behind me, I now know that he set that day up to be a home run. Regardless, he sold it. I fell for the variety of patients (children to adults), variety of pathology (ear infections to cancer) and the variety of surgery (microscopic ear surgery to radical head and neck resections and reconstructions).
Dr. Raol: As I have figured out my career, it has led me down an unconventional path, which involves a Fulbright Scholar Award to study infant feeding and swallowing in India. I will be taking a sabbatical to pursue this work about which I am very passionate.
Dr. Taylor: I feel like one of the luckiest people in the world. I grew up in Philadelphia in a neighborhood similar to West Baltimore. My parents were high school graduates. I received a scholarship to attend college, and I realized after my freshman year that there is a wealth of information to be gained through conversations—the "network effect"—and being open to experiences that can help you find your journey. Sometime the barriers that exist are a lack of information to know what question to ask. I am fortunate to have bumped into people who coached me up. Some looked like me and some did not. I was fortunate for the generosity of others, and I want to give back. I could see the knowledge acquisition was beneficial, which made me more comfortable as I continued to engage in conversations and experiences that surrounded me— authentically and organically.
Member Involvement
Dr. Taylor: This [AAO-HNS/F] is a very inviting organization. Show up and have an interest and you will be able to contribute. Where people find their interests and passions, people find space to contribute.
Dr. Raol: I began my journey in the Academy as a resident, where I was elected to the Section for Residents and Fellows-in-Training (SRF) Governing Council as a PGY-3 resident. I enjoyed being part of a community that served as the voice for my cohort to affect positive change in the Academy, both for my colleagues and for my patients. Joining Academy leadership early in my career allowed me to connect in a way with mentors who are giants in our field. I do not believe I would have otherwise had the opportunity to do that. I was able to do things such as be a part of a group that championed mentorship within the Academy and serve on a clinical practice guidelines task force as a resident—both opportunities that came directly through my early leadership.
Dr. Dubin: I sought seats on both the Rhinology and Paranasal Sinus Committee and the Board of Governor (BOG) Socioeconomic and Grassroot Committee (SEGR) to have input in the decision-making process at the Academy, in areas that directly affect my practice. As a private practice rhinologist, I felt that it was critical to make sure that more than the voice of academicians was heard. While I have the ultimate respect for my academic colleagues, our vantage points are very different. I was asked to serve on, or was asked to consider running for, other Academy positions. Why I was asked, who knows? I am, for better or worse, someone who has a hard time saying no and am always happy to offer an opinion!
Dr. Bowe: I've always been interested in being involved and being more of a change maker rather than sitting on the sidelines. When I got into my general ENT practice, I looked to apply to my first committee. I had heard great things about the Women in Otolaryngology (WIO) Section and the WIO Communications Committee, which is where I started.
Look for more from Dr. Bowe, Dr. Dubin, Dr. Raol, and Dr. Taylor in the October Bulletin EXTRA as they explore topics such as dedication to practice, commitment to outcomes, and connection to networks. For more details and information about your own path to leadership within the AAO-HNS/F, go to https://www.entnet.org/get-involved/.