Published:
August 17, 2023
---
AAO-HNSF Humanitarian Travel Grant Report: Vietnam National Cancer Hospital
Michael S. Chow, MD, and Antonios N. Varelas, MD, share their experiences of participating in a humanitarian outreach trip.
---
Michael S. Chow, MD, and Antonios N. Varelas, MD
---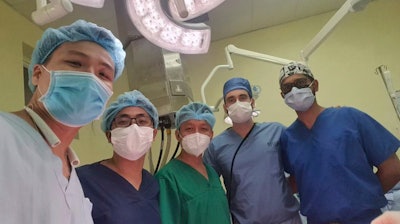 With the support of the American Academy of Otolaryngology–Head and Neck Surgery Foundation (AAO-HNSF), we were fortunate enough to participate on a humanitarian outreach trip to the National Cancer Hospital K1 in Hanoi, Vietnam. We, along with two attending surgeons, our head and neck surgery fellow, and four operating room nurses, had the unique opportunity to collaborate with both the otolaryngology as well as the head and neck surgery departments of National Cancer Hospital K1 in the care of complex head and neck cancer patients.
National Cancer Hospital K1 is a hub within the capital of Vietnam and is responsible for the management of the most aggressive head and neck oncologic disease in the country. It is home to a phenomenal oncology team that provides outstanding care to thousands of patients each year and encompasses a wide breadth of pathology.
During our visit, we hosted a multidisciplinary tumor board and lectured on several topics, including management of oral cavity malignancy, free tissue transfer in complex head and neck reconstruction, and facial reanimation. We spent half of the week with the head and neck division and the other with the otolaryngology service. Our primary focus was teaching and demonstrating reconstructive techniques and free tissue transfer, which was not frequently performed at their institution.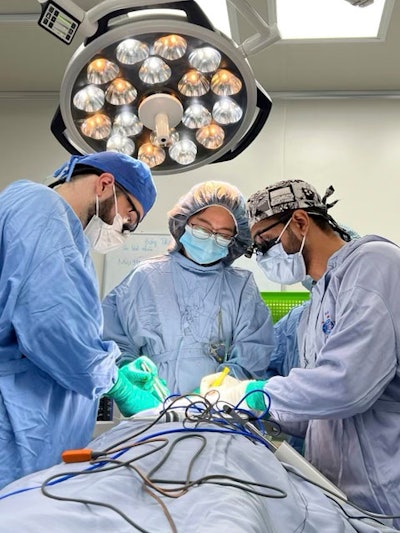 In the operating room, we shared surgical techniques and discussed key points in flap selection, reconstructive considerations, and microsurgical technique. Surgeons, fellows, residents, and medical students joined in the operating room to observe and learn. Several members of their team participated in the microvascular reconstruction, providing a hands-on opportunity for advanced training. We shared our approach to postoperative flap management and long-term care and discussed how to best implement these practices at their institution with the resources at hand. Since our departure, the department of head and neck surgery has successfully performed their first independent radial forearm free flap for tongue reconstruction.
This incredible experience was made possible by the AAO-HNSF Humanitarian Travel Grant, KLS Martin, and the Virtue Foundation. We also would like to extend our gratitude to our gracious hosts at National Cancer Hospital K1. We are deeply thankful for the opportunity to partake in such important work and hope to continue this kind of international collaboration throughout our careers.