---
Multidisciplinary Management of Pediatric Thyroid Disease
Kathleen R. Billings, MD, interviews Jeffery C. Rastatter, MD, about managing thyroid disease in children.
---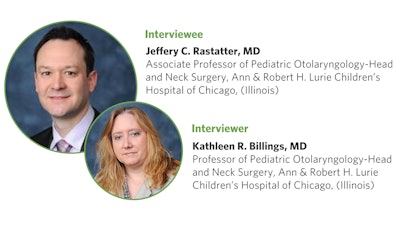 Dr. Rastatter's subspecialty interests include managing head and neck masses in children, with a particular emphasis on thyroid and skull-base disease. He has extensively published on the topics, and he has presented locally, nationally, and internationally on managing thyroid disease in children.
Discuss the role of a multidisciplinary approach to managing thyroid disease in children, including the team members and benefits of such a program.
A multidisciplinary approach to managing adult thyroid disease has been shown to be of benefit per the American Thyroid Association Guidelines, and this was echoed as a strong recommendation in the 2013 Pediatric Thyroid Disease Guidelines. These guidelines, along with the overall interest of graduating otolaryngology residents and fellows in developing programs at their institutions, have led to further growth and interest in multidisciplinary programs for managing thyroid disease. With a multidisciplinary approach there is more organization around sharing clinic space, establishing tumors boards, and meetings to facilitate back and forth conversations about patient management. For example, a program could be structured for a patient to have ultrasonography in the morning of the visit, then see the endocrinologist and otolaryngologist for evaluation the same afternoon, followed by appropriate laboratory workup.
Building relationships with all the stakeholders in managing these patients is important when establishing a multidisciplinary team. These team members include endocrinologists with a particular interest in thyroid disease, otolaryngologists, interventional radiologists for thyroid biopsies, radiologists familiar with the scoring system for thyroid lesions based on ultrasonography, radiation oncologists, oncologists for certain malignancies, advanced practice providers, and nursing support. Presenting the thyroid malignancy patients in a tumor board setting allows for collaborative decision making and enhanced education value to the team.
There have been discussions around two-surgeon models for thyroidectomy, as well as high-volume and low-volume thyroidectomy surgeons relative to complications after thyroidectomy. Can you comment on this?
Endocrine surgery in pediatric patients is low-volume disease relative to adults, so there is value in keeping a focused number of surgeons involved in the care of these patients. A two-surgeon model may be ideal for younger surgeons out of training working with a senior member as a mentor, to allow for continued development of skills in decision making and technical abilities. This model may also work well in a low-volume center to enhance the experience of both surgeons. Outcomes of high-volume thyroid surgeons have been shown to be favorable in reducing complications. Although there is not a specific number of cases linked to high-volume surgeons, about 25 per year for pediatric centers is generally accepted. Kids have unique thyroid disease patterns, with the number one indication for thyroidectomy being Grave's over thyroid malignancies. Benefits of pediatric programs include improved advocacy for the child and a child-friendly experience.