---
Oral Leukoplakia for Otolaryngologists
Due to the high prevalence of oral leukoplakia, there is a need for established protocols and guidelines.
---
Nicholas Toomey, MD, and Andrew C. Birkeland, MD, for the Head and Neck Surgery and Oncology Committee
---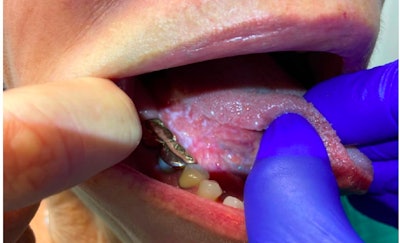 Oral leukoplakia is defined by the World Health Organization as white plaques of questionable risk having excluded other known disease or disorders that carry no increased risk for cancer.1 This is a common and challenging clinical problem for otolaryngologists.2 Some studies reporting a prevalence of oral leukoplakia up to 4% in the general population,3 with a high number of annual visits to otolaryngologists (up to 23% of providers seeing 30 or more cases of oral leukoplakia each year).4
The rates of conversion of oral leukoplakia to invasive cancer is variable and cited to range from 0.13%-34%.5,6 Importantly, oral leukoplakia progressing to cancer remains infrequent, with many studies citing a < 1% risk of progression to malignancy over five to ten year periods. 6 Given variable malignant transformation rates, predictive factors for malignant transformation are poorly understood. For example, it is hypothesized, that specific risk factors for progression of oral leukoplakia to malignancy include patient symptoms, higher dysplasia grades, age, smoking status, and comorbidities.8,9 Physical exam findings hypothesized to increase risk of malignancy include nodularity, friability, multiple abnormal sites, lesion location on the tongue, and mass effect.9,10   
Given the variable rates of malignant conversion and poorly understood predictive factors for transformation of oral leukoplakia to malignancy, consensus guidelines on treatment recommendations are limited. There are no current guidelines for indications for biopsy, considerations of biopsy techniques, and recommendations for clinical surveillance. As a result, a wide variety of practice patterns among clinical providers who treat oral leukoplakia exists. 
In a 2017 article published in the Journal of Oral Maxillofacial Surgery, the authors recommend for lesions to be grouped into nondysplastic frictional keratosis (which requires no further workup or surveillance), dysplasia or malignancy (for which they recommend excision), and keratosis of unknown significance (KUS).11 For KUS, they recommended further stratification into poorly demarcated, proliferative verrucous leukoplakia, and well demarcated KUS. Each category has its own management recommendations including further stratification based on size, observation, rebiopsy, and excision. In 2020 an article from the University of Minnesota recommended biopsy initially for all white oral lesions concerning for oral leukoplakia.12 Furthermore, the authors described an active surveillance protocol based on histological grade and condition, with more frequent followups, and longer length of followup for more aggressive lesions. Rebiopsy is recommended on a semiregular basis for dysplastic lesions with higher grades. For example, for severe dysplasia, rebiopsy is recommended in three to nine months, while moderate dysplasia should be rebiopsied in 12-18 months.
We recently completed a survey by the American Head and Neck Society (AHNS) Cancer Prevention Service, which surveyed oral and maxillofacial surgeons and otolaryngologists (396 respondents) to better understand the current clinical practice among specialized practitioners who most frequently encounter this complex clinical problem.4 In this survey, factors most frequently considered to initiate biopsy included physical exam findings (94.4%), erythroplakia (82.3%), and smoking status (81.6%). Presence of erythroplakia has been reported in the literature to carry a higher risk of malignancy in the oral cavity, in some cases up to 50% or more,13 which was recognized by respondents as a strong factor contributing to their decision for a biopsy. As smoking is associated with oral cavity malignancy, respondents highlighted its importance in guiding decision-making for biopsy for oral leukoplakia. Respondents reported variable initial rates of observation for oral leukoplakia, with a plurality of providers (47.2%) only initially observing a small proportion (0%-25%) of cases; 85.1% of respondents favored incisional or punch biopsy, while another 29.8% used excisional biopsy. For followup, 24.8% recommended patient followup within one month if observing, while 46.5% of providers recommended followup in one to three months if observing.
Oral leukoplakia is a frequent clinical problem encountered by otolaryngologists. Despite the large volume of cases seen each year, the variable and unpredictable behavior of oral leukoplakia has made it difficult to establish guidelines for management. However, with recently suggested algorithms and survey responses, there is increasing interest to establish protocols and guidelines for management of oral leukoplakia in the future. 
---
References
Warnakulasuriya S, Johnson NW, van der Waal I. Nomenclature and classification of potentially malignant disorders of the oral mucosa. J Oral Pathol Med. 2007;36(10):575-580. doi: 10.1111/j.1600-0714.2007.00582.x
Petti S. Pooled estimate of world leukoplakia prevalence: a systematic review. Oral Oncol. 2003;39(8):770-780. doi: 10.1016/s1368-8375(03)00102-7
Mello FW, Miguel AFP, Dutra KL, et al. Prevalence of oral potentially malignant disorders: A systematic review and meta-analysis. J Oral Pathol Med. 2018;47(7):633-640. doi: 10.1111/jop.12726
Birkeland, A C, Kademani, D, Moore, M G, and Blair, E A. (2023). Practice patterns for initial management of oral leukoplakia amongst otolaryngologists and oral and maxillofacial surgeons. Oral oncology, 139, 106341. https://doi.org/10.1016/j.oraloncology.2023.106341
Anderson A, Ishak N. Marked variation in malignant transformation rates of oral leukoplakia. Evid Based Dent. 2015;16(4):102-103. doi: 10.1038/sj.ebd.6401128
Warnakulasuriya S, Ariyawardana A. Malignant transformation or oral leukoplakia: a systematic review of observational studies. J Oral Pathol Med. 2016;45(3):155-166. doi: 10.1111/jop.12339
Scheifele C, Reichart PA. Is there a natural limit of the transformation rate of oral leukoplakia? Oral Oncol. 2003;39(5):470-475. doi: 10.1016/s1368-8375(03)00006-x
Warnakulasuriya S, Kovacevic T, Madden P, et al. Factors predicting malignant transformation in oral potentially malignant disorders among patients accrued over a 10-year period in South East England. J Oral Pathol Med. 2011;40(9):677-683. doi: 10.1111/j.1600-0714.2011.01054.x
Tang JA, Amadio G, Ridge JA. Clinical and histologic features associated with malignant transformation of oral cavity dysplasia managed at a single North American institution. JAMA Otolaryngol Head Neck Surg. 2022;148(1):23-34. doi: 10.1001/jamaoto.2021.2755
Guan, J Y, Luo, Y H, Lin, Y Y, Wu, Z Y, Ye, J Y Xie, S M, and Li, J. (2023). Malignant transformation rate of oral leukoplakia in the past 20 years: A systematic review and meta-analysis. Journal of oral pathology & medicine: Official publication of the International Association of Oral Pathologists and the American Academy of Oral Pathology, 10.1111/jop.13440. Advance online publication. https://doi.org/10.1111/jop.13440
Villa, A, Woo, S B. (2017). Leukoplakia-A Diagnostic and Management Algorithm. Journal of oral and maxillofacial surgery: Official journal of the American Association of Oral and Maxillofacial Surgeons, 75(4), 723–734. https://doi.org/10.1016/j.joms.2016.10.012
Archibald, H, Buryska, S, Ondrey, F G. (2021). An active surveillance program in oral preneoplasia and translational oncology benefit. Laryngoscope investigative otolaryngology, 6(4), 764–772. https://doi.org/10.1002/lio2.612
Reichard PA, Philipsen HP. Oral erythroplakia – a review. Oral Oncol. 2005;41(6):551-561. doi: 10.1016/j.oraloncology.2004.12.003