Published:
November 17, 2023
---
Bridging the Financial Gap in Otolaryngology: Advocating for Inflation-Linked Reimbursement
Exploring the gap between the costs of running practices and declining reimbursement rates, underscoring the need to tie medical reimbursement to inflation.
---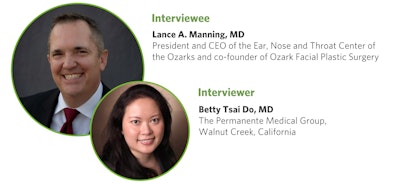 Running an otolaryngology practice involves more than just medical expertise; it's a delicate financial dance of maintaining a skilled staff, state-of-the-art equipment, and the ability to provide high-quality care. Dr. Tsai Do interviews Dr. Manning to explore the widening gap between the costs of running such practices and declining reimbursement rates, underscoring the need to tie medical reimbursement to inflation. Additionally, they discuss the best arguments in favor of this crucial policy change.
How have reimbursement rates based on the annual Medicare reimbursement conversation factor declined in years? 
To give some historical context, recall that in 1992, Medicare significantly changed how it pays for physician services. Instead of basing payments on charges, the federal government established a standardized physician payment schedule based on a Resource-Based Relative Value Scale (RBRVS). The annual RBRVS Medicare conversion factor has steadily declined since 2020, primarily due to expanding services within the confines of Federal statutory budget neutrality. For 2023, the conversion factor is $33.89, the lowest since 1994.1 The Centers for Medicare & Medicaid Services released the 2024 conversion factor as $32.74. Read the AAO-HNS summary.
How does medical care cost inflation compare to inflation in the rest of the economy?
Over the years, healthcare costs have skyrocketed, outpacing the general inflation rate. This disparity is particularly problematic for healthcare providers who find their practice income increasingly eroded. A picture is worth 1,000 words with the graph below: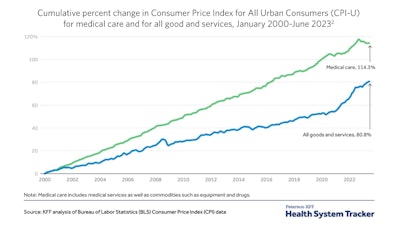 ---
What are the arguments for tying medical reimbursement to inflation?
Ensuring Healthcare Access
One of the strongest arguments for linking medical reimbursement to inflation is maintaining access to quality healthcare. Adequate reimbursement helps ensure that otolaryngologists can cover practice costs and continue offering high-quality services.
Attracting and Retaining Staff
Competitive reimbursement rates are essential for attracting and retaining talented nurses, audiologists, and other clinical and clerical staff.
Economic Stability
Stable healthcare reimbursement can also contribute to economic stability. Preventing disruptions in the healthcare industry helps protect jobs and investments in healthcare infrastructure.
Addressing Health Disparities
Tying reimbursement to inflation can support underserved rural and inner-city communities by preventing the closure of medical facilities in these areas, thus reducing health disparities.
How can I get involved in advocating for better reimbursement for our specialty or even medicine in general?
There are many ways, but some of the most directly impactful include:
Setting up a meeting locally with your Member of Congress or Senator's local/district office through the Academy iGo program. I have personally done this, and my U.S. Representative came and spent time with us during clinic to understand this issue firsthand. 
Respond to the grassroots calls to action. This is quick, easy, and immediately influential.
Get involved and give (even a very small monetary amount) to the ENT PAC.* As a percentage of membership, the number of people that give to the ENT PAC is very low, especially compared with other groups. These medical policy decisions regarding funding must be made through politics.
In conclusion, the inadequacy of medical reimbursement rates in the face of inflation in the United States, compounded by the historic lows in the Medicare conversion factor, poses a substantial threat to the healthcare system. Tying reimbursement to inflation is crucial to maintaining healthcare access, attracting and retaining quality staff, and ensuring economic stability. It is vital to protect the quality and availability of healthcare services for all, particularly in the context of U.S. inflation, which has shown a significant upward trend in recent years. As stewards of our patients' well-being, we must take a stand, and together, we can help bridge the financial gap in otolaryngology and secure the future.
*Contributions to ENT PAC are not deductible as charitable contributions for federal income tax purposes. Contributions are voluntary, and all members of the American Academy of Otolaryngology–Head and Neck Surgery have the right to refuse to contribute without reprisal. Federal law prohibits ENT PAC from accepting contributions from foreign nationals. By law, if your contributions are made using a personal check or credit card, ENT PAC may use your contribution only to support candidates in federal elections. All corporate contributions to ENT PAC will be used for educational and administrative fees of ENT PAC, and other activities permissible under federal law. Federal law requires ENT PAC to use its best efforts to collect and report the name, mailing address, occupation, and the name of the employer of individuals whose contributions exceed $200 in a calendar year.
---
References
American Medical Association:  History of Medicare Conversion Factors 2023 - https://www.ama-assn.org/system/files/2021-01/cf-history.pdf
KFF analysis of Bureau of Labor Statistics (BLS) Consumer Price Index (CPI) data https://www.healthsystemtracker.org/brief/how-does-medical-inflation-compare-to-inflation-in-the-rest-of-the-economy