Published:
November 17, 2023
---
When to Go Open Versus Endoscopic?
Surgical management of pediatric otologic disorders.
---
Andre M. Wineland, MD, and John L. Dornhoffer, MD
---
"Kids are not little adults."

"Not all kids are the same."
These two statements will lead you to become a better clinician by understanding the underlying pathophysiology of pediatric otologic disease. Once that has been accomplished, proceeding with an open versus endoscopic approach can then be considered. There are some cases in which an endoscopic approach is prohibitive; the same could be said with the open approach. Yet, there are several cases in which either is well suited. Here we aim to outline why pediatric ear disease is different than adults and how to best chose a surgical approach.
Eustachian tube
It is all about the function of the eustachian tube! Retractions are stratified by the Sadé depth in which more retracted or adhesive tympanic membranes are associated with increased risk, thereby requiring more extensive surgery (Figure 1).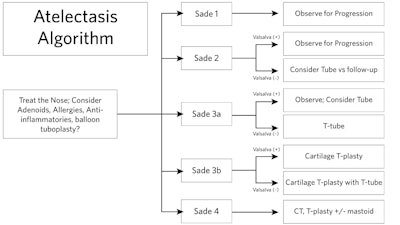 ---
Perforation
It is all about the drainage (or lack thereof). Bellucci is a classification system of otorrhea, where 1 is a dry ear and 4 is chronically draining ear with cleft palate. Figure 2 shows a 4-year-old child with a perforation who is able to insufflate the contralateral ear. This child is a good candidate for repair. If the contralateral ear is noted to have a persistent effusion, a delayed repair, adenoidectomy, and/or tympanoplasty with a ventilation tube may be indicated.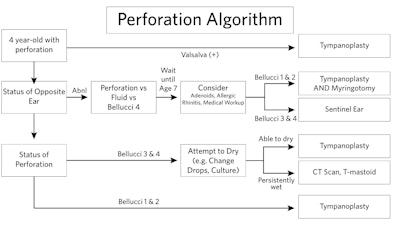 ---
Open versus Endoscopic
Children with extensive disease and eustachian tube dysfunction are most suited for an open approach with mastoidectomy. Fortunately, most children do not present with such extensive disease. Endoscopic approaches to manage pediatric perforations or retractions are an ideal treatment option that provide increased visibility, reduce postoperative pain, and equal results when compared to post-auricular approaches. Techniques to increase visualization and improve hemostasis aid in operative efficiency. Hybrid approaches are usually recommended to those surgeons wanting to adapt endoscopic approach into their skill set.