Published:
November 17, 2023
---
Patient-Entered HPI Questionnaires
Patient-entered HPI questionnaires in otolaryngology represent a promising shift toward a more efficient and patient-centered model of care.
---
John Paul Giliberto, MD, and J. Randall Resser, MD, Laryngology & Bronchoesphagology Education Committee members
---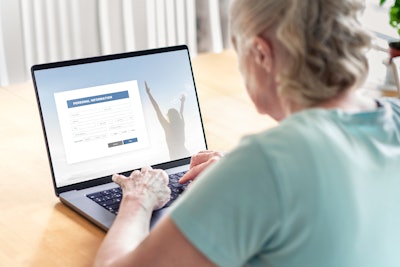 Otolaryngologists, like many other specialists, face the dual challenge of maximizing clinical efficiency while maintaining the quality of patient care. On the horizon, large language models, generative artificial intelligence (AI), and ambient scribes promise to upend this balance. Although these advances are not immediately ready for primetime, the members of the Adult Otolaryngology National Steering Board for the electronic health record (EHR) vendor Epic Systems have been collaborating with the Epic developers to create patient entered HPI questionnaires for otolaryngology common chief complaints. The members of the steering board, many of whom are AAO-HNS members, are directing the content of these questionnaires, and once finalized, they will be available for Epic System customers to incorporate into the daily workflow of their otolaryngology departments. 
Once configured, these questionnaires can automatically be sent to the patient's portal to be completed by the patient one to seven days prior to their appointment. Automation can be refined through a combination of scheduled visit types and rules (i.e., "only send if patient has not completed in the last six months and has sleep apnea documented on their problem list"), so questionnaires remain targeted and relevant. When patients submit questionnaire responses, the physician is notified in the context of a note. Clinical staff can then verify and update responses to quickly generate the HPI. The Steering Board has decided to focus on patient entered questionnaires because they are a tool that promotes patient engagement, decreases physician documentation burden, and suggests a structure to the HPI of common otolaryngology complaints. 
Encouraging patients to take an active role in documenting their medical history can have substantial benefits in terms of engagement and satisfaction. In the orthopedics literature, patients were given both paper and electronic versions of patient questionnaires, and there was a significant preference for electronic questionaires.1 The same study demonstrated that questionnaires were less likely to be missed when provided in an electronic format. Further shifting the paradigm, the COVID pandemic has catalyzed many patients to activate and use their patient portal for telemedicine visits and ancillary services relating to their care. Data from Epic Systems indicates that MyChart activation has increased from 30% in 2019 to 55% in 2023. With more patients enrolled with an electronic patient portal solution, it is easy for patients to complete their questionnaires virtually at home, in the waiting room, or on a secured exam room computer before their appointment. 
The average otolaryngologist spends 7 minutes and 22 seconds interacting with the EHR per patient appointment, and 56% (4 minutes, 7 seconds) of that time is documentation.2 Leveraging the newly published 2022 Otolaryngology Workforce survey by the American Academy of Otolaryngology–Head and Neck Surgery we can estimate that otolaryngologists spend 78 – 127 minutes per full clinic workday documenting, based on a mean of 19 – 31 patients seen per day depending on setting. Patient-entered HPI questionnaires can mitigate this by transitioning time spent gathering initial information and subsequent documentation to the patients. Unpublished work from the University of Washington noted a 50% decrease of time in notes through the deployment of a structured patient entered HPI questionnaire.
The Epic Otolaryngology Steering Board queried the most common patient-driven chief complaints and prioritized a list of chief complaints for which to develop questionnaires over the next year. The chief complaints include questionnaires for sleeping problems, nosebleeds, ear infection, nasal congestion/sinusitis, difficulty hearing, ear pain, mass/lesion, difficulty swallowing, hoarseness, dizziness, cough, sore throat, and thyroid problem. Patient-entered HPI questionnaires have questions that are mapped to discrete data fields. As opposed to nonstructured text entry, discrete data allows for many downstream advantages such as documentation suggestions and quality measure completion. With increased focus on AI, discrete data also provides an excellent framework for future enhancements as features and functionality related to AI improve. As the fields are deployed by the EHR vendor, they will have the same structure and naming conventions across institutions. This standard data structure will facilitate data gathering for multi-institutional prospective registries for the common chief complaints referenced above.
As members and participants on the Otolaryngology Specialty Steering Board, we feel that patient-entered HPI questionnaires in otolaryngology represents a promising shift toward a more efficient and patient-centered model of care. By reducing the documentation burden on physicians, facilitating the collection of discrete data for common diagnoses, and increasing patient engagement, these tools help tip the balance by providing quality care more efficiently.  
---
References
Smith MJ, Reiter MJ, Crist BD, Schultz LG, Choma TJ. Improving Patient Satisfaction Through Computer-Based Questionnaires. Orthopedics 2016; 39:e31-35. doi: 10.3928/01477447-20151218-07.
Giliberto JP, Ator G, Carroll TL, Chan T, Vahabzadeh‐Hagh A. National Trends in Daily Ambulatory Electronic Health Record Use by Otolaryngologists. Laryngoscope 2021; 131:975-981. doi: 10.1002/lary.29073.