Published:
November 17, 2023
---
Private Practice Otolaryngology
A dynamic landscape with unique challenges and unique rewards.
---
David E. Melon, MD, Chair, Otolaryngology Private Practice Section (OPPS)
---
"No matter what you do, be great at it, and always seek excellence."
These powerful words proved to be the most liberating guidance I received from any faculty mentor while in training. Until then, I had been struggling with a tumultuous, gut-wrenching, emotional tug-of-war between what seemed like the dichotomous decision to pursue a career in academics or private practice, all enshrouded in a fear-of-disappointment mindset. This call to "be great" as a guiding principle simplified things.
Ultimately the allure of autonomy and control proved to be the magnetic force that pulled me to private practice. The ability to define and shape the practice's mission, refine the culture, select the right staff, and set standards for patient access and care was most appealing. This freedom would best enable me to "always seek excellence" and practice medicine in alignment with my values and principles.
For many others, autonomy is also what drives them. It offers the opportunity to build deep, meaningful relationships with patients, fostering trust and loyalty while enhancing the overall patient experience. Private practice physicians may explore entrepreneurial opportunities that might not be possible in other healthcare settings. They can nimbly introduce innovative services, expand their practice into new areas of specialization, and create unique patient care models. There is the potential to recognize substantial financial rewards, and successful private practitioners may generate investment opportunities unique to their business ownership.
Private practice does not preclude research or trainee education. Many in private practices view themselves as "privademics," engaging deeply, both formally and informally, in these academic pursuits. Flexibility in work hours and schedules with the ability to adapt to accommodate family and personal commitments are a big plus. This flexibility may enhance overall quality of life, reduce burnout, and contribute to long, fulfilling careers. Almost daily, the impact of these collective rewards is self-evident. 
But this autonomy and the unique rewards it allows is opposed by an equally powerful and unique set of challenges. (Figure 1)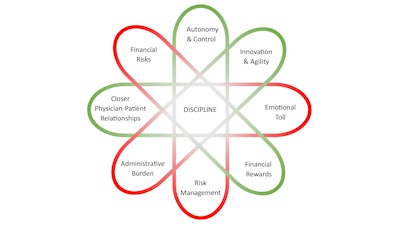 ---
Among the primary challenges faced by private practitioners are the increasingly complicated responsibilities of running their own practice. Managing overhead costs, grappling with insurance reimbursements, navigating the complexities of medical billing, recruiting, managing staff, ensuring compliance with healthcare regulations, and risk management are unavoidable. The administrative burden can seem overwhelming and may be easily underestimated. The need to manage high levels of stress, while balancing clinical care, and maintaining a favorable work-life balance can take a significant toll on practitioners' mental, emotional, spiritual, and physical well-being.
At a minimum, balancing these opposing forces requires focused group-and self-discipline. Yet, while discipline is perhaps the most critical element, in many instances, it alone is not enough to counterbalance the growing impact of the unique challenges we face. These external forces have accelerated and reshaped practice dynamics, structure, alignment, and consequently the landscape of private practice otolaryngology. It is reasonable to question, what actually is private practice otolaryngology?
The reality seems to be that while a traditional academic practice can generally (although admittedly not always) be clearly defined, this is no longer the case for private practice otolaryngology. Solo practice, small, medium, large single-specialty otolaryngology practices, multispecialty groups, community-based hospital-employed, private-equity backed, and alignment (or not) with or a local, regional, or national CINs, ACOs, and MSOs, now all have their place. The otolaryngology private practice universe is complex. (Figure 2)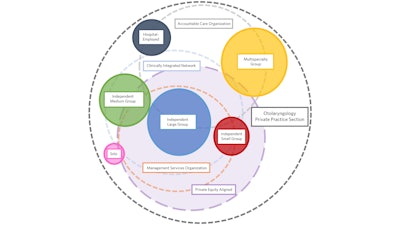 ---
Although some private practice otolaryngologists have adopted seemingly disparate practice models, the collective desire (yet differential ability) to maintain autonomy persists, as do the common challenges. It is these common concerns that gave rise to the recently established Otolaryngology Private Practice Section (OPPS). The OPPS seeks to become a community of support and inclusion to strengthen private practice otolaryngology. Its success will require enthusiastic leadership, leveraging of our collective intelligence, an entrepreneurial spirit, and peer collaboration.
The mission of the OPPS is clear. The Otolaryngology Private Practice Section (OPPS) supports physicians in navigating the complexities of private practice. We provide a collaborative platform to facilitate a complementary balance between specialists, generalists, private practitioners, and academicians while championing the specific needs of the private practice otolaryngologist. We seek to cultivate leadership among private practitioners to preserve and strengthen the field of otolaryngology-head and neck surgery.
The OPPS is open to all non-retired members of the AAO-HNS/F not employed by an academic institution. This currently includes those who are self-employed, employed in physician partnerships, or employed by healthcare systems. Physicians not currently practicing medicine or practicing in the military are not eligible for membership nor are residents and fellows in training. OPPS members must be in good standing with the AAO-HNS.
There is no doubt that private practice otolaryngology will remain a unique journey filled with challenges and rewards. The OPPS will serve to strengthen this community, for those that have already or will choose this path, so that it remains a viable, attractive, and fulfilling opportunity; one where we can "always seek excellence."