Published:
November 17, 2023
---
Building a Better Health System
The Academy creates opportunities to be involved in building a better health system in the United States.
---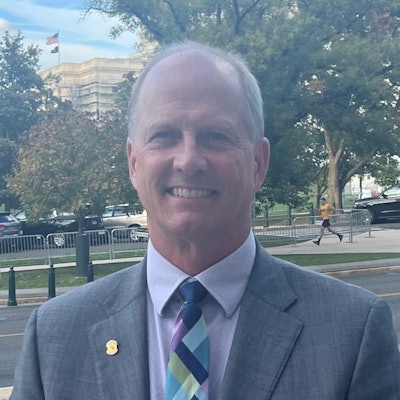 I pray this column finds you well as the excitement of the holiday season and the end-of-year rush to get patients into our clinics and operating rooms is upon us. Our communities, country, and world continue to face uncertainty and at times, chaos. Amid the disarray, the need for physicians to provide calm, compassionate care and community leadership remains. Because we treat people of all ages and interact with all specialists and primary care physicians, I believe otolaryngologists bring a unique and informed perspective into the arena of healthcare innovation and reform. I would like to highlight how our Academy creates opportunities for you to be involved in the process of building a better health system in the United States.
R. Peter Manes, MD, AAO-HNS Coordinator for Advocacy, partners with Maura Farrell, Senior Director for Advocacy, to manage a team of talented people and a comprehensive portfolio of advocacy functions. Federal and state legislative, private payer, regulatory, and political advocacy via ENT PAC* efforts are in full swing and have remained effective, even during the turmoil we witnessed this year in Congress. Although the Advocacy team represents our direct interactions with federal and state legislators, regulatory bodies, and government agencies, as well as with the private payers, the support and information provided by the rest of the Academy staff is critical to success in all of these areas.
On the federal level, we monitor, propose, and respond to legislation that impacts our specialty and the house of medicine overall. Fostering partnerships with organizations that share common concerns expand our influence in the legislative and regulatory processes. Emmanuel Segura, Grassroots and Advocacy Program Manager, helps our members directly engage with Congress through call to actions in support of or opposition to legislation impacting our specialty. In the 118th Congress we support legislation to reduce the burden of prior authorization on physicians and patients and battle to ensure adequate Medicare/Medicaid reimbursement. John Aguilar, Director of Advocacy, and Harry DeCabo, Senior Manager of Congressional and Political Advocacy, represent us on the Hill regularly in Washington, DC, and keep our issues in front of key congressional leaders, committees, and staff. We also act as a trusted resource for our legislative leaders and regulatory agencies.
Regulatory advocacy focuses on engaging with federal agencies to provide feedback and shape proposed and final regulations throughout the year. Most notable are the annual Medicare Physician Fee Schedule and Hospital Outpatient Payment System rules that not only guide our treatment of Medicare patients but often set the direction for third-party payers. Our team, including Jacob Manthey, Director of Health Policy and Practice Advocacy, and Ana Maria Grady, Senior Manager of Economic Health Policy and Advocacy, engages the Food and Drug Administration (FDA), Centers for Medicare & Medicaid Services (CMS), Centers for Disease Control and Prevention (CDC), and other federal agencies to provide early feedback to queries that eventually shape final regulations and policies that impact our ability to provide essential care. Our Academy EVP/CEO, James C. Denneny III, MD, has a keen ability to collaborate with our Advocacy team to generate timely responses to often complicated requests for information from the various regulatory agencies.
Monitoring and engaging with private payers to ensure fair coverage and appropriate reimbursement for otolaryngologists is a complex process that is supported by the AAO-HNS at every level. The Academy's Advocacy team collaborates with the Board of Governors (BOG), more than 170 AAO-HNS State Trackers, Project 535 program volunteers, and state otolaryngology and medical societies to identify and engage, when possible, on state-specific legislation that impacts the practice of otolaryngology. Common state-level issues, which Aaron Castelo, Senior Advisor for State Advocacy, and our State Trackers address informing and guiding scope-of-practice discussions that lead to appropriate laws and regulations for nonphysician providers based on training and patient safety, cytomegalovirus (CMV) screening programs, prior authorization reform, and expanding coverage for hearing aids.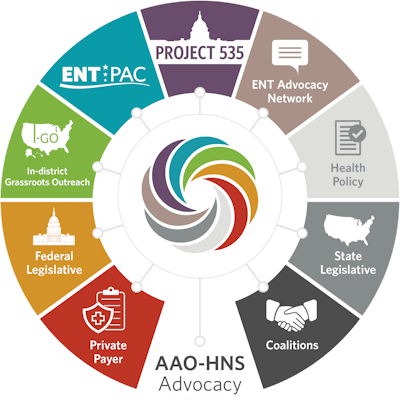 Over the past year, Yolanda L. Troublefield, MD, JD, BOG Legislative Affairs Committee Chair, has kept us updated on key Academy advocacy activities in her monthly report in the ENT Advocate.
The 3P (Physician Payment Policy) Workgroup is chaired by Dr. Manes and staffed by multiple members of the AAO-HNS Advocacy team. Volunteers from both academic and private practice sectors who serve on 3P participate in the development and valuation of medical codes through the American Medical Association CPT and RUC processes. 3P also supports the Academy's industry relations as well as third-party payer engagement on coverage policies. All payment and regulatory policy positions approved by 3P are sent to the Executive Committee of the AAO-HNS Board of Directors for consideration and/or adoption.
Our final advocacy tool is the ENT PAC, which is the nonpartisan and issue-driven political action committee of the AAO-HNS. A Board of Advisors formed by Academy members determines how money from ENT PAC is allocated. By investing in the ENT PAC, AAO-HNS members empower Academy staff and leaders with direct access to members of Congress and candidates for the purpose of building crucial relationships to advance the Academy's federal legislative priorities.
I extend a special thanks to our Advocacy and Academy staff as well as members of our Academy who currently volunteer their time and financial resources to the ENT PAC, serve on committees, serve as State Trackers, and belong to the BOG or Otolaryngology Private Practice Section (OPPS). We need input from otolaryngologists working in academic settings, hospital employment, and independent private practice to ensure our Advocacy team has the most complete perspective on key issues. I invite you to be a State Tracker, participate with the BOG or the OPPS, volunteer for a committee, or run for an elected position with the AAO-HNS. For members of the Academy based in the U.S., be sure to join the ENT PAC. 
Thank you for a great 2023, and I will see you in 2024! Together we are one.
*Contributions to ENT PAC are not deductible as charitable contributions for federal income tax purposes. Contributions are voluntary, and all members of the American Academy of Otolaryngology–Head and Neck Surgery have the right to refuse to contribute without reprisal. Federal law prohibits ENT PAC from accepting contributions from foreign nationals. By law, if your contributions are made using a personal check or credit card, ENT PAC may use your contribution only to support candidates in federal elections. All corporate contributions to ENT PAC will be used for educational and administrative fees of ENT PAC, and other activities permissible under federal law. Federal law requires ENT PAC to use its best efforts to collect and report the name, mailing address, occupation, and the name of the employer of individuals whose contributions exceed $200 in a calendar year.