Published:
October 24, 2023
---
Now Accepting Applications for the 2024 CORE Grant Cycle
Key dates for the 2024 CORE Grants cycle.
---
The Centralized Otolaryngology Research Efforts (CORE) partner societies and industry sponsors are currently offering 24 grant awards to further the specialty of otolaryngology. Letter of Intent submissions portal is now open. LOIs are due December 15, 2023, at 11:59 pm (ET). Additionally if you are interested in being a CORE reviewer, applications are due January 2, 2024.
Learn more about the CORE program here!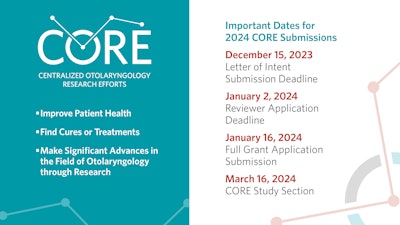 ---
Since 1985, CORE has played a vital role by awarding more than 600 grants and more than $13 million for research projects, research training, and career development to further the specialty of otolaryngology. These grants, ranging in award size from $10,000 to $100,000, have been essential for increasing the research base for otolaryngology.
The CORE program brings greater scale and less fragmentation and overlap to otolaryngology-head and neck surgery research opportunities, reduces the aggregate costs of the individual grant programs, and enables a comprehensive overview of the spectrum of promising otolaryngology and head and neck surgery research/researchers to promote to NIH and other agencies.