Published:
October 24, 2023
---
Advancing Otolaryngology and Improving Patient Care Worldwide
A spotlight on the Academy's commitment to the international ENT community through the Eugene N. Myers, MD Global Education Fund and more.
---
The Eugene N. Myers, MD Global Education Fund, launched during the AAO-HNSF 2023 Annual Meeting & OTO Experience, celebrates Dr. Eugene Myers decades-long dedication to advancing otolaryngology education and patient care worldwide. The fund will be used to help physicians from low-income countries access continuing education resources and programs. The AAO-HNSF has collaborated with the global otolaryngology community for many years to advance otolaryngology through education initiatives—many of which benefit physicians working in low-resourced communities. The Eugene N. Myers, MD Global Education Fund will help to further these initiatives and to heighten the Academy's commitment to promoting the highest levels in clinical care worldwide, with 100% of donations going directly to education grants and scholarships for physicians practicing in low-income countries.
---
Mark E. Zafereo, Jr., MD, AAO-HNSF Coordinator for International Affairs
---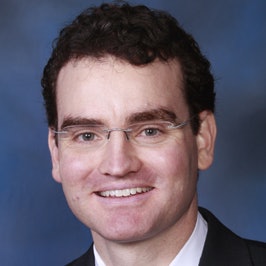 If you look at the data, the disparity is sobering. In the United States, otolaryngology is one of the most commonly visited healthcare specialties—approximately 27 million people visit a U.S. otolaryngologist office each year. However, for most low- and middle-income countries (LMICs), as designated by the World Bank, otolaryngology-head and neck surgical care is considered a luxury.
The World Health Organization's recommended ratio of ear, nose, and throat (ENT) surgeons is two per 100,000 population. In the United States there are three per 100,000. This ratio is a stark contrast to some of the LMICs, whereby there are countries with less than 10 ENT surgeons for the entire population.1
It is estimated that five billion people worldwide lack access to safe, timely, and affordable surgical care, which is needed to address the estimated 30% of the global burden of disease that requires surgical intervention. Otolaryngology-head and neck surgery (OHNS) conditions represent a considerable and under-prioritized burden of surgical disease that disproportionately affects LMICs.2 From limited or no access to training institutions, physician brain drain—the migration of physicians out of LMICs—salary disparity, poor working conditions, and burnout, just to name a few, there is long and weighty list of reasons why LMICs lack ENT patient care.
The AAO-HNSF is committed to advancing otolaryngology and improving patient care worldwide. Global outreach is highlighted in the Academy's current Strategic Plan, and many of the resources and initiatives facilitated by the Academy's Global Program focuses on physicians working in LMICs. Navigating the disparity obstacles to provide aid is a challenge, and undoubtedly overwhelming; however, the Academy and its members can, and already are, make a difference. The Academy engages the global ENT community through numerous education initiatives. None of these programs would be possible without member participation—whether it be through monetary donations or volunteering time and talents.
As Nelson Mandela said, "We can change the world and make it a better place. It is in our hands to make a difference." 
---
The Heart and Soul of AAO-HNSF Global Outreach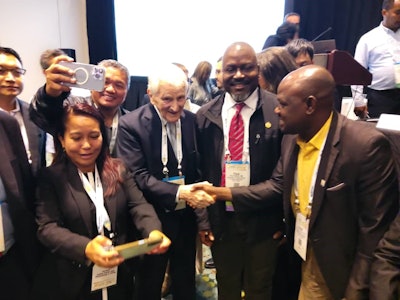 Eugene N. Myers, MD, FRCS Edin (Hon), Past President of the AAO-HNS/F and the first AAO-HNSF International Coordinator, is at the heart of the Academy's spirit to serve and support global physicians. Dr. Myers has worked tirelessly throughout his career to provide aid and assistance to physicians, especially in resource-challenged countries.
Known to many as "Dr. International," Dr. Myers, distinguished professor emeritus of otolaryngology and emeritus chair of the Department of Otolaryngology at the University of Pittsburgh School of Medicine, is the founder of the AAO-HNSF International Affairs Program, which he helped launch in 1996. Committed to providing education and services for international otolaryngologists, Dr. Myers forged global partnerships and expanded education opportunities on behalf of the AAO-HNSF. Dr. Myers established the Academy's International Corresponding Societies (ICS) network, which currently includes partnerships with 77 national societies worldwide.       
 In addition to his time and talents, Dr. Myers has generously donated financial resources to help fund international education programs, including the AAO-HNSF International Visiting Scholarship Program.
His endless contributions to the specialty have positively impacted the quality of patient care on nearly every continent.
---
The Launch of the Eugene N. Myers, MD Global Education Fund
To honor Dr. Myers and his dedication to advancing otolaryngology and patient care worldwide, the Academy announced the launch of the Eugene N. Myers, MD Global Education Fund to benefit the continuing education needs of otolaryngologists practicing in low-income countries during the AAO-HNSF 2023 Annual Meeting & OTO Experience in Nashville, Tennessee.
Purpose/Mission: The fund provides grants to access or offset costs associated with the AAO-HNSF education resources and opportunities to physicians who practice in lower income countries and have limited or no access to otolaryngology professional development resources. Among other initiatives, this includes funding international visiting scholar and travel grants to the AAO-HNSF Annual Meeting and providing scholarship discounts for education programs such as FLEX, OTO Logic, and the Otolaryngology Core Curriculum (OCC).
Criteria and Award Requirements: Grants will be available to physicians who are employed full-time in otolaryngology and practice in a low-income country. Awardees will be required to utilize and share the knowledge attained from the Eugene N. Myers, MD, Global Education Fund to improve patient care in their home country. Further program details and application information will be announced in 2024.
Why Donate: A recent survey found the average monthly income of an LMIC otolaryngologist to be less than $1,500 USD a month ($18K annually).3 Affordability is a major issue for LMIC physicians who have limited or no access to training institutions or resources in their own country. One hundred percent of your contribution will go toward providing continuing education programs to physicians practicing in low-income countries—all administrative expenses are underwritten by the AAO-HNSF.
Why I Donated…
"Dr. Eugene Myers has spent a lifetime forging new relationships with otolaryngology-head and neck surgeons throughout the world. There is no better return from a charitable donation in reducing human suffering than educating physicians and improving care in low-resource countries."
—Robert L. Witt, MD, Kennett Square, Pennsylvania
"I decided to donate to the Eugene N. Myers, MD Global Education Fund because otolaryngology education is the key to a better future for our specialty and patients. Postgraduate medical education empowers physicians to reach their full potential and to make a positive impact on their communities and the world. I have had the honor to work alongside Dr. Eugene Myers, a giant in our field, who devoted his life to teaching around the globe, positively impacting thousands of otolaryngologists. It is very fitting to contribute to a global education fund that bears his name."
—Pablo Stolovitzky, MD, Atlanta, Georgia
"I am one of Dr. Myers' formal trainees and his follower in global affairs. It is my honor to donate $10,000 USD to the Eugene N. Myers, MD Global Education Fund. The impact Dr. Myers has had on my career has been monumental, so much that I always call him "the Godfather!" This fund will help continue his decades-long legacy of service to the global otolaryngology community."
—Sheng-Po Hao, MD, Taipei, Taiwan
"Physicians working in lower-resourced countries often face many challenges, including limited access to medical supplies and equipment, outdated facilities, and high patient workloads. The Eugene N. Myers, MD Global Education Fund will facilitate access to physicians' training and education in lower-income countries, improving their skills and knowledge, which will lead to better patient care and reduce health disparities."
—Jacqueline Alvarado, MD, Atlanta, Georgia
"I first met Dr. Myers over 30 years ago as a pediatric otolaryngology fellow, continue to see him working out in the gym at 5:00 am during meetings, and remain in awe of his stamina, intellect, and global contributions. His outreach has helped make the AAO-HNSF a global superpower in otolaryngology, for which I am grateful and appreciative as a donor to the new global education fund named in his honor. AAO-HNS/F must strive to reduce health disparities, and helping otolaryngologists from lower-resourced countries attend our Annual Meeting & OTO Experience is a very positive step that will be even more meaningful with this new, enhanced funding vehicle."
—Richard M. Rosenfeld, MD, MPH, MBA, Brooklyn, New York

For more information on the Eugene N. Myers, MD Global Education Fund, please visit www.entnet.org/MyersGlobalFund, or contact the Foundation at international@entnet.org.
---
Reaching Physicians Wherever They Are: The 2023 Global Grand Webinars Series

Open to all otolaryngologists at no cost, the 2023 Global Grand Rounds Webinar Series welcomed, educated, and connected physicians from ALL over the world!
6,500+ physicians registered from over 126 countries, including a large representation from low and middle-income countries.
The 2023 series included four webinars with presentations from 32 prominent global otolaryngology-head and neck surgery thought leaders.
The following recordings are available at www.entnet.org/ggr
Endoscopic Sinus Surgery: Technique & Strategy to Optimize Patient Care: Cosponsored by the Pan-American Association of Otolaryngology and Head and Neck Surgery
2023 International Young Physicians Forum: New Frontiers in Pediatric Airway: Cosponsored by the AAO-HNS and Section for Residents and Fellows-in-Training (SRF) and Young Physicians Section (YPS)
Cutting-Edge Therapies and Advances in Laryngology: Cosponsored by the Brazilian Association of Otorhinolaryngology
Contemporary Management of Salivary Gland Disorders: Cosponsored by the Asian Society of Head and Neck Oncology
Global Perspective on Endoscopic Ear Surgery: Co-sponsored by Confederation of European Otorhinolaryngology - Head and Neck Surgery [This webinar is scheduled for November 11, 2023, 9:00 – 10:30 am (ET). Sign up for free today!]
The 2024 Global Grand Rounds Webinar Series will kick off in early 2024. Stay tuned for more information.
---
Bringing the World to the Academy and the Academy to the World
In addition to the newly launched Eugene N. Myers, MD Global Education Fund, the AAO-HNSF offers a variety of ongoing grants and scholarships to aid and encourage those who further the mission of otolaryngology on an international scale.
Humanitarian Travel Grants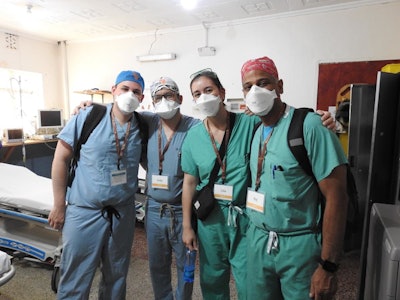 The AAO-HNSF awards up to 25 travels grants annually to residents who are Academy members to help offset costs associated with humanitarian medical outreach travel. For planned outreach trips in the first six months of the year (January through June), the application deadline is November 15 of the previous year. For trips in the second six months (July through December), the deadline is May 15 of the same year. Visit www.entnet.org/humanitarian-travel-grants for more information.
International Travel Grant to the Annual Meeting
The Annual Meeting International Travel Grant Program is designed to help offset travel expenses for physicians from lower income countries who are attending the Annual Meeting. The AAO-HNSF will award up to five grants of $1,000 each.
International Visiting Scholarship (IVS) Program


The AAO-HNSF awards scholarships annually through the IVS Program, aiding junior academics from outside the United States to attend the AAO-HNSF Annual Meeting & OTO Experience and participate in an academic observership at a U.S. otolaryngology department or institution.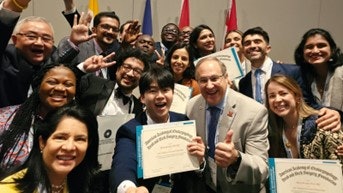 In recent years COVID-19 restrictions at U.S. institutions and visa processing delays impacted program attendance; however, in 2023 the Academy was thrilled to welcome 12 IVS scholarship recipients.
● Auwal Adamu, MBBS, MSc, FWACS, Nigeria
● Sheikh Sajjad Ali, MBBS, FCPS, Pakistan
● Grace Amoo-Quaye, FGCPS, MBCHB, HB, Ghana
● Andrea Barrios, MD, Venezuela
● Isaac Barnor, MD, Ghana
● Eduardo Alfredo Figueroa, MD, Argentina
● Divya Gupta, MS, India
● Nazrin Hameed, MS, India
● Kenneth Mlay, MD, MMED, Tanzania
● Marn Joon Park, MD, MSc, South Korea
● Akhila Sarah Thomas, MBBS, MS, DNG, India
● Maria Fernanda Urrea, MD, Colombia
The 2024 IVS program launches in early 2024. For more information about the program visit https://www.entnet.org/get-involved/international-programs/international-visiting-scholarship/.