Published:
March 20, 2023
---
Translating Research into Practice: NIDCD's 5-Year Strategic Plan
The National Institute on Deafness and Other Communication Disorders (NIDCD) has released its five-year strategic plan with scientific research priorities and commitment.
---
Debara L. Tucci, MD, MS, MBA, Director of the National Institute on Deafness and Other Communication Disorders at the National Institutes of Health
---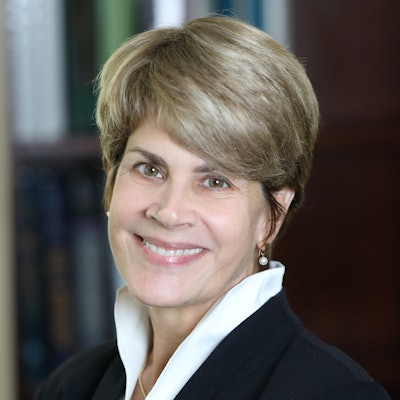 The National Institute on Deafness and Other Communication Disorders (NIDCD) has released its 5-year strategic plan, with scientific research priorities that include developing innovative technologies, individualizing treatment approaches, sharing scientific data, sustaining investment in basic research and model systems, and accelerating translational research discoveries into tools to help clinicians diagnose and treat people with sensory and communication disorders.1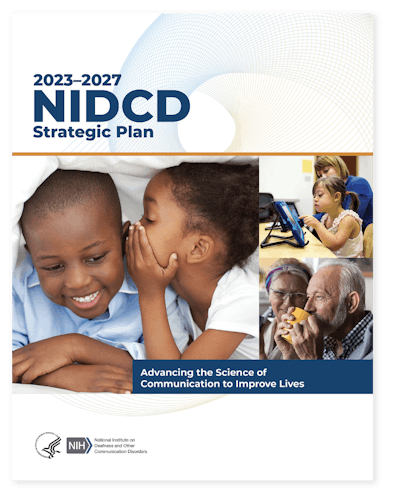 Over the last three decades, research supported by NIDCD has led to increasingly effective, evidence-based treatments for millions of Americans impacted by conditions affecting hearing, balance, taste, smell, voice, speech, or language.2,3 To define our priorities for the next five years, the 2023-2027 NIDCD Strategic Plan: Advancing the Science of Communication to Improve Lives was developed with input from scientific experts, the National Deafness and Other Communication Disorders Advisory Council, NIDCD staff, and the public. The result is a plan that identifies six main scientific themes that hold the greatest promise in advancing discoveries to meet the most urgent public health needs within NIDCD's mission areas. These themes include:
Basic research to better understand normal function and disordered processes
Model systems to inform research and transform findings into more effective treatments 
Precision medicine approaches to improve prevention, diagnosis, and treatment
Translation of scientific advances into standard clinical care 
Biomedical data sharing
Advanced technologies to improve prevention, diagnosis, and treatment1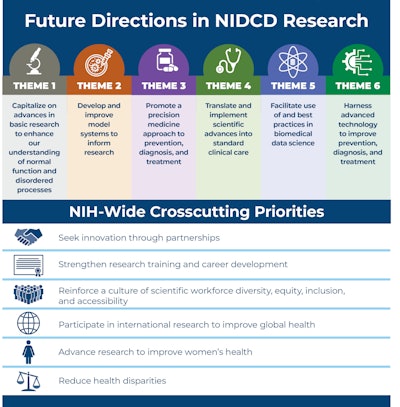 Click here for larger image.
---
Research in these priority areas will stimulate new discoveries to transform clinical practice. For example, personalized therapies and clinical decision-making benefit from shared biomedical data, recent technologies, and basic science and model systems that uncover underlying disease mechanisms. Collaborations among interdisciplinary teams also facilitate the translation of laboratory research findings into improved patient care. These partnerships help basic researchers better understand how their discoveries can address challenges faced by clinicians. In turn, clinicians use basic research findings to guide the application of interventions—such as prostheses, assistive devices, therapies, clinical tools, and medications—so that they are effective for diverse individuals, communities, and types of practices.1
Ongoing interactions between scientists and clinicians are vital for NIDCD's success, and we've launched several research training and career development initiatives to strengthen these fundamental partnerships. NIDCD's programs use structured mentoring to help new scientists establish careers in our mission areas and to encourage clinicians to pursue opportunities in translational research. Mentorship is especially important for developing and retaining an inclusive scientific workforce. When early career biomedical investigators from underrepresented groups benefit from grant-writing mentorship, they are more likely to demonstrate publication productivity, which plays a pivotal role in advancing their careers.4
NIDCD's mentoring initiatives provide research training experiences for residents5 and clinician-scientists,6,7 including otolaryngology surgeon-scientists.8 NIDCD is particularly proud of our on-campus Otolaryngology Surgeon-Scientist Program.4  Participants design translational research projects to bridge basic science, medicine, and surgery. The program's stable funding and supportive mentorship provide an optimal environment for surgeon-scientists to develop the skills necessary for cutting-edge, translational research on human communication processes. For example, current surgeon-scientists are making advances in applying gene therapy as a treatment for hearing loss and dizziness,9 identifying drugs that can be repurposed to treat inner ear disease,10 and testing immunotherapy in a clinical trial to target cancers that impact human communication.11 NIDCD also offers mentored career development awards to support research independence in biomedical, behavioral, or translational fields for clinical doctoral recipients conducting basic12 or clinical13 research. NIDCD encourages those interested in these programs to visit our website for guidance.14,15,16
Although the United States invests billions of dollars annually on research, the scientific community would benefit from a larger focus in dissemination and implementation (D&I) research. D&I research seeks to understand how to ensure that the lessons learned from research are adopted in clinical practice to improve quality of health, delivery of services, and the utilization and sustainability of evidence-based tools and approaches. NIDCD recognizes the importance of D&I research to improving the lives of individuals with hearing loss and communication disorders. In this vein, NIDCD supports funding opportunities to encourage D&I research to bridge the gap between research and practice in healthcare settings, including community-based care.17 NIDCD encourages research to understand how we can change behavior of practitioners, support staff, organizations, consumers, and family members to reach our desired outcome: improved diagnosis, prevention, and treatment of sensory and communication disorders. 
D&I strategies should promote collaborations among researchers and clinicians to understand and overcome barriers that interfere with reaching communities and incorporating new practices to improve overall strategy effectiveness to treat and prevent sensory and communication disorders. Currently, NIDCD lacks critical information about which strategies work for which interventions, in which settings, and for what populations,18 including underrepresented communities.19,20 To move forward, NIDCD encourages studies to test new and creative ways to package and convey the evidence necessary to improve public health, community, and healthcare services in ways relevant to specific neighborhoods and communities.
Part of translating evidence-based practices, interventions, and policies effectively to real-world settings includes not only understanding what works and why, but also when to stop using ineffective, unproven, low-value, or harmful interventions. Healthy People is a U.S. Department of Health and Human Services (HHS) initiative designed to guide national health promotion and disease prevention efforts to improve the health of the nation. NIDCD participates in and invests in funding for Healthy People. The Healthy People objectives are designed to ensure that all Americans, from birth through old age, will benefit from scientific advances in the prevention, diagnosis, and treatment of sensory or communication disorders. As part of its overall efforts, the Healthy People initiative provides a list of published reviews that evaluate evidence-based interventions.21 The collaboration engages multiple sectors to strengthen policies and improve practices, driven by the best available evidence.
As we look into the future, NIDCD remains committed to supporting research that uses innovative, multidisciplinary approaches to meet unmet public health challenges within our mission areas. We continue to encourage investigator-initiated applications, especially those meeting the themes outlined in our strategic plan or the areas described within our D&I funding opportunities. On behalf of NIDCD, I look forward to working with scientists, clinicians, health professionals, policymakers, and other stakeholders to advance our mission to conduct and support research and research training in the normal and disordered processes of hearing, balance, taste, smell, voice, speech, and language.
Financial disclosures/conflicts of interest: There are no conflicts of interest, financial or otherwise.
All correspondence should be addressed to:
Debara L. Tucci, National Institute on Deafness and Other Communication Disorders, National Institutes of Health, 31 Center Drive, MSC 2320, Bethesda, Maryland, 20892.
Email: nidcdinfo@nidcd.nih.gov 
---
References
NIDCD. 2023-2027 NIDCD Strategic Plan: Advancing the Science of Communication to Improve Lives. U.S. Department of Health and Human Services, National Institutes of Health. Published December 7, 2022. Accessed December 27, 2022. https://www.nidcd.nih.gov/about/strategic-plan/2023-2027-nidcd-strategic-plan
Hoffman H, Dobie R, Losonczy K, et al. Burden of Ear, Nose and Throat - Voice, Speech and Language Disorders Based on United States Health Surveys, 2011-2016. In: Assoc. Res. Otolaryngol. Abs. Vol 42. ; 2019:717-718. https://aro.org/wp-content/uploads/2020/09/2019_aro_mwm_abstracts_final.pdf
Blackwell D, Lucas J, Clarke T. Summary Health Statistics for U.S. Adults: National Health Interview Survey, 2012. Centers for Disease Control and Prevention. National Center for Health Statistics; 2014. http://www.cdc.gov/nchs/data/series/sr_10/sr10_260.pdf
Campbell AG, Leibowitz MJ, Murray SA, Burgess D, Denetclaw WF, Carrero-Martinez FA, Asai DJ. Partnered research experiences for junior faculty at minority-serving institutions enhance professional success. CBE Life Sci Educ. 2013 Fall;12(3):394-402. doi: 10.1187/cbe.13-02-0025. PMID: 24006388; PMCID: PMC3763007.
NIDCD. RFA-DC-20-002: Otolaryngology Residency Mentored Research Pathway. Published September 22, 2020. Accessed February 12, 2023. https://grants.nih.gov/grants/guide/rfa-files/RFA-DC-20-002.html
NIDCD. PAR-21-187: NIDCD's Mentoring Networks to Enhance Clinician-Scientists' Participation in Research. Published March 31, 2021. Accessed February 12, 2023. https://grants.nih.gov/grants/guide/pa-files/PAR-21-187.html
NIDCD. PAR-21-188: Research Experiences to Enhance Clinician-Scientists' Participation in NIDCDs Research. Published April 5, 2021. Accessed February 12, 2023. https://grants.nih.gov/grants/guide/pa-files/PAR-21-188.html
NIDCD. NIDCD Otolaryngology Surgeon-Scientist Program. Published February 6, 2023. Accessed February 12, 2023. https://www.nidcd.nih.gov/training/otolaryngology-surgeon-scientist
Isgrig, K., Shteamer, J.W., Belyantseva, I.A., et al. Gene Therapy Restores Balance and Auditory Functions in a Mouse Model of Usher Syndrome. Mol Ther. Mar 1; 25(3):  780-791, 427 (2017). doi: 10.1016/j.ymthe.2017.01.007.
Missner AA, Johns JD, Gu S, Hoa M. Repurposable Drugs That Interact with Steroid Responsive Gene Targets for Inner Ear Disease. Biomolecules. 2022 Nov 5;12(11):1641. doi: 10.3390/biom12111641. PMID: 36358991; PMCID: PMC9687275.
Floudas, Charalampos. Phase 2 Study of Bintrafusp Alfa in Recurrent/Metastatic Olfactory Neuroblastoma (BARON). ClinicalTrials.gov identifier: NCT05012098. Updated January 25, 2023. Accessed February 22, 2023. https://clinicaltrials.gov/ct2/show/NCT05012098?cond=olfactory+neuroblastoma&draw=2&rank=2 
NIDCD. PA-20-203: Mentored Clinical Scientist Research Career Development Award. Published May 12, 2020. Accessed February 12, 2023. https://grants.nih.gov/grants/guide/pa-files/PA-20-203.html
NIDCD. PA-20-206: Mentored Patient-Oriented Research Career Development Award. Published May 12, 2020. Accessed February 12, 2023. https://grants.nih.gov/grants/guide/pa-files/PA-20-206.html
NIDCD. NIDCD Clinician-Scientists (R25) Training Webinar. Published December 3, 2021. Accessed February 12, 2023. https://www.nidcd.nih.gov/news/events/nidcd-clinician-scientists-r25-training-webinar
NIDCD. Research Training and Career Development. U.S. Department of Health and Human Services, National Institutes of Health. Accessed December 29, 2022. https://www.nidcd.nih.gov/training
NIDCD. Research Training and Career Development in NIDCD Laboratories (Intramural). U.S. Department of Health and Human Services, National Institutes of Health. Published August 4, 2022. Accessed December 29, 2022. https://www.nidcd.nih.gov/training/intramural-labs
NIH. Dissemination & Implementation (D&I) Research. Office of Disease Prevention. Accessed February 13, 2023. https://prevention.nih.gov/research-priorities/dissemination-implementation
NIDCD. RFA-DC-22-001: NIDCD Research Grants for Translating Basic Research into Clinical Tools. Published June 25, 2021. Accessed February 13, 2023. https://grants.nih.gov/grants/guide/rfa-files/RFA-DC-22-001.html
NIH. PAR-22-105: Dissemination and Implementation Research in Health. Published May 10, 2022. Accessed February 13, 2023. https://grants.nih.gov/grants/guide/pa-files/par-22-105.html
NIH. PAR-22-109: Dissemination and Implementation Research in Health. Published May 10, 2022. Accessed February 13, 2023. https://grants.nih.gov/grants/guide/pa-files/PAR-22-109.html
Office of Disease Prevention & Health Promotion, HHS. Browse Evidence-Based Resources. Healthy People 2030. Accessed February 13, 2023. https://health.gov/healthypeople/tools-action/browse-evidence-based-resources