---
For Your Patients | National Sleep Awareness Week is March 12-18: It's Time to Be Your Best Slept Self!®
Academy partners on new five-year campaign, Sleep Apnea: "More Than a Snore."
---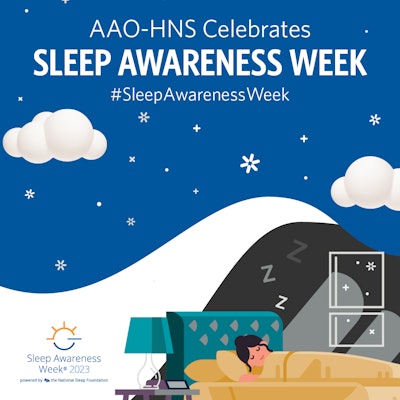 The National Sleep Foundation sponsors this health observation to create awareness about the importance of sleep health. 2023 marks the 25th anniversary of this public campaign to recognize sleep as a crucial part of health and well-being.
The American Academy of Otolaryngology–Head and Neck Surgery (AAO-HNS) joins in the efforts of this health observance to further the reach of reliable and trusted information about sleep disorders. For information and resources to share with your patients about sleep disorders and treatments, go to the Academy's patient information website, ENThealth.org, to find the following patient information and more:
NEW! Sleep Apnea: "More Than a Snore" Campaign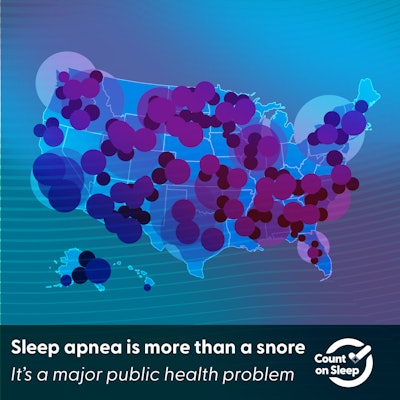 AAO-HNS is partnering on Count on Sleep, a multiorganizational collaboration to raise public awareness of obstructive sleep apnea (OSA). This project is designed to decrease the number of adults in the United States with undiagnosed or untreated OSA through public awareness, primary healthcare provider education, and public health resources.
This campaign seeks to inform the public that untreated sleep apnea is "More Than a Snore" and that it affects a person's long-term health and quality of life. The campaign offers resources for the public and healthcare professionals. Patients can find a conversation guide to help them talk to their doctors about any sleep concerns and OSA symptoms they may be experiencing. And health professionals can find practice resources and care pathways.
Recognizing the importance of increased awareness of OSA, several specialty and patient-focused organizations have partnered on this program, including the American Academy of Sleep Medicine, Sleep Research Society, Alliance of Sleep Apnea Partners, American Academy of Dental Sleep Medicine, American Academy of Otolaryngology–Head and Neck Surgery, American College of Chest Physicians, American Society for Metabolic and Bariatric Surgery, American Thoracic Society, and National Sleep Foundation.
The multiyear campaign is a collaborative project funded through a grant awarded to the AASM by the Centers for Disease Control and Prevention's National Center for Chronic Disease Prevention and Health Promotion.
Resources to assist the public and healthcare professionals in recognizing sleep apnea are available on the Count on Sleep website at www.countonsleep.org.
This Count on Sleep campaign was supported by the Centers for Disease Control and Prevention of the U.S. Department of Health and Human Services (HHS) as part of a financial assistance award totaling $704,163 with 100 percent funded by CDC/HHS. The contents are those of the author(s) and do not necessarily represent the official views of, nor an endorsement, by CDC/HHS, or the U.S. Government.