Published:
March 31, 2023
---
Disability: The Last Frontier of Equity
Hands-on tips provide guidance for leveling the playing field for people with disabilities.
---
Kevin C. McMains, MD, Diversity and Inclusion Committee member
---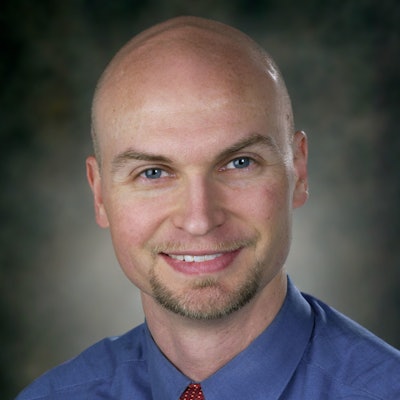 "The true measure of any society can be found in how it treats its most vulnerable members." —Mahatma Gandhi
The first thing I saw when my daughter was delivered by C-section was the large, grey area in the center of her back. It felt like a punch in the stomach. Although I couldn't know the specifics of what her spina bifida would mean for her and our family, I knew in that moment that it would be different from what we had imagined. Thus began our journey into living with disability.
The Americans with Disabilities Act (ADA) was signed into law by President George H.W. Bush in 1992. It represents an important plank of the Civil Rights Act, guaranteeing equal protection under the law for a large number of our fellow Americans who had not previously benefitted from legal recognition and protection.
At its heart, the conversation about disability is an equity issue. In his book How to Be an Antiracist, Professor Ibram X. Kendi makes the compelling case that, where race is concerned, there isn't a posture of neutrality. An individual either sustains a system that favors certain populations or they actively engage in efforts to change that system. The same argument holds for disability. Our systems are set up to favor those with "typical" physical and intellectual abilities. Educational, transportation, and medical systems all place greater burden on people living with disability.
If this article challenges you to take action, I am humbly grateful for your openness. I would offer a few suggestions informed by our experience and the excellent Demystifying Disability by Emily Ladau.
What you can do
1. Individual Patient
a. Attitude of openness. Sometimes my verbal communication can say all the right things while my nonverbal communication is screaming, "Please don't get into that…"
b. Take time to listen. Find out what barriers individual patients are encountering at school, at work, and with their insurers. And find out what specific language is most helpful.
c. Fill out the forms! Make sure follow-up is scheduled.
2. Individual Practitioner: Learn what language is accepted within the disability community and communicates the greatest respect (e.g., "wheelchair user" is preferred to "wheelchair bound"—I have to run to keep up with my daughter when she is in her wheelchair!)
3. Office
a. Think carefully about access. Physical plan is the obvious one here—doors, ramps, and restrooms are all low-hanging fruit.
b. Check for accessibility. Sit in a rolling chair and try to access everything you need throughout the office. A patient of mine notes that soap dispensers and paper towels are common issues.
c. There are other dimensions of access. Just today, I called a medical office to make an appointment and heard only audio instructions to log in to the portal to make an appointment. There was a range of barriers present in this single interaction: assumption of adequate hearing, access to a computer, and mental agility sufficient to access the system. Seeking the input of patients can be eye-opening on this front.
4. Advocacy: As physicians and surgeons, we are respected members of community with a legitimate voice in conversations involving issues that affect health. Accessibility, medical service provision, and transportation are all conversations where we can move the needle.
The path my family travels involves having to learn and overcome much that we would not have chosen. Each of us can meaningfully touch the lives of our families, our neighbors, and our communities by taking up the call to learn, to advocate, to invest, and to fight on the last frontier of equity. I want to challenge us, as a profession, to enable and ennoble those who live with disability through solidarity with them. Let us give others reason to judge our society well.