Published:
April 17, 2023
---
IVS: Experience New Technologies and Research
Reflections from AAO-HNSF International Visiting Scholarship (IVS) Awardee, Wale L. Gellaw, MD, Addis Ababa, Ethiopia.
---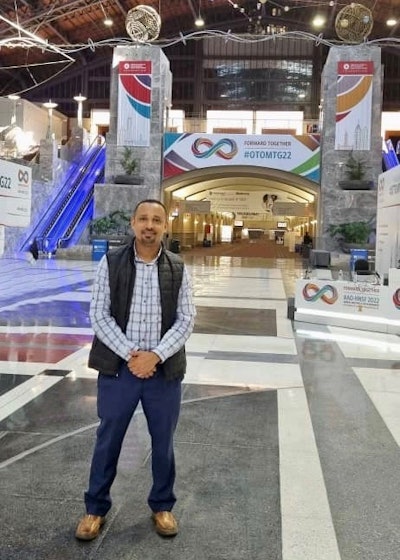 My name is Dr. Wale L. Gellaw, and I am an ENT from Ethiopia. I joined the specialty as a resident at Addis Ababa University in 2014, and I completed a fellowship in pediatrics otolaryngology at the University of South Africa, Cape Town, in 2019. I am now currently practicing at St. Paul Hospital Millennium Medical College, a teaching Hospital in Addis Ababa, Ethiopia.
I learned about the American Academy of Otolaryngology–Head and Neck Surgery Foundation (AAO-HNSF) International Visiting Scholarship (IVS) Program while I was a visiting physician at the University of Pittsburgh Medical Center (UPMC) in 2019. I spent a month working and learning at UPMC's Division of Pediatric Otolaryngology, where I also attended a temporal bone course. At UPMC I interacted with incredible physicians who not only inspired me, but also encouraged me to become more involved with the AAO-HNS/F. On their recommendation, I applied and was accepted into the 2020 IVS Program. Unfortunately, my participation in the program was delayed due to the COVID pandemic; however, I was thrilled to have the opportunity be part of the 2022 IVS Program. 
In October 2022, as part of the IVS Program, I returned to Pittsburgh, Pennsylvania, and participated in an observership at the UPMC Children's Hospital of Pittsburgh, where I attended theater times, out-patient clinics, and academic sessions. I also had the opportunity to attend the AAO-HNSF 2022 Annual Meeting & OTO Experience in Philadelphia, Pennsylvania. I was so surprised by the huge crowd of medical professionals, exhibitors, and educators. This was my first time attending such a large conference, and I was in awe of how well the event was executed.
I learned a lot from the observership and the Annual Meeting, including important surgical tips that I now apply to my daily practices in Ethiopia. Science is incredibly dynamic; being able to complete the observership and attend the Annual Meeting enabled me to experience new technologies and research that have been crucial to my professional development and patient care. I strongly encourage other young physicians from low resource areas to apply to participate in this marvelous program!
I want to express my appreciation for the generous donors whose contributions make the IVS Program possible. Their gifts have benefited so many physicians, like me, who serve patients from lower resourced and underserviced areas. I also want to thank the AAO-HNSF leadership and staff for their meticulous help and clear orientation. I am grateful for the AAO-HNSF community for providing me this extraordinary opportunity.