Published:
April 17, 2023
---
Your Voice Matters: World Voice Day Past and Present
Recognizing the significance our voice plays in each of our identities and emotional expressions.
---
Jonathan Bock, MD, and Karla D. O'Dell, MD, Voice Committee members
---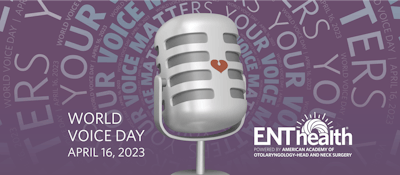 World Voice Day is an annual event celebrated around the world on April 16 with a goal to increase public awareness regarding the importance of voice in expression and communication in addition to highlighting the significance of vocal health problems.
The annual theme of World Voice Day is chosen by members of the American Academy of Otolaryngology–Head and Neck Surgery (AAO-HNS) Voice Committee. This year's theme, "Your Voice Matters," has relevance today as we balance the demands of our daily professional and social interactions with the health of our voice. Your Voice Matters is a message to the world to prioritize voice care as an acknowledgment to the significance our voice plays in each of our identities and emotional expressions.   
Our individual voices are a distinctive demonstration of who we are, and moreover, our voices serve as our primary method of communication with the world around us. Patients who struggle with vocal loss and hoarseness lose a part of their personality and individual expression, which impacts them and their loved ones in powerful ways. Many of these patients deal with significant depression, anxiety, and stress in their daily lives as they try to maintain their professional and social obligations. In the voice clinic, we tend to see a lot of vocal professionals who use their voice heavily for their profession every day. These include pastors, teachers, musicians, public speakers, lawyers, and salespeople. For these patients, their voice is often their livelihood, and their daily vocal health is always on their mind. Voice issues can affect anyone, but it is important for patients and their caregivers to know that specialized care exists for such problems. One of the main focuses of World Voice Day is to spread awareness of vocal health issues around the world and to let patients and professionals know that specialized care is available and ready for this challenging patient population.
History of World Voice Day
The origins of World Voice Day trace back to the Brazilian Society of Laryngology and Voice in 1999. This multidisciplinary group, comprised of physicians, speech language pathologists, and singing voice therapists, established the Brazilian National Voice Day.  Additional countries including Argentina and Portugal joined in the celebration to transform Brazilian National Voice Day into International Voice Day. The celebration officially became "World Voice Day" in 2002 with the recognition of the event by the American Academy of Otolaryngology–Head and Neck Surgery (AAO-HNS), spearheaded by the Speech, Voice, and Swallowing Disorders Committee. The objectives were to raise awareness about voice-related occupations and the subsequent impact of voice disorders. It served to highlight the role of otolaryngology in the diagnosis and treatment of voice disorders and to raise awareness about risk factors for laryngeal cancer.
Over the past 20 years, the celebration has grown worldwide, and the focus has become much more inclusive of all types of voice disorders and singing voice problems. The World Voice Day website, established in 2012, enables countries all over the world to register their events to celebrate World Voice Day. There are more than 800 events in more than 55 countries that are registered through the World Voice Day website each year.
World Voice Day 2023 Materials
We hope you will join us in celebrating "Your Voice Matters" on World Voice Day, April 16, 2023.
New in 2023! In recognition of World Voice Day, the AAO-HNS Voice Committee developed a patient-focused Q&A video, answering common questions about seeing an otolaryngologist/laryngologist for voice symptoms as well as vocal care, conditions, and treatments.
Tools for You! In addition to the video, the AAO-HNS Voice Committee has developed several resources for members to use to promote World Voice Day and vocal health and hygiene to your patients and communities. The World Voice Day toolkit includes social media graphics and posts, posters, patient information, Bulletin articles, and more!