Published:
April 25, 2022
---
Donor Spotlight: Col. Joan T. Zajtchuk, MC/USA, Retired, and Brig. Gen. Russ Zajtchuk, MC/USA, Retired
The AAO-HNS foundation is pleased to recognize Joan T. Zajtchuk, MD, and her husband, Russ Zajtchuk, MD, as new Millennium Society Lifetime donors.
---

The AAO-HNS foundation is pleased to recognize Joan T. Zajtchuk, MD, and her husband, Russ Zajtchuk, MD, as new Millennium Society Lifetime donors.

"Our gift was made to recognize the contributions by and in the memory of the seven pioneering women otolaryngologists of the 1970s and 1980s," said Dr. Joan Zajtchuk, who spoke to the AAO-HNSF on behalf of herself and her husband. 
As a member of this groundbreaking group herself, Dr. Joan Zajtchuk was a harbinger of an inclusive specialty.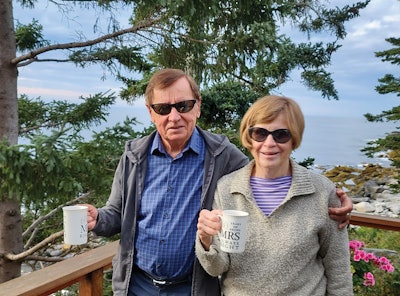 "All of us were surprised by the attention given to us by our male colleagues as we began to meet informally at national annual meetings. Russ and I like to think that this early initiative was the start of the formal recognition of the WIO Section of the AAO-HNS." 
In 1967 Dr. Joan Zajtchuk was the first female otolaryngology resident selected by John R. Lindsay, MD, then chair of the otolaryngology section at the University of Chicago. She and her husband went on to serve in the U.S. Army during the Vietnam War. Upon her return from Vietnam in 1972, Dr. Zajtchuk joined the AAO-HNS and served on multiple committees, including the Government Affairs Committee and the Subcommittee on Appropriations. She recommends new members join a committee as a way to stay engaged and involved with the specialty.
When asked about her and her husband's views on philanthropic support, Dr. Joan Zajtchuk replied, "We realized that endowments or grants are needed to support specific educational programs or research projects. Our interest in supporting people and organizations is long-standing." The Zajtchuks have an endowment for otolaryngology resident research at their alma mater. They also established two medical school scholarships to help those who are disadvantaged or underrepresented. "Several of our awardees have written to us personally expressing their gratitude for this help early on in their career," said Dr. Joan Zajtchuk. As part of their philanthropic legacy, in 2020, the Zajtchuks made a generous donation to the WIO Endowment Fund, "envisioning the establishment of educational, research, or leadership development initiatives within the WIO section." 
They believe in establishing such a program for women otolaryngologists that would expand their opportunities to further develop skills in administration, business practices, or health policy. "A program such as this," said Dr. Joan Zajtchuk, would put these women "on a more even playing field for early selection as chairs of departments or sections or as residency directors." She further noted that this broadened experience would make them more competitive for selection to influential positions within their organizations or institutions.
Her personal experiences within the Army provide ample evidence in support of such opportunities. Army policy has the tradition of developing educational and leadership skills and to provide these opportunities for all active duty. Early in her career in 1977, she assumed positions as director of interns and residency training program at Walter Reed Army Medical Center. In 1980 she was allowed time away from her duties to work with esteemed otolaryngology surgeon and inventor, William W. Montgomery, MD, at Massachusetts General Hospital. At Walter Reed in 1982, with her appointment as residency program chair and director of otolaryngology-head and neck surgery, she became the first woman to chair an Army graduate medical education program. In this role, she was also otolaryngology consultant to the U.S. Surgeon General and Department of Defense. 
After completion of a year-long program at the Industrial College of the Armed Forces in 1990, the highest Senior Service School, she became competitive for future selection to Command positions. In 1991 she became deputy commander of Walter Reed Army Medical Center and the director of medical education. To round out her vast experience with academic studies, she completed a master's program in healthcare administration and health policy at George Washington University before retiring as Special Assistant to the Army Surgeon in Health Policy. 
The Academy and its Foundation thank Dr. Joan Zajtchuk for her leadership and commitment to advancing the careers of women in otolaryngology. The generous philanthropic support of the specialty from her and her husband, Dr. Russ Zajtchuk, has a wider benefit to healthcare as a whole.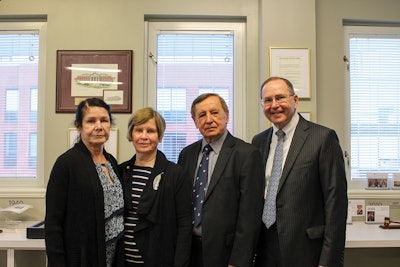 Dr. Joan T. Zajtchuk, COL (ret.) MC, U.S. Army, (second from left) visited the Academy headquarters in Alexandria, Virginia, with her husband, Dr. Russ Zajtchuk, (second from right), and sister, Carole Arch (left), for a special unveiling of the new History of Women in Otolaryngology permanent exhibit, located within The John Q. Adams Center for the History of Otolaryngology-Head and Neck Surgery. This exhibit showcases the impact women have made, beginning as far back as the late 1800s and continuing through today. Their stories, photographs, and artifacts are a living testament to the significant contributions women have made and continue to make to the specialty. James C. Denneny III, MD, AAO-HNS/F Executive Vice President and CEO, (right) provided a tour of the museum and exhibit.