Published:
April 25, 2022
---
The OTO Experience: A Must-Attend Event where Industry, Science, and Education Connect the Global Otolaryngology Community
Similar to Reading Terminal and the Italian Market, two famous must-see locations during your time in Philadelphia, Pennsylvania, so too is the marketplace that is the OTO Experience!
---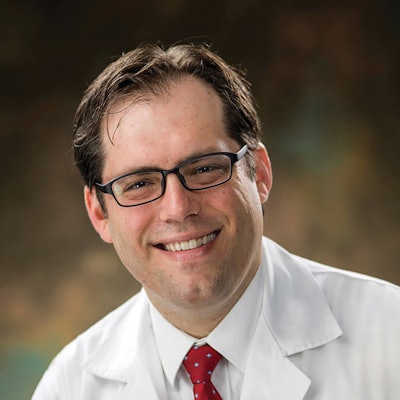 "The OTO Experience is a huge opportunity for both domestic and international attendees. It's a theme park for the otolaryngologist—to walk through the hall and see the new technologies; to have easy access to buy whatever you need to augment your practice right now; in many ways, to be kicked in the brain about what's possible! I think our industry partners do a great job helping us think in an innovative fashion. Every year I come home from the OTO Experience with at least one or two follow-up calls planned with industry partners to consider if I can integrate a new technology into my practice. In 2021, it was imaging technology to help with neck dissection and thyroid surgery. If you are in the OTO Experience, it is impossible to walk out of there without being wowed by something ... and maybe with a new pair of loops too."
– Daniel C. Chelius, Jr., MD, Annual Meeting Program Coordinator
---
Similar to Reading Terminal and the Italian Market, two famous must-see locations during your time in Philadelphia, Pennsylvania, so too is the marketplace that is the OTO Experience! Peruse the cutting-edge technologies and innovation on display via the exhibitors. Make it a frequent stop during your daily Annual Meeting schedule as it houses some of the latest science and education offerings. In addition to all of that, it also serves as networking central in 2022 where you can connect and engage with other attendees, leaders in the specialty, industry partners, colleagues, peers, and more. Exploring the OTO Experience is a once-a-year opportunity, and in 2022, it is the place to be!
This year's OTO Experience, located inside the Pennsylvania Convention Center in the historic city of Philadelphia, is a mecca for attendees. It provides a central location for myriad opportunities to engage with each other and the 250+ exhibitors representing a vast array of industries that specialize in surgical tools, robotics, imaging and video, diagnostic technology, and more. Additionally, it is truly representative of a cornucopia of education, cutting-edge science, innovative technologies, hands-on learning, networking with peers, colleagues, and leaders in the specialty, and so much more. 
The OTO Experience is known for creating an environment where science, education, and industry work collaboratively and encourage mutually beneficial partnerships within the house of otolaryngology. All exhibits, education, and networking opportunities offered within the OTO Experience serve the common purpose of supporting otolaryngology-head and neck surgery to advance patient care.
In the OTO Experience, you will find a multitude of engaging opportunities to capitalize your time. The industry-focused Thought Leadership Series includes both one-hour OTO Pavilion and 30-minute OTO Theater sessions. With these attractions on both sides of the exhibit hall, sponsors will spotlight their product, new scientific research, or company position on trending topics within the field of otolaryngology to provide attendees the insight of our industry partners. 
In 2022 we are building upon the past success of Lunch with the Experts to also offer Business Solutions for Breakfast with the Private Practice Study Group. During the Breakfast, attendees engage in peer exchange and discussion on focused practice management and business of medicine topics with leading members of the Private Practice Study Group. Lunch with the Experts offers peer exchange and discussion on focused clinical and professional topics with recognized leaders from throughout the field in an intimate atmosphere. Both activities require a ticket to the event(s), which you can add on during the registration process. Free boxed lunches and occasional refreshments throughout the day will be available daily for all attendees in the exhibit hall as well. 
Another opportunity attendees can take advantage of is the Rapid Poster Presentation. This presentation format showcases the highly ranked poster submissions in each subspecialty, giving the selected poster presenters the opportunity to provide a focused oral summary with a limited set of slides highlighting and describing the major influence of their research. The presentations take place during the lunch hour in the Poster Pavilion. 
New this year, the OTO Experience will be the site of the Women in OTO (WIO) General Assembly, which is an opportunity to meet women within the field and shed light on their accomplishments. This annual event is open to all attendees and gives everyone the opportunity to celebrate and support the women who have dedicated their lives to the advancement of the specialty, their colleagues, and their patients. A ticket is required to attend this activity, which can be added during the registration process.
Also new this year to the OTO Experience, will be the ENTrepreneur Faceoff. This event, which debuted in 2021, allows industry entrepreneurs to go head-to-head with their latest innovations with a panel of judges and audience members viewing the top presentations and products within the industry. 
We are also happy to announce that coming back to the OTO Experience in 2022 is the Portrait Studio, a popular attraction for attendees to get a professional headshot photo. This service is offered complimentary to all attendees. 
The OTO Experience is a core location to ensure you are making the most of your Annual Meeting attendance, and we hope that you will find yourself a frequent participant in all the OTO Experience has to offer. With so many new and exciting opportunities being added this year, you will not want to miss the OTO Experience in Philadelphia! Look for more details about programming and schedules within the OTO Experience at https://www.entnet.org/events/annual-meeting/.