Published:
August 1, 2023
---
A Chance to Inspire and Be Inspired
Here's a sampling of the different education opportunities available this fall in Nashville.
---
Daniel C. Chelius, Jr., MD, AAO-HNSF Annual Meeting Program Coordinator
---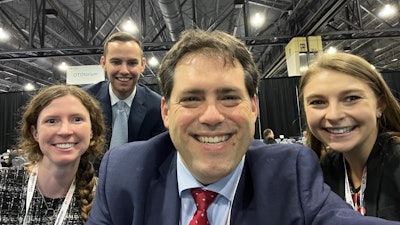 I cannot believe we are only two months away from the 127th AAO-HNSF Annual Meeting & OTO Experience in Nashville, Tennessee, September 30 – October 4. I feel like I was just saying goodbye to colleagues in Philadelphia over lunch in Reading Terminal, but here we are with the majority of our strategizing, organizing, and operational planning already done for the meeting this fall. And I can say with immense pride in our staff team, the Annual Meeting Program Committee, the meeting faculty, and so many engaged members that we are in better shape than ever to have an extraordinary and successful reunion this year.
Since our Academy's inception in Kansas City in 1896, most of the education and scientific content at the Annual Meetings has arisen organically from the membership. Whereas so many medical meetings have an almost exclusively invited education program, our meeting content reflects the ongoing grassroots conversations within our field allowing critical issues to naturally draw our attention and allowing all members an opportunity to add their voice and experience to the discussion. I believe this aspect of our meeting underscores and reinforces a core component of the character of the AAO-HNS/F. There is no nebulous "they" in our Academy or in our Annual Meeting—it is just "us," pooling our passions, time, and resources to try to make otolaryngology ever better for our patients and for each other.      
Thanks to an overwhelmingly enthusiastic response to our 2023 Call for Science and the generous volunteerism of so many faculty, we have crafted an education program for Nashville that offers a diversity of topics, speakers, and platforms that we hope can address the preferred learning styles, specific education needs, and breadth of intellectual curiosity of each attendee. To borrow the phrase, we hope there is something for everyone at this year's Annual Meeting that leaves you refreshed, challenged, and excited to join us again in 2024 in Miami, Florida. Here are a few highlights of simulation and discourse education program:
Simulation
Simulation is increasingly incorporated into every corner of the education world including at our Annual Meeting. The ever-popular Worst-Case Scenarios: Managing OTO Emergencies in Practice Workshop will run off-site in the afternoon of Sunday, October 1 at the Vanderbilt University – Center for Experiential Learning and Assessment (pre-registration required). The SIM Tank competition and Simulation Reception and Showcase returns in the evening of Monday, October 2.  
NEW! Simulation Center: Although the COVID-19 pandemic delayed our plans to expand simulation courses at the Annual Meeting, we still had well-attended and well-reviewed offerings in both Los Angeles and Philadelphia reflecting the innovation and expertise of so many faculty. This fall, we will launch a fully realized Simulation Center in the Omni Hotel immediately adjacent and connected to the main Music City Center with two-to-three courses during each education session Sunday through Tuesday. I am so grateful to our simulation faculty, and especially to members of the Simulation Education Committee and their chair Katherine Kavanagh, MD, for their vision and determination in bringing this center to life. We have many simulation favorites returning like comprehensive oral appliance therapy, three-dimensional virtual reconstruction planning, endonasal and percutaneous osteotomy techniques, challenging airway management, and ear framework creation for microtia reconstruction. We also have an exciting set of new simulation offerings that will run for multiple sessions including an otolaryngology escape room, a frontal sinus dissection course, a hands-on LASER training course, multiple practical facial trauma and boney reconstruction courses, and an introduction to 3D printing techniques and applications among many others.   
Discourse
In addition to the approximately 450 Panel Presentations, Expert Lectures, and International Symposia Sessions, and 50 Scientific Oral Presentation Sessions that form the backbone of our annual discourse, three special platforms will draw on our communal experience and expertise in different ways to consider the pressing questions in the field.  
The Office Hours: After a successful launch in Philadelphia in 2022, we will have expanded Office Hours sessions during lunch on Sunday and Tuesday this year. The Office Hours will feature informal subspecialty conversations by panels of nationally and internationally renowned thought-leaders responding to questions, cases, and ideas brought forth from the audience.
The Great Debates: Back for the third iteration under the returning leadership of Annual Meeting Coordinator-elect Cecelia Damask, DO, the Great Debates promise to bring an exciting approach to some of the most controversial questions in our field. The debates have been some of the most well-attended and well-reviewed offerings of the past two meetings. I'm particularly excited about several of the cross-subspecialty debates we'll see for this first time this fall.  Please see Dr. Damask's Great Debates preview, "Debate Is Good Medicine," in the July Bulletin EXTRA.
Crucial Conversations: We all know that there are some difficult questions that are fundamental to our field and the practice of medicine that cross specialty and subspecialty lines, practice settings, and career phases. These questions warrant the combined focus of our entire membership to direct our strategic aims in the coming years and can best be considered with the combined broad expertise uniquely present within the Academy and particularly at the Annual Meeting. The inaugural Crucial Conversations session Monday morning will bring together a diverse set of expert perspectives for a careful examination of such a topic. AAO-HNS/F Past President Albert L. Merati, MD, will lead the Academy's consideration of the future of otolaryngology training during "Examining the Relationship between Otolaryngology Training and Our Field as a Whole: Wow Are We Doing?" Among many questions, the conversation will consider:
Are training programs doing right by our field in general and what responsibility should programs have to the field?
As otolaryngology-head and neck surgery remains a competitive residency, more and more medical students are taking a year off for research creating a "student research arms race." What impact is this having on our field?
Do the desires and preferences of academic otolaryngologists as gatekeepers to training impact the field in ways we can and should describe, and does this disadvantage nonacademic practice models, intentionally or otherwise?
What is the training value of clinical exposure to comprehensive otolaryngology practices and practices outside a traditional academic model?
Is the time right to look at alternate training pathways?
This is only a small sampling of the different education opportunities available this fall in Nashville. In every conversation in the hallways and the OTO Experience, every reunion with old friends and introduction to future colleagues, every chance to step forward and volunteer lies both an opportunity to teach and learn, to inspire and be inspired. We can't wait to see you there in October.   
Here are some other helpful links for your 2023 Annual Meeting Planning:
Stay up to date on the 2023 Annual Meeting programming information and news.