Published:
August 17, 2023
---
Encounter and Engage in All the OTO Experience Has to Offer
The OTO Experience is your one-stop shop for education, networking, and display of the latest advances in the specialty. Don't forget lunch and coffee and nearly 550 Posters!
---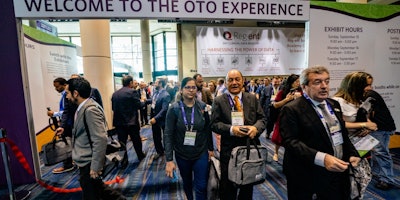 The OTO Experience features the most comprehensive display of the latest products and services available for advancing the specialty of ear, nose, and throat care. With exhibitors at the ready, attendees can participate in hands-on demonstrations and Q&As about innovative, new products and technology that can help improve your practice and enhance patient care.
The OTO Experience provides a central location for opportunities to engage with other attendees, leaders in the specialty, industry partners, and exhibitors representing a vast array of industries that specialize in surgical tools, robotics, imaging and video, diagnostic technology, and more.
The OTO Experience creates an environment where science, education, and industry work collaboratively and encourage mutually beneficial partnerships within the house of otolaryngology to serve the common purpose of supporting the specialty in advancing patient care.
The OTO Experience is a hub of activity for attendees, with highlights of just a sampling below.
Access the list of Exhibitors to start planning your OTO Experience schedule.
---
After the Opening Ceremony on Sunday, October 1, make your way to the OTO Experience Ribbon-Cutting Ceremony at 9:15 am on Level 3 in the foyer area of the Music City Convention.
Mark your calendars with the OTO Experience hours to make frequent stops for the education, networking, and exhibitors.
Sunday, October 1: 9:15 am – 4:30 pm
Monday, October 2: 9:00 am – 4:30 pm
Tuesday, October 3: 9:00 am – 2:00 pm
---
Lunches and Refreshments
Boxed lunches will be served each day (Sunday through Tuesday) for all attendees, so grab lunch with old friends and new colleagues and explore the OTO Experience.
Coffee breaks for that morning and afternoon pick-up:
Sunday, October 1 (sponsored by Neurent Medical)
Morning Break: 10:30 – 11:00 am
Afternoon Break: 3:15 – 3:45 pm
Monday, October 2 (sponsored by Inspire Medical Systems)
Morning Break: 10:15 – 10:45 am 
Afternoon Break: 2:45 – 3:45 pm
Tuesday, October 3
Morning Break: 10:15 – 10:45 am
---
Coffee Talk with the PPSG: Tips and Tools for Success
Roundtable discussions on key business challenges, led by thought leaders from the AAO-HNS Private Practice Study Group.
Monday, October 2: 10:15 – 11:15 am (sponsored by Olympus America Inc.)
Tuesday, October 3: 10:15 – 11:15 am
---
Make time for the following Scientific Poster events in the OTO Experience, with about 550 Posters on display:
Rapid Poster Presentation
Sunday October 1: Noon – 1:00 pm (CT) and Monday, October 2: 1:45 – 2:45 pm (CT):  Hear from the lead authors on the most highly ranked scientific poster presentation submissions within each subspecialty.
Meet the Scientific Poster Authors Reception
Monday, October 2: 2:45 – 3:45 pm (CT)
---
OTO Pavilion Presentations
Following are a list of sponsored OTO Pavilion presentations where companies will showcase procedures and introduce specialized education (up to 30 or 60 minutes each):
Inspire Medical Systems
Sunday, October 1, Noon – 1:00 pm
Title: Transform OSA Outcomes: Expert Guidance for Adding Inspire Therapy to Your Practice
Faculty: Glenn B. Rothman, MD, and Leela Lavasani, MD
Description: This expert panel will discuss best practices for incorporating and building an Inspire program to optimize outcomes. They will cover patient screening and selection, clinical scenarios, operational efficiencies, and best practices in a case-based review.
ICU Medical
Sunday, October 1, 3:15 – 3:45 pm
Title: New Paradigms in Tracheostomy: An Overview of Tracheostomy Tube Selection and the Impact on Patient Outcomes  
Faculty: Soham Roy, MD, MMM
Description: This session will provide an overview of tracheostomy tube options, tube selection criteria and the associated impact on patient outcomes. The benefits of the various tracheostomy tube types will be highlighted with a focus on patient safety, outcomes, and considerations across the continuum of care. 
Bellus Health, a GSK company
Monday, October 2, 10:15 – 10:45 am
Title: Refractory Chronic Cough: Is It All in Our Head?
Faculty: Kenneth W. Altman, MD, PhD
Description: Chronic cough can arise from airway inflammation airway irritation from reflux and upper airway cough syndrome. In addition, a neuronal dysfunction of pathways controlling cough can lead to a refractory chronic cough that does not improve following adequate treatment or does not show evidence of those etiologies after appropriate investigation. Join us to learn more about the burden refractory chronic cough imposes on patients and best practices in the diagnosis of refractory chronic cough. 
GRAIL
Monday, October 2, 10:45 – 11:40 am
Topic: Multi-Cancer Early Detection: What Otolaryngologists Need to Know 
Faculty: Rita Shanovich, MD, PhD, VP of Medical Affairs, GRAIL, LLC Jessie Hsieh, MD, Michiana VIP MD, Internal Medicine David Issacson, MD, Beacon Medical Group, ENT and Audiology Jack Welter, Patient speaker
Description: Cancer remains the second-leading cause of death in the United States, striking about one in three people in their lifetimes. Today, screening tests in the U.S. are widely available for five cancers, but 71% of cancer deaths come from cancers that have no recommended screening guidelines. Important progress has been made in essential, life-saving single-cancer screenings, but early detection technology still only exists for a few cancers. Instead of looking for cancer one-at-a-time, organ-by-organ, multi-cancer early detection technology has the ability to screen an individual for multiple cancer. These new technologies have potential to effectively and efficiently impact early cancer detection on a population scale. Learn about how these tools are being used in practice today with otolaryngologists with a real-world case and the patient it impacted. 
MEDTRONIC
Monday, October 2, 12:45 – 1:40 pm
Topic: Optimizing Outcomes in Sinus Surgery with Image Guidance Technology
Faculty: Zara M. Patel, MD, and Sanjeet Rangarajan, MD
Description: Medtronic presents a discussion with Dr. Patel and Dr. Rangarajan moderated by Enrique Iturriaga, MD, Medtronic ENT's Medical Director. This session will feature a discussion on how to get the most out of your image guidance system, utilize presurgical planning and intraoperative tools to support safe sinus and skull base surgery, and discuss how image guidance supports teaching.
Fotona
Monday, October 2, 2:45 – 3:45 pm
Topic: Discover a Noninvasive and No Downtime Snoring Correction
Faculty: Harvey Shiffman, MD
Description: During this course, you will learn about NightLase, a noninvasive and no downtime solution to snoring, and how it can instantly benefit your patients and your practice.
MEDTRONIC
Tuesday, October 3, 10:45 – 11:45 am
Topic: Case-based Application of the Latest Technologies in Thyroid and Parathyroid Surgery
Faculty: Gregory W. Randolph, MD Marika Dubin Russell, MD Carmen C. Solórzano, MD Michael C. Singer, MD
Description: Join this interactive symposium to learn about the latest development in head and neck surgery solutions to help you give patients the best chance for successful surgery—and help protect quality of life.
These activities with your participation and attendance make the OTO Experience the place to be. Register today to plan for your own individual OTO Experience in Nashville, Tennessee.