Published:
August 17, 2023
---
Program Spotlight: Late-Breaking Scientific Orals
More exciting research to be presented at the Annual Meeting.
---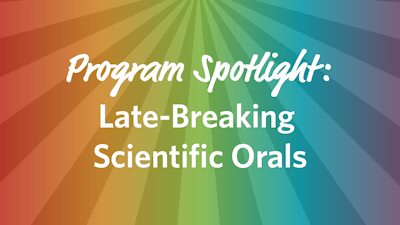 The AAO-HNSF Annual Meeting Program Committee recognizes that the results of some exciting research may not have been available in time to meet the general abstract submission deadline. To further enrich the Annual Meeting program, the committee accepted 40 Late-Breaking Scientific Oral abstract submissions, which will be presented during the 2023 Annual Meeting in Nashville, Tennessee. Following is the scheduled presentation times, titles, and authors of these accepted Late-Breaking Scientific Orals.
---
Monday, October 2, 3:45 – 4:45 pm (CT)
MCC 101AB
---
(Listed in order of presentation)
RHINOLOGY/ALLERGY
Asthma Severity After Endoscopic Sinus Surgery in Chronic Rhinosinusitis Patients
Anyull D. Bohorquez Caballero, MD, Karol Avila-Castano, MD, Estephania Candelo, MD, MSc, Angela M. Donaldson, MD
PEDIATRIC OTOLARYNGOLOGY
Clinical and Laboratory Predictors of Respiratory Support in Pediatric COVID-19
Christian VandeLune, BS, Bridget Zimmerman, PhD, Sohit P. Kanotra, MD
COMPREHENSIVE OTOLARYNGOLOGY
Current Practices: Antibiotic Use Following Placement of Nasal Packing
Alexander E. Graf, MD, Rahul Gulati, MD, Alexandrea Beemer, Simon Bellido, BA, Richard M. Rosenfeld, MD, MPH, MBA, Krishnamurthi Sundaram, MD, MBBS
RHINOLOGY/ALLERGY
Efficacy of Triamcinolone Using Absorbable Nasal Packing in Anosmic Patients
Jae Seok Park, MD, Jong In Jeong, PhD
FACIAL PLASTIC AND RECONSTRUCTIVE SURGERY
Evaluating Post-Rhinoplasty Nasal Obstruction Treatment: Efficacy of VivAer Radiofrequency Ablation
Jordan Kai Simmons, MD, Wasiq Nadeem, Victor Hsue, MD, Henry Chen, MD, Matthew Lee, MD
RHINOLOGY/ALLERGY
Implications of GST Deletion Polymorphisms in CRSwNP: Genetic Brazilians Study
Stela Oliveira Rodrigues, MD, Melissa Avelino, PhD, Leandro Camargo, MD, Ângela Reis, PhD, Rodrigo Santos, PhD, Renata Bittar, MS
LARYNGOLOGY/BRONCHO-ESOPHAGOLOGY
Medicare Restriction of Telehealth Speech Services Negatively Impacts Patient Care
VyVy N. Young, MD, Yue Ma, MD, Clark A. Rosen, MD, Sarah L. Schneider, MS, CCC-SLP
PROFESSIONAL AND PERSONAL DEVELOPMENT
Otolaryngology Applicant Perspectives on In-Person and Virtual Residency Interviews
Shelby Barrera, MD, Aarti Agarwal, MD, Cristina Cabrera-Muffly, MD, Michael Groves, MD, Elizabeth E. Cottrill, MD, Anne C. Kane, MD
FACIAL PLASTIC AND RECONSTRUCTIVE SURGERY
Postoperative Changes on "Worse" Nasal Obstruction Side Drive Outcome Perception
Harry Chiang, MD, Dennis O. Frank-Ito, PhD
PEDIATRIC OTOLARYNGOLOGY
Value of Mouth Prop Relaxation in Tonsillectomy
Alexandra F. Corbin, BS, David Riccio, BS, Jeremy Walsh, Jacob Fried, MD, Michele M. Carr, DDS, MD, PhD
---

Tuesday, October 3, 1:00 – 2:00 pm (CT)
MCC 201AB
---
(Listed in order of presentation)
ENDOCRINE SURGERY
Accuracy of Imaging Modalities for Preoperative Localization of Parathyroid Adenomas
Emilie Christie, BS, Rachel Williams, BA, Ricki Chen, BS, Jordan Frey, MD, Thom Loree, MD, Mark Burke, MD
OTOLOGY/NEUROTOLOGY
Chronic Unpredictable Stress Induces Aging-Like Cochlear Degeneration in Mice Model
Ilke Kara, MD, Esra Ozkan, MD, Fatmanur Akpunar, PhD, Feride Demirhan, PhD, Yasemin Gursoy-Ozdemir, MD, Pelin Kocdor, MD
OTOLOGY/NEUROTOLOGY
Effects of Cochlear Implantation and Steroids on the Aging Cochlea
Jeffrey Mark Hyzer, MD, Jordan Hill, George W.S. Burwood, PhD, Adrienne Fettig, Lina A.J. Reiss, PhD
OTOLOGY/NEUROTOLOGY
Endoscopic vs Microscopic Outcomes in Middle Ear Paraganglioma Surgery
Donald Tan, MD, Kennedy Harris, J. Walter W. Kutz, MD, Jacob Hunter, MD, Brandon Isaacson, MD
OTOLOGY/NEUROTOLOGY
Hearing Loss and Reduced Income Growth: A Longitudinal Socioeconomic Analysis
Michael W. Denham, MPhil, Justin S. Golub, MD, MS, Lauren H. Tucker, Prakash Gorroochurn, PhD
OTOLOGY/NEUROTOLOGY
Optimizing Jugular Paraganglioma Management Using Preoperative 3D Volumetric Analysis
Allison R. Durham, MD, Evan L. Tooker, MS, Richard H. Wiggins, MD, Mana Espahbodi, MD, Neil S. Patel, MD
PEDIATRIC OTOLARYNGOLOGY
Pediatric Unilateral Cochlear Implantation Outcomes: Impact of Device Use Duration
Lacey Magee, MD, Camille C. Dunn, PhD, Rachel Vovos, AuD, Daniel M. Zeitler, MD, Seth R. Schwartz, MD, Samantha Anne, MD, MS
ENDOCRINE SURGERY
PHQ-9 and GAD-7 Score Response After Parathyroidectomy for Primary Hyperparathyroidism
John Caraway, Matthew Ryan, MD, Alex Yang, MD, Nora Watson, PhD, Michael Ian Orestes, MD
OTOLOGY/NEUROTOLOGY
Prognostic Significance of Inflammatory Indices in SSNHL: SIII and PIIV
Aynur Aliyeva, MD, Sevinc Hepkarsi, MD, Gulce Kirazli, PhD, Tayfun Kirazli, MD
OTOLOGY/NEUROTOLOGY
Psychometric Properties and Validity of a 10-Item Dizziness Questionnaire
Mari Kalland Knapstad, PhD, Berge Jan Erik, MD, PhD, Stein Helge Glad Nordahl, MD, PhD, Frederik Kragerud Goplen, MD, PhD
---
Tuesday, October 3, 3:30 – 4:30 pm (CT)
MCC 104DE
---
(Listed in order of presentation)
HEAD AND NECK SURGERY
ctDNA as an Adjunct to Posttreatment PET for Head and Neck Cancer
Dauren Adilbay, MD, Saudamini Lele, MD, Ellen Lewis, RN, Cherie-Ann Nathan, MD
ENDOCRINE SURGERY
Evaluation of Hypocalcemia Following Total Laryngectomy With and Without Thyroidectomy
Hanel Eberly, BS, Bao Y. Sciscent, BS, Nguyen Minh Truong, BS, F. Jeffrey Lorenz, Neerav Goyal, MD, MPH
BUSINESS OF MEDICINE
Impact of COVID-19 on Operating Room Efficiency
Kathleen L. Yaremchuk, MD, MSA, and Richard A. Pellizzari
HEAD AND NECK SURGERY
Foregoing Elective Neck Dissection for Elderly Patients With Oral SCC
Nir Tsur, MD, Eyal Yosefof, MD, Dean Arie Dudkiewicz, MD, Thomas Shpitzer, MD, Aviram Mizrahi, MD, Esmat Najjar, MD
HEAD AND NECK SURGERY
Functional Oral Intake Outcomes After TORS and Free Flap Reconstruction
Praneet Chandra Kaki, BS, Doreen W. Lam, BA, Neel Sangal, MD, Karthik Rajasekaran, MD, Ara A. Chalian, MD, Robert M. Brody, MD, Steven B. Cannady, MD
COMPREHENSIVE OTOLARYNGOLOGY
Gemcitabine Plus Toripalimab for Cisplatin-Ineligible Patients With Recurrent/Metastatic NPC
Ming-Yuan Chen, MD, PhD, Xiong Zou, MD, PhD, Yi-Jun Hua, MD, Rui Sun, MD, Xi Ding, MD, Yanfeng Ouyang, MD, Huifeng Li, MD
HEAD AND NECK SURGERY
Immunologic Utilization in Metastatic HNSCCa — A Nationwide Analysis
Neel Sangal, MD, Steven B. Cannady, MD, Praneet Kaki, BS, Robert M. Brody, MD
HEAD AND NECK SURGERY
Investigating HPV Knowledge, Vaccine Uptake, and Barriers in LGBTQ Patients
Tobi O. Ayo-Ajibola, BS, Ryan J. Davis, BS, Matthew E. Lin, BS, Jonathan West, MD, Niels C. Kokot, MD, Tamara N. Chambers, MD
HEAD AND NECK SURGERY
Racial and Gender Immunogenomic Differences in Head and Neck Cancer
Dylan J. Cooper, BA, Meytal Guller, BS, Jerin Thomas, BA, Eden Preis-Mazzara, BA, Christopher Maroun, MD, Tristan Tham, MD, Rajarsi Mandal, MD
HEAD AND NECK SURGERY
Split-Thickness Skin Grafting at Donor Sites: Wound Vacuum vs Bolster
Mehak Chawla, MBA, Nolan Seim, MD, Hilary Caitlyn McCrary, MD, MPH, Janice L. Farlow, MD, PhD, Napiera Shareef, BS, Julian Lee, BS
HEAD AND NECK SURGERY
Telemedicine in Head and Neck Microvascular Reconstruction Perioperative Care
Pratyusha Yalamanchi, MD, MBA, Keith Casper, MD, Kumaran Arivoli, BS
---
Wednesday, October 4, 9:15 – 10:15 am (CT)
MCC 105AB
---
(Listed in order of presentation)
RHINOLOGY/ALLERGY
Bystander Application of Novel Nasal Swab for Opioid Overdose Is Safe
David Zachariah Allen, MD, Jason Talmadge, MD, David M. Yen, MD, Tao Wang, PhD, Martin Citardi
PEDIATRIC OTOLARYNGOLOGY
Did the FDA Codeine Warning Affect Posttonsillectomy Analgesics and Bleeding?
Chloe Cottone, BA, Arunima Vijay, BA, Anjalika Chalamgari, BS, Michele M. Carr, DDS, MD, PhD
PROFESSIONAL AND PERSONAL DEVELOPMENT
Evaluating ChatGPT's Current Ability to Assist in Professional Otolaryngology Education
Habib G. Zalzal, MD, Rahul Shah, MD, MBA, Jenhao Cheng, PhD
PEDIATRIC OTOLARYNGOLOGY
Gastric Pepsin in Adenoid Microenvironment of Children With Chronic Adenoiditis
Laura E. Henry, MD, David R. Lee, MD, Zhaoping He, PhD, Aileen Wertz, MD, Adva Buzi, MD
PROFESSIONAL AND PERSONAL DEVELOPMENT
Gender Disparity in Non-ACGME-Accredited Otolaryngology Fellowship Leadership
Kara Marie Leyden, MBA, Matthew Holdaway, Mason Soeder, Robert J. Scagnelli, MD, Melissa M. Mortensen, MD
PEDIATRIC OTOLARYNGOLOGY
Predictors of Tonsillectomy Following Adenoidectomy: A Retrospective Review
Samuel Hopper, BS, Shelby Barrera, MD, Elizabeth Mckee, BS, Joshua Stanford, Oishika Paul, J. Mark Reed, MD
PEDIATRIC OTOLARYNGOLOGY
Risk Factors Associated With Pulmonary Hypertension in Pediatric Tonsillectomy Patients
Avraham Kohanzadeh, BA, Zev Hirt, BA, Benjamin Wajsberg, MD, Meryl B. Kravitz, MD, Nicole J. Sutton, MD, Christina J. Yang, MD
PEDIATRIC OTOLARYNGOLOGY
Social Determinants of Health and Tracheostomy Outcomes in Children
Lindsey Asti, PhD, MPH, Lindsay Gil, MD, Swapna Koppera, Michael J. Brenner, MD, Prasanth Pattisapu, MD, MPH
PATIENT SAFETY AND QUALITY IMPROVEMENT
The Programmer Will See You Now: Artificial Intelligence in Otolaryngology
Matthew Maksimoski, MD, Anisha R. Noble, MD, MS, David F. Smith, MD, PhD