Published:
August 1, 2023
---
Now Available: The 2022 Otolaryngology Workforce Report
This report contains the most in-depth look at the otolaryngology workforce since the 1975 National Institutes of Health-sponsored study.
---
James C. Denneny III, MD,  AAO-HNS/F Executive Vice President and CEO
---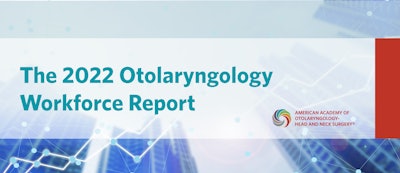 I am excited about the recent release of "The 2022 Otolaryngology Workforce" survey report to our members, which was published on the AAO-HNS website on July 20, 2023. This report contains the most in-depth look at the otolaryngology workforce since the 1975 National Institutes of Health (NIH)-sponsored study. The detailed information contained in this study includes multivariate analysis of a broad range of aspects of the continuum of otolaryngology practice as garnered from the 1,900 participants in the survey instrument.
The survey includes information about additional fellowship training and the employment plans of current residents analyzed by stage of training, personal demographics, and location. There is also an extensive section devoted to the analysis of existing practices both academic and private. This includes practice locations and settings, practice dynamics, productivity, the use of advanced practice providers (APPs), and on-call information.
The financial aspects of current practice models are reviewed in depth and the analytics involving the above-mentioned review of practice settings data as well as the physician demographics help put together a clear picture of the factors affecting the success of different practice models measured by income and wellness.
Finally, there is interesting and surprising information emanating from a series of questions on retirement. These findings are stratified by age, stage of practice, and perception of wellness.
I want to thank all those individuals who took the time to participate in our survey. We successfully created an instrument that could be completed in under 10 minutes. We realize that the 2022 survey is a single point in time, and plan to offer yearly surveys to help further define trends that will be helpful to otolaryngologists. I encourage you to take the 2023 survey, which will be available at the AAO-HNSF 2023 Annual Meeting & OTO Experience in Nashville, Tennessee. It will also be available online and will be electronically sent to all members.
This was an enormous endeavor that would not have been possible without the exceptional and persistent work and drive of Andrew J. Tompkins, MD, MBA, the Chair of the Workforce and Socioeconomic Survey Task Force appointed by then President Ken Yanagisawa, MD, as well as the entire Task Force and the Academy staff. I salute your dedication and effort that allowed this project to move forward successfully. I would also like to thank the American Urological Association for allowing us to use their staff and experience to help create a successful instrument for ongoing assessment of the otolaryngology workforce.