---
Out of Committee: Head and Neck Surgery and Oncology | HPV Vaccine for Prevention of HPV-Associated Head and Neck Cancer
The Food and Drug Administration (FDA) recently approved Gardasil 9, the human papilloma virus (HPV) vaccine for the prevention of oropharyngeal squamous cell cancers (OPSCC) and certain other head and neck cancers caused by HPV subtypes.
---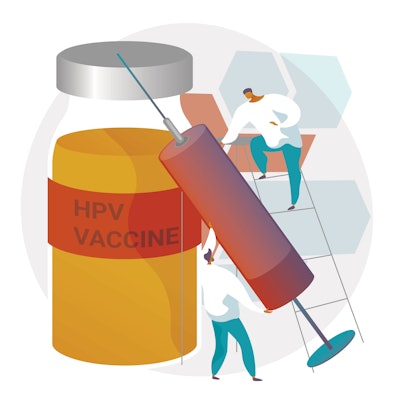 Brent A. Chang, MD, and Ameya A. Asarkar, MD, members, Head and Neck Surgery and Oncology Committee, and Cherie-Ann O. Nathan, MD, Chair
---
New Indication
The Food and Drug Administration (FDA) recently approved Gardasil 9, the human papilloma virus (HPV) vaccine for the prevention of oropharyngeal squamous cell cancers (OPSCC) and certain other head and neck cancers caused by HPV subtypes 16, 18, 31, 33, 45, 52, and 58. Gardasil 9 is approved for use in females and males between the ages of nine and 45 years.1 This accelerated approval is based on the effectiveness of HPV vaccine in preventing anogenital disease. Prior to this recent approval for head and neck cancer, Gardasil 9 was also FDA approved for the prevention of cervical, vulvar, vaginal, and anal cancers. Trials are underway to provide confirmatory data for this use in head and neck cancer prevention.
Why Is This Important?
A recent publication by the U.S. Centers for Disease Control and Prevention (CDC) reported that HPV-associated OPSCC has surpassed cervical cancer as the most prevalent HPV-associated cancer in the United States.2 The CDC estimates that about 15,500 men and 3,500 women are diagnosed annually with OPSCC. Unlike cervical cancer, standard recommended screening tests are not available for OPSCC, and thus awareness and vaccination are paramount in preventing these cancers. The reduction in prevalence of cervical cancer is largely attributable to the success of HPV vaccination in at-risk populations.
While HPV vaccination rates have been improving, overall vaccination rates still are not comprehensive. The 2019 National Immunization Survey–Teen from the CDC estimated that 54.2% of adolescents in the U.S. were considered up-to-date with the HPV vaccination series.3 The reason for nonoptimal vaccination rates is multifactorial, but prominent barriers include parental attitudes/concerns around the sexually-transmitted nature of HPV transmission, provider reluctance to discuss issues, and a lack of knowledge of the link between HPV and cancer.4,5 The COVID-19 pandemic may also contribute to reduced HPV vaccination rates.6
What Are the Implications?
As a specialty, we have been collectively aware of the importance of HPV vaccination on prevention of OPSCC for some time. However, the recent additional FDA indication specifically for OPSCC and head and neck cancer has flown under the radar for many of us. The implications of this should not be minimized. One of the important benefits is the ammunition this gives us as providers for counseling patients. Being able to tell patients that the vaccine has a specific FDA indication for prevention of head and neck cancer has the potential to improve knowledge of and motivation for considering the vaccine. Even though the vaccine has already been FDA approved for cervical, vulvar, vaginal, and anal cancers, we can now promote a reason for vaccination within the realm of our specific specialty practice. Such an intervention may have a strong impact on patients.
How to Promote Vaccine Awareness
What Can I Do as an Individual Provider/Educator?
As healthcare providers, even as specialists, we have the potential to play a significant role in determining patient perspectives on HPV vaccination. Our opinion and advice on such topics can influence patients and their decision to vaccinate, making us well-positioned to battle cancer in a prophylactic manner. One of the crucial pillars in this opportunity is to simply educate our patients on the link between HPV and OPSCC whenever the opportunity arises. Many patients are unaware of this association. This does not simply have to be targeted toward younger vaccine-age patients. The dissemination of this knowledge to all patients is helpful. For example, posttreatment HPV-associated OPSCC patients have a strong role in the community in sharing their individual stories. From a prevention standpoint, such stories are impactful to family members, friends, and other community people.
There are many settings in which we do not often think to bring up the prophylactic role of HPV vaccination for cancer. Kimberly Luu, MD, assistant professor and pediatric otolaryngologist at the University of California, San Francisco, explains, "In a pediatric otolaryngology setting, we don't often think to specifically discuss the importance of HPV vaccination. It is easy to assume this discussion and responsibility will fall to our primary care colleagues. The new indication for prevention of head and neck cancer gives us a great opportunity to stress the importance of vaccination in a way that is directly relevant to us as specialists. I have tried to make it a point to discuss HPV vaccination with any vaccine-eligible-age patients who present with a problem involving the oropharynx. While this is obviously not comprehensive, it is a good prompt for myself as a provider to remember to discuss these issues with patients when I can. This discussion also transitions well for other relevant patient populations, such as those with recurrent respiratory papillomatosis."
As educators, we can also have a significant impact. One way is to take an active role in educating nurses, allied health professionals, and anyone else with a vested interest in patient care on the recent FDA indication for the HPV vaccine. Another way is to try and create more formal education opportunities, such as lectures and seminars given to primary care physicians. Education of primary care physicians has shown to be important in promoting vaccine success rates.7
What Can We Do as a Medical Society?
The FDA indication gives a unique and timely opportunity as a society and community to promote vaccine awareness and improve cancer prevention as a result. Michael G. Moore, MD, professor and head and neck surgeon at Indiana University and chair of the Cancer Prevention Service for the American Head and Neck Society, emphasizes the difference we can make as a group. We asked for his thoughts on what we can do as a society, and he stated, "The promotion of HPV vaccination from a society-level vantage is of critical importance. The importance of the recent FDA-approved indication of the vaccine for prevention of head and neck cancer should not be overlooked. We strongly encourage different societies to find ways to highlight and promote awareness in this regard. Some potential examples would include facilitating newsletters, presentations at society meetings, and participation in public awareness campaigns. We can also promote the dissemination of materials for providers and patients (e.g., educational handouts). With the recent FDA approval news, we have a unique and timely opportunity to capitalize on a safe and effective method of cancer prevention on a large scale, and it would be a shame to waste it."
From a society—and individual—standpoint, we can also support the development of patient advocacy. In terms of prevention and vaccine awareness, publicizing and supporting patients who have had firsthand experience with HPV-associated OPSCC and are willing to share their stories have clear potential to change public perceptions and attitudes as well as motivate. Jason Mendelsohn, also known as SupermanHPV, is a patient advocate and HPV awareness champion who is regularly involved in speaking engagements and has worked with several societies to promote disease awareness and prevention. He told us, "Working with professional societies has helped me impart my message and the importance of the HPV vaccine as a preventative measure. These collaborations and support have certainly helped me reach many individuals with this message. It is critical that we all work together on disseminating this important knowledge. The FDA approval of the vaccine for head and neck cancer is wonderful news that should be publicized and is a clear step forward in our collective battle against HPV and cancer."
As AAO-HNS members, many of us serve on committees and play leadership roles within the Academy and in other organizations. Promotion, support, and ideas for projects that can promote vaccine awareness within these societies are an excellent start. Doing this in a timely manner will allow us to maximize the potential benefits of this new FDA indication for the HPV vaccine.
References
1. https://www.fda.gov/vaccines-blood-biologics/vaccines/gardasil-9
2. Centers for Disease Control and Prevention. United States cancer statistics: highlights from 2017 incidence. USCS Data Brief, no. 17. Centers for Disease Control and Prevention, US Department of Health and Human Services; 2020.
3. Elam-Evans LD, Yankey D, Singleton JA, et al. National, regional, state, and selected local area vaccination coverage among adolescents aged 13–17 years—United States, 2019. MMWR Morb Mortal Wkly Rep. 2020;69:1109–1116.
4. Holman DM, Benard V, Roland KB, Watson M, Liddon N, Stokley S. Barriers to human papillomavirus vaccination among US adolescents: a systematic review of the literature. JAMA Pediatr. 2014;168(1):76-82.
5. Nguyen KH, Santibanez TA, Stokley S, Lindley MC, Fisher A, Kim D, Greby S, Srivastav A, Singleton J. Parental vaccine hesitancy and its association with adolescent HPV vaccination. Vaccine. 2021;39(17):2416-2423.
6. Daniels V, Saxena K, Roberts C, Kothari S, Corman S, Yao L, Niccolai L. Impact of reduced human papillomavirus vaccination coverage rates due to COVID-19 in the United States: a model based analysis. Vaccine. 2021;39(20):2731–2735.
7. Tsui J, Vincent A, Anuforo B, Btoush R, Crabtree BF. Understanding primary care physician perspectives on recommending HPV vaccination and addressing vaccine hesitancy. Hum Vaccin Immunother. 2021;13:1-7. Epub ahead of print.