---
Humanitarian Travel Grant: Surgical Mission in Peru
A common thread of humanity is realized on these types of trips: a desire to help others.
---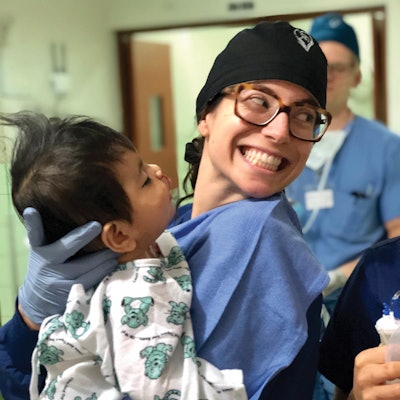 Natalie A. Krane, MD
---
We spent over a week in a rural area of northern Peru, in a small town called Lambayeque, where the luxuries we so take for granted here in the States are not even fathomable. We performed nearly 40 procedures, including cleft lip and palate repair and alveolar bone grafting, on patients from far-reaching areas of Peru. Access to the type of encompassing care provided through the FACES Foundation, inclusive of speech and language pathologists, pediatric anesthesiologists, comprehensive nursing care, and surgical management, is not easily accessible here.
Medical care here is stripped to the bare necessities. It is in the same vein that the needs of the patient are at the forefront, which is a refreshing way to work in an age where we are constantly bombarded by electronic medical record clicks, messages, and numerous emails requiring our attention at all hours of the day. For the entire trip, the patients were our only priority—talk about a way to stave off burnout.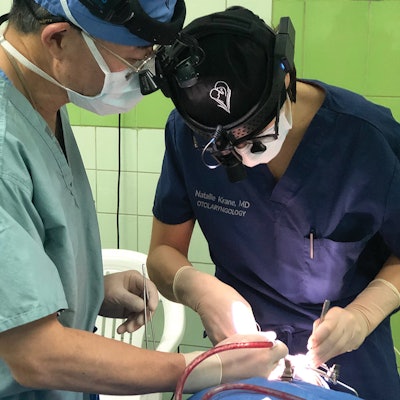 Furthermore, I was struck by the gratitude of both those giving and receiving care, especially in the absence of a shared language. There was an unspoken sincerity between parties, a general understanding that we were there to help, and their children were as important as our own. A common thread of humanity is realized on these types of trips: a desire to help others. What a privilege it is to be able to take your trade elsewhere, be a part of large team with a common goal and, together, completely change the course of an individual's life.
Although this was my first surgical mission trip, it will certainly not be my last. I have the AAO-HNSF to thank for giving me the initial experience that will help to build a career filled with many more trips like this one.