---
Time to Start Prepping Your Annual Meeting List
Set your sights and travel plans for the AAO-HNSF 2023 Annual Meeting & OTO Experience, September 30 – October 4 in Nashville, Tennessee.
---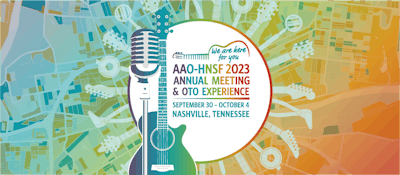 The AAO-HNSF 2023 Annual Meeting & OTO Experience—it is that special occasion for reunion, education, presentation, meeting new colleagues, enlightenment, discussion, innovation, learning, sharing, exploration, connection…and the list goes on! It sits on your calendar as a save the date, seemingly still a bit off in the future, but the fall will get closer with each passing week. With registration opening just around the corner for the 127th Annual Meeting, now is the time to switch gears from looking at the meeting as a save the date, to planning your "must" list, which is your must-attend, must-see, and must-do list.
Once again, this innovative, engaging, and education-packed program has been thoughtfully crafted with the attendee experience at the heart of planning due to the hard work and dedication of Daniel C. Chelius, Jr., MD, Annual Meeting Program Coordinator, the members of the Annual Meeting Program Committee, and staff.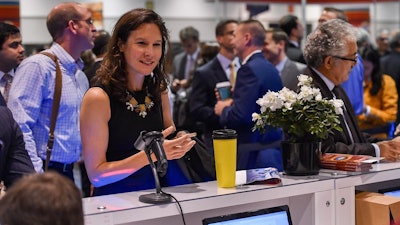 Set your sights and travel plans for Nashville, Tennessee, where you will join the global otolaryngology community to share knowledge and expertise, discuss the latest advancement and cutting-edge technologies, participate and access education sessions covering the spectrum of the specialty—and to simply connect with each other. We are especially looking forward to welcoming our international colleagues from around the world who were not able to attend last year's meeting in Philadelphia due to travel restrictions. There is no other occasion like this to network with peers, get tools to help administer quality patient care, learn from experts and each other, and gain valuable insights into the field of otolaryngology.
Preliminary Schedule at a Glance
The Preliminary Schedule at a Glance is in no way exhaustive of the program opportunities. Stay tuned as the full program becomes available online. We will also be launching an interactive #OTOMTG23 meeting app that will allow you to individualize your schedule in advance and be able to navigate your Annual Meeting experience via your smartphone or tablet. It will also include web browser access.
---
Highlights
There will be a plethora of options at the meeting to help you stay up to date with groundbreaking research and best practices, engage in dynamic networking events, enjoy wellness activities, and to discover the latest products and discoveries from more than 250 companies in the interactive OTO Experience exhibit hall.
Here are some program highlights to get you energized for what is ahead. This includes elements that are new to the meeting, those which have been enhanced based on feedback, and the perennial offerings attendees have come to rely upon and look forward to every year.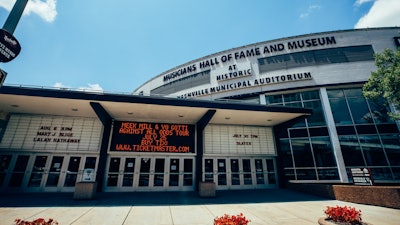 Presidents' Reception: Musicians Hall of Fame and Museum
Saturday, September 30, 6:30 – 8:30 pm
Plan your arrival for the Presidents' Reception, the can't-miss, kick-off event of the Annual Meeting. Play the electric drums or sing backup for Ray Charles and the Raelettes, mix your own music in a sound booth, and stop by the studio where Elvis Presley recorded "Suspicious Minds." Learn about legendary musicians, past and present. It's the perfect setting for opening night. Take a moment to enjoy this unforgettable opportunity to network, catch-up with longtime friends, and make new acquaintances.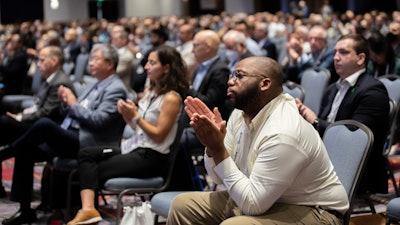 Opening Ceremony: Country Music Hall of Fame and Museum
Sunday, October 1, 8:00 am
Start the first full day of the Annual Meeting at the Opening Ceremony—delivered from the auditorium of this year's special venue, Nashville's Country Music Hall of Fame and Museum across from Music City Center. Presentations include AAO-HNS/F President Kathleen L. Yaremchuk, MD, MSA, and the John Conley, MD Lecture on Medical Ethics on the topic of "Building and Sustaining Careers: A Gender Equity Lens," by Jennifer R. Grandis, MD. The ceremony will include specialty videos, leadership presentations, and the Presidential Citations.
NEW! CME ENThusiast Track
For the attendee who wants to optimize their CME/MOC credit-earning potential, we are excited to offer this program enhancement. The CME ENThusiast Track will feature back-to-back sessions every hour of the meeting beginning Sunday following the Opening Ceremony, and will run continuously from 7:45 am until 6:30 pm daily, except for Wednesday, which will conclude at noon at the adjournment of the meeting.
Coffee Talk with the PPSG – Tips and Tools for Success
Roundtable discussions on key business challenges, led by thought leaders from the AAO-HNS Private Practice Study Group.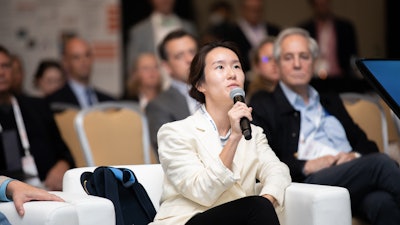 ENTrepreneur Faceoff
Industry entrepreneurs will present their early, not yet widely commercially available, innovations in the field of otolaryngology.
EVP/CEO Spotlight Series
This series, identified by AAO-HNS/F EVP/CEO, James C. Denneny III, MD, includes featured sessions on the latest developments in the specialty, including a Special Session with the American Board of Otolaryngology – Head and Neck Surgery (see more about the Special Session below).
Expert Lectures 
Sessions led by recognized experts on current diagnostic approaches, therapeutic approaches, and practice management topics. 
General Assemblies
(Board of Governors, Sections, International Advisory Board, and Private Practice Study Group) 
The General Assemblies held during the Annual Meeting are open to all attendees and create the perfect opportunity for you to learn about the work and initiatives of the Board of Governors, the Section for Residents and Fellows-in-Training (SRF), Women in Otolaryngology (WIO) Section, Young Physicians Section (YPS), the International Advisory Board (IAB), and the Private Practice Study Group (PPSG).
Great Debates 
Structured debates with prominent thought leaders on some of the specialty's most contentious issues. 
Guest Lectures
 

John Conley, MD Lecture on Medical Ethics

Jennifer Grandis, MD: "Building and Sustaining Careers: A Gender Equity Lens"

Eugene N. Myers, MD International Lecture on Head and Neck Cancer

H. Bryan Neel III, MD, PHD Distinguished Research Lecture

Theresa A. Hadlock, MD: "Facial Nerve Research - Bench, Bedside, and Beyond"

Cotton-Fitton Endowed Lecture in Pediatric Otolaryngology

Dana L. Suskind, MD: "Stepping Out of the OR: Observations from a Surgical Social Scientist"

Howard P. House, MD Memorial Lecture for Advances in Otology

 

Nancy M. Young, MD:

"Precision Medicine to Improve Outcome: Neurocognitive Machine Learning Enabled Language Prediction for Children"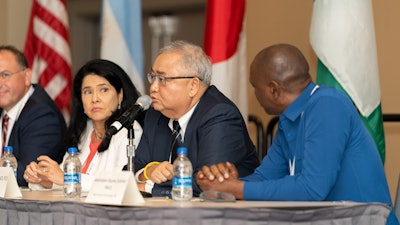 International Day
Events include the International General Session, International Advisory Board Meeting, and the return of the International Reception (all international attendees are invited).
Late-Breaking Science
Includes the presentation of exciting research that is novel, innovative, contemporary, and of high scientific significance that may not have been available in time to meet the general abstract submission deadline.
Masters of Surgery Video Presentations
Demonstration videos of key surgical procedures performed by otolaryngologist-head and neck surgeons.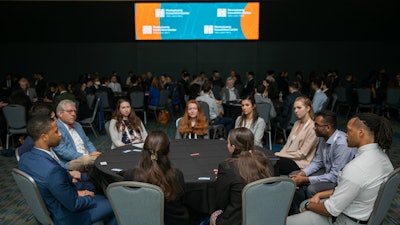 Medical Student Track
Curated especially for medical students, these sessions include the Board of Governors Student Forum with Lunch, Harry Barnes Medical Society Student Event, Scientific Poster tours hosted by the Young Physicians Section, and more.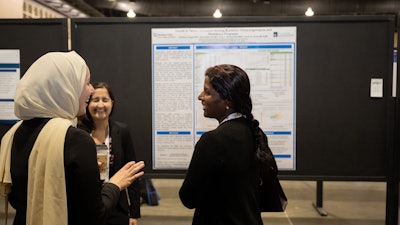 Meet the Scientific Poster Authors Reception
Ask questions and share experiences with more than 500 poster presenters in a truly interactive session offering CME/MOC credit. 
Office Hours
Large, but casual discussions, led by subject experts focused on clinical and professional topics during lunchtime.
Panel Presentations
Interactive, in-depth, state-of-the-art presentations on controversial topics with a variety of viewpoints. 
Rapid Poster Presentations
Hear from the lead authors on the most highly ranked scientific poster presentation submissions within each subspecialty.
Scientific Oral Presentations
Short podium presentations focusing on current evidence-based research, surgical procedures, and approaches in the clinical sciences and their application to patient care.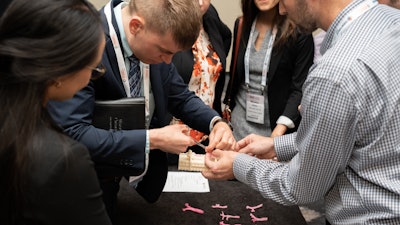 Simulation Education
Interactive, hands-on sessions and events to enhance surgical skills training. This includes a robust track of sessions throughout the meeting, including the Worst Case Scenarios: Managing OTO Emergencies in Practice Workshop, SIM Tank, and the popular Simulation Showcase and Reception.
NEW! Special Session
The American Board of Otolaryngology - Head and Neck Surgery (ABOHNS) will lead a Special Session with Brian Nussenbaum, MD, MHCM, Executive Director, discussing the upcoming changes in the Certification process.

Wellness Activities: Sunrise Yoga and OTOs on the Run
It's back ... and these events are better than ever! These wellness activities return to the schedule in 2023 after a hiatus in 2021 and 2022. Sunrise Yoga and the OTOs on the Run, with a guided run through Nashville's most popular sights, will be held Sunday through Tuesday so that attendees have the flexibility to attend both and be able to incorporate these wellness activities into their schedules.