---
Our 127th Annual Meeting, United through Science
The Annual Meeting offers an exceptional scientific program with new, innovative events and Nashville as its backdrop.
---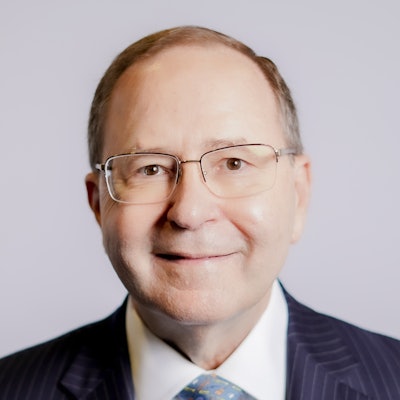 What a pleasure it is to prepare for our first AAO-HNSF Annual Meeting & OTO Experience since the 2019 meeting in New Orleans, Louisiana, without the specter of the Public Health Emergency (PHE) hanging over our heads. It is liberating to be talking about spring allergies as a dominant topic of upper respiratory problems rather than what is the next COVID-19 variant to rear its head.
The AAO-HNSF will hold our 127th Annual Meeting in person in Nashville, Tennessee, from September 30 – October 4. Nashville has a rich legacy within otolaryngology, spawning many advances within the specialty. The city offers outstanding opportunities for entertainment and fun to supplement another exceptional scientific program, which includes a number of new, innovative program types this year, created by Daniel C. Chelius, Jr., MD, Annual Meeting Program Coordinator, and the Annual Meeting Program Committee (AMPC).
As otolaryngologists from across the nation and around the world come together this fall, united in our mission to improve patient care, I think it is important to acknowledge the widening political divide that exists in the United States centering on several extremely important issues to physicians as well as the entire citizenry and not let this schism derail our efforts to achieve this mission. State and local laws vary widely across the U.S. and specifically among cities capable of holding meetings of our size. Depending on the city and state hosting our Annual Meeting, specific groups are affected more than others. The Academy unequivocally supports our entire membership and is privileged to have members representing all possible demographics contributing to our specialty and organization. We salute all of our faculty for joining our program to present evidence-based, scientifically generated information that will advance patient care across the entire spectrum of our specialty. We welcome all presenters and attendees and pledge to insist on fair and equal treatment for all at this meeting.
Just when you think you've seen it all, Dr. Chelius and the AMPC have again distinguished themselves with another round of innovative programming based on attendees' feedback over the past several years. I'm sure they will be as popular and beneficial as additions from recent years, including the ENTreprenuer Faceoff, unopposed time to browse through the OTO Experience and view the Scientific Posters, expanded Simulation programming, another round of Great Debates, and Office Hours that continue to grow and mature through your input.
The Presidents' Reception, honoring the 2022-2023 presidents of all of the otolaryngology specialty societies, hosted by AAO-HNS/F President, Kathleen L. Yaremchuk, MD, MSA, will be held Saturday night, September 30, at the Musicians Hall of Fame and Museum (different from the Country Music Hall of Fame and Museum) and will offer a festive environment and a fabulous opportunity to engage with colleagues prior to the formal beginning of the meeting while taking in the exhibits in the Hall of Fame itself. This is one you won't want to miss for the food and exhibits alone.
This year's Opening Ceremony will be held at the Country Music Hall of Fame and Museum auditorium across from Music City Center, Nashville's convention center. Beginning at 8:00 am, Sunday, October 1, it will feature the John Conley, MD Lecture on Ethics delivered by Jennifer Grandis, MD, as well as the outstanding specialty-related videos you have come to expect. After the OTO Experience exhibit hall opens Sunday morning, we are off to the races. Consistent with the ideals of our founders, Dr. Chelius has created a new track for the "CME ENThusiast" that will begin after the Opening Ceremony and run continuously from 7:45 am until 6:30 pm daily except Wednesday, which will conclude at noon. There will also be a similar track offered in Spanish for international attendees on Sunday.
Another recent addition to the Annual Meeting returning for its second year will be the "Coffee Talks" with the Private Practice Study Group (PPSG) that will run from 10:15 – 11:15 am daily. Each event will offer the opportunity to discuss the most current touch points affecting physician practices as well as receive best practice pearls to help optimize the management of your practice from experts across the U.S. This will mirror some of the discussions that have been so popular on the PPSG ENT Connect community forum.
For the first time ever, we will honor our international attendees—whose essential contributions to our organization continue to grow through education presentations at the Annual Meeting, submissions to our journals, and ongoing education efforts—with "International Day" on Monday, October 2. That day will start with the International General Session and include the Eugene N. Myers, MD International Lecture on Head and Neck Cancer, the International Advisory Board (IAB) General Assembly, a Panel Presentation on global collaborative efforts, and the International Reception, which promises to be a fun and entertaining networking event with plenty of music and dancing (all international attendees are invited). This day will be capped off with the Myers dinner for past honorees who have presented the annual Myers Lecture.
The popular Simulation programming continues to grow and expand on a yearly basis, and this year will be no different. This year's meeting will feature increased Simulation education opportunities culminating in another competition and reception on Monday. The third ENTrepreneur Faceoff takes place Tuesday evening. Those interested in products of the future will find this event stimulating and a great place to network with innovative colleagues.
Finally, we will be hosting an important Town Hall meeting at which Brian Nussenbaum, MD, MHCM, Executive Director of the American Board of Otolaryngology - Head and Surgery (ABOHNS) and members of the ABOHNS Board of Directors will describe upcoming changes to the board certification process that are taking place this year and answer questions from the audience about the new process. This is a must-attend presentation for those affected by this decision.
The above-mentioned events are in addition to the spectacular program offered by the AMPC that includes 400+ hours of CME that can be earned on-site or after the meeting through our OTO Logic platform. I hope to see you at this year's 127th Annual Meeting & OTO Experience in Nashville where you can learn a lot and have fun doing it.