Published:
August 24, 2016
---
New rules for a new era
Electronic cigarettes (or e-cigarettes) have become a popular alternative to traditional cigarettes; in fact, their use has risen exponentially with minors. Due to unknown health risks, healthcare providers have expressed concerns about their widespread acceptance.
---
Aykut A. Unsal, DO, MS
---
U.S. Food and Drug Administration imposes new tobacco product regulations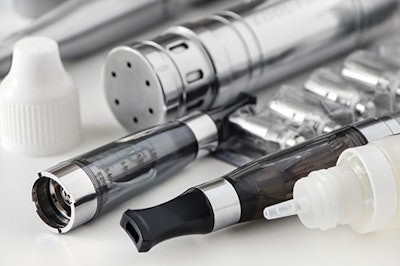 Electronic cigarettes (or e-cigarettes) have become a popular alternative to traditional cigarettes; in fact, their use has risen exponentially with minors. Due to unknown health risks, healthcare providers have expressed concerns about their widespread acceptance. Until now, there have been no federal requirements for makers of e-cigarettes to provide any information about the contents of their products, nor prohibit any sale to a minor.
In May 2016, the U.S. Food and Drug Administration imposed new regulations to oversee the multibillion-dollar industry. These actions will now place e-cigarettes, along with hookah/pipe tobacco and cigars, into the same regulatory category as traditional cigarettes.
The new federal laws, which went into effect August 8, no longer allow the sale of e-cigarettes, cigars, and hookah/pipe tobacco to anyone under the age of 18 (both in person and online).1 These products are also restricted from being distributed as free samples and being sold in vending machines not operated within adult-only facilities. Further regulatory measures mandate that manufacturers:
report potentially harmful substances
obtain premarket FDA authorization for all tobacco products, unless the product was already on the market as of February 15, 2007
place health warning labels on product packages and advertisements
no longer advertise modified risks (i.e., "light," "mild," or "low")
The compliance period for submission and FDA receipt of applications for newly deemed tobacco products under the three premarket pathways is as follows:
Substantial Equivalence (SE) Exemption Requests—12 months from the effective date of this final rule
SE Reports—18 months from the effective date of this final rule
Premarket Tobacco Product Applications (PMTAs)­—24 months from the effective date of this final rule
The FDA adopted the staggered timelines in this policy to account for the possibility that applicants may need additional time to gather information for certain premarket submissions that potentially require additional data.
Booming new market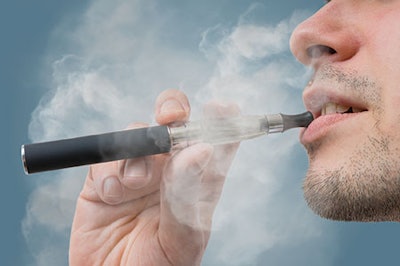 E-cigarette use has been rapidly growing, especially in the past three to five years. This has been in contrast to traditional tobacco use, which has been steadily declining year after year. However, what is most concerning about these trends is that e-cigarette adoption among minors under the age of 18 is the fastest growing demographic.2 This is particularly troubling as the health risks associated with e-cigarettes have not been determined. Worse, studies in never-smoking teenagers have shown that "vaping" may be a gateway to traditional cigarette use.3,4 It is no surprise then that FDA regulation to restrict the sale to minors has been applauded by physicians and health organizations.
Now a multibillion-dollar industry, the vaping business spent more money on advertising last year than ever before. At over $120 million, that is a sharp increase from the $6.4 million spent in 2011. Unfortunately, these aggressive marketing efforts have mirrored the growing trend of e-cigarette use among adolescents.5 Unlike traditional tobacco products, e-cigarette manufacturers have the luxury of advertising their products in retail stores, throughout the internet, on television, and in movies. Some packaging with labels of candy flavors synonymously with cartoon characters appear overtly suspicious in targeting minors. In continuing with this, the new laws provide no restrictions on these marketing practices.
Anatomy of the e-cigarette
E-cigarettes, or "vapes," are most fundamentally composed of a mouthpiece, rechargeable battery, a microchip that turns the device "on and off," a container or cartridge that contains the nicotine liquid (aka "juice", or "e-liquid"), and an atomizer, which functions as the vaporizer. Many of these devices sometimes mimic the look of traditional cigarettes, while others are larger and bulkier. Consumers can refill their containers with e-liquid that is sold separately in a variety of flavors at different nicotine concentrations, depending on the individual's previous smoking habits. These liquids are also sold without any nicotine, for consumers who have kicked their addiction but still enjoy "vaping."
Unlike traditionally smoked tobacco, the liquid inside e-cigarettes is not burned or ignited. The major byproducts present in the vapor include nicotine, propylene glycol, and glycerin—although the exact concentrations of these components vary between manufacturers. Trace metal particles can also be found within the vapor; however, they are far below the levels permitted in inhalation medicines.6 Formaldehyde was additionally discovered as a byproduct in low concentrations, but can exceed levels found in traditional cigarettes when high-voltage e-cigarettes were used.7
Future of e-cigarettes
One day, e-cigarettes may very well prove to be a useful tool to help smokers finally kick their habits or even be utilized to lower their risk of tobacco-related death and disease, if smokers are unable to quit. Nevertheless, there is no doubt that these devices are harmful to our health—it is to what degree that remains largely uncertain. Until more reliable conclusions can be made regarding their health risks, caution is to be advised for physicians and patients seeking use of these products to treat smoking addiction.
References
81 FR 28973: Deeming Tobacco Products To Be Subject to the Federal Food, Drug, and Cosmetic Act, as Amended by the Family Smoking Prevention and Tobacco Control Act – May 10, 2016. https://www.govinfo.gov/features/final-rule-tobacco-products.
Singh T, et al. Tobacco use among middle and high school students: United States, 2011–2015. Morb Mortal Wkly Rep. 2016;65:361-367.
Ebbert JO, Agunwamba AA, Rutten LJ. Counseling patients on the use of electronic cigarettes. Mayo Clin Proc. 2015; 90:128-134.
Schraufnagel DE. Electronic cigarettes: vulnerability of youth. Pediatr Allergy Immunol Pulmonol. 2015;28:2-6.
Kim AE, Arnold KY, Makarenko O. E-cigarette advertising expenditures in the U.S., 2011-2012. Am J Prev Med. 2014; 46:409-412.
Hajek P, Etter JF, Benowitz N, Eissenberg T, McRobbie H. Electronic cigarettes: review of use, content, safety, effects on smokers and potential for harm and benefit. Addiction. 2014; 109(11):1801-1810.
Kosmider L, Sobczak A, Fik M, et al. Carbonyl compounds in electronic cigarette vapors: effects of nicotine solvent and battery output voltage. Nicotine Tob Res. 2014;16:1319-1326.