Published:
August 24, 2016
---
More is more
As we approach the AAO-HNSF 2016 Annual Meeting & OTO EXPO℠ and prepare for this remarkable educational opportunity, I would like to salute another major pillar of our educational offerings designed with you, the Member, in mind.
---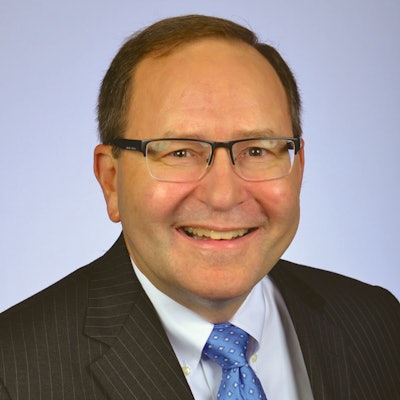 As we approach the AAO-HNSF 2016 Annual Meeting & OTO EXPOSM and prepare for this remarkable educational opportunity, I would like to salute another major pillar of our educational offerings designed with you, the Member, in mind. As you recall, last year we launched a new Learning Management System (LMS) and set out to populate it with new and improved content. Content, content, content is our goal! This massive effort is being led by Richard V. Smith, MD, the coordinator for Education, and nine hard-working Education Committees—representing nearly 200 physicians in collaboration with our education staff, who are led by Johnnie White, MBA, and Audrey Shively, MSHSE.
We also acknowledge and appreciate the donation from the American Neurotology Society of their incredible collection of operative videos, which are currently being processed for inclusion into AcademyU®. In addition, we will be incorporating approximately 200 sessions from the 2014 and 2015 Annual Meetings and more than 300 sessions from this year's Annual Meeting. These recorded sessions will be in place by mid-fall, and ready for consumption by otolaryngologists around the world. As a result of the Education Needs Assessment completed last year, we are unveiling a transition of the Home Study Course to electronic format, while still retaining the option for a print version. In our ongoing quest to provide the most value for our Members, our Education LMS is an "all-responsive format" that accommodates interaction with all devices currently on the market. This feature greatly maximizes participants' choices of when and where to utilize educational products and make the best use of their time. I would encourage all of you to read the in-depth interview of Dr. Smith in this month's Bulletin.
I am excited to announce that the Foundation has reached an agreement with SAGE Publishing to create a new open-access publication that will complement our existing "white journal." The new publication, OTO Open, will publish in the new year and, as of October 1, will be accepting content through a "cascade system" from the white journal as well as through direct submission or a direct invitation from the editor. We feel this will open significant additional opportunities to disseminate quality educational publications as well as offer a platform for those with grants requiring this format of publication. John H. Krouse, MD, PhD, MBA, our journal editor-in-chief, has generously agreed to act as editor of the open-access publication in addition to his other role. This publication will be supported by our communications staff in a similar fashion to the white journal. Be on the lookout for our submission policy and requirements. Please contact otojournal.org to learn more about submission details.
Preparation of curriculum options for the proposed Leadership Development Program for our Members has afforded us the opportunity to examine several other areas of paramount importance to the Academy and specialty in general. Input from leaders, specialty members, Academy component groups, and senior leadership of our staff suggests that a crucial portion of the program involve education about and understanding of the philosophies, operations, and intricacies of the AAO-HNS/F and its functions. As with all organizations the direction and strategic planning is guided by the "core values," which are of tantamount importance to the identity and purpose for which the entity exists. An organization should be recognizable by its selection of and adherence to core values that drive all that it does. Critical decision-making is made much easier when the culture and expectations defined by the core values permeate throughout those involved in carrying out strategic initiatives. It is, therefore, incumbent on an organization to periodically review and update or reinforce what becomes our true identity. As we put the finishing touches on the Leadership Development Program, we will take the opportunity to fully review not only our core values but also update and strengthen our principles of diversity and cultural competency.
Finally, I would like to recognize the long-standing commitment of Michael M. Paparella, MD, in his mission to preserve our ability to study the histopathology of temporal bones through his personal work and generous donations as detailed in this issue of the Bulletin. As he has pointed out, the dramatic decline in the number of temporal bone labs not only in the United States, but worldwide is stunning and continued efforts to prevent extinction of this unique opportunity to study human disease processes must be joined by all.