Published:
September 1, 2023
---
Stay Up to Date on the Academy's Advocacy in Action
Academy members on Capitol Hill, suspension of IDR process, release of the MPFS, direct access legislation, prior authorization reform—just a few issues on the docket for the Academy's Advocacy efforts.
---
AAO-HNS Members Advocate in Congress for Physician Payment Reform and Other Priority Legislation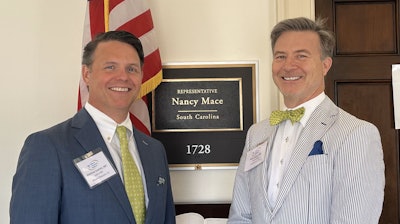 Otolaryngologist physician advocates participated in the Alliance of Specialty Medicine (the Alliance) annual Capitol Hill legislative conference on July 17-19. Academy leaders joined more than 80 physicians across various surgical specialties to advocate in the U.S. House of Representatives and Senate for several issues including: reforming Medicare physician reimbursement, reducing administrative burden, and investing in the healthcare workforce. In addition to the congressional meetings, the Alliance heard directly from several members of Congress about the importance of physician advocacy, including Speaker of the U.S. House of Representatives Kevin McCarthy (R-CA), U.S. Senator Bill Cassidy, MD (R-LA), and U.S. Representative Kim Schrier, MD (D-WA).
---
United Healthcare Announces 20% Reduction in Required Prior Authorizations
United Healthcare (UHC) announced earlier in August that it would be eliminating the prior authorization (PA) requirement for several procedure codes, including a subset of codes commonly billed by otolaryngologist-head and neck surgeons, across most of its commercial, Medicare Advantage, and Medicaid plans. This elimination process will account for 20% of the overall PA volume. UHC plans to implement the elimination process through a phased approach. Phase one began on September 1, and phase two will start on November 1. Additionally, UHC announced that it will roll out a "gold card" program in 2024, allowing qualifying providers to bypass some PA requirements if they meet certain eligibility criteria. The announcement of UHC's changes comes after years of advocacy by the Academy and the house of medicine, urging insurance companies and the Centers for Medicare & Medicaid Services to reduce the burden PA places on physicians. Learn more.
---
CMS Suspends IDR Process for Claims Filed After August 3
In response to a federal court ruling from the lawsuit by the Texas Medical Association, the Centers for Medicare & Medicaid Services (CMS) suspended the independent dispute resolution (IDR) process of the No Surprises Act. Effective August 7, CMS stated that all disputes in which administrative fees were collected prior to August 3 should resume processing. This guidance applies to both batched and single disputes. All disputes occurring on or after August 3 are suspended until further notice. The AAO-HNS advocacy team will keep Academy members apprised of updates to this suspension as more information becomes available. Learn More.
---
CMS Releases CY 2024 Medicare Physician Fee Schedule Proposed Rule
The Centers for Medicare & Medicaid Services (CMS) released the Calendar Year (CY) 2024 Proposed Rule for the Medicare Physician Fee Schedule (MPFS) on July 13. The rule also includes proposals related to the Quality Payment Program (QPP). A high-level analysis identified several significant proposed changes affecting the specialty including:
A proposed conversion factor of $32.75, a decrease of $1.14, or 3.36%, from CY 2023;
An overall impact of the MPFS changes to be 0% for otolaryngology that does not include the 1.25% cut all clinicians are subject to as prescribed in the Consolidated Appropriations Act, 2023;
Full implementation of the new add-on code (G2211) to describe complexity inherent to office/outpatient E/M visits;
A permanent sunset of the Appropriate Use Criteria (AUC) Program for diagnostic imaging, including rescinding the current AUC program regulations.
The rule also includes the AAO-HNS' MIPS Value Pathway (MVP) model, "Quality Care for the Treatment of Ear, Nose, and Throat Disorders," as one of the proposed new MVPs for the 2024 performance year. This is a novel approach for our specialty and the next step in quality reporting, providing the opportunity to move us toward better patient results. The Academy will be providing detailed comments to these and other elements of the rule impacting otolaryngology-head and neck surgery by the September 11 comment deadline.
---
Legislation Reintroduced to Allow Audiologists Direct Access to Medicare Beneficiaries
The Academy of Doctors of Audiology (ADA), the American Speech-Language Hearing Association (ASHA), and the American Academy of Audiology (AAA) recently announced the reintroduction of federal legislation that would grant audiologists "direct access" to Medicare patients. The Medicare Audiologist Access Improvement Act (S. 2377) was introduced by Senators Elizabeth Warren (D-MA), Rand Paul (R-KY), and Charles Grassley (R-IA) on July 19, 2023. For patient safety reasons, the AAO-HNS strongly opposes this legislation. Hearing and balance disorders are medical conditions that require a full patient history, physical examination, and medical diagnosis by an MD/DO. In addition to spearheading a physician community opposition letter, the AAO-HNS will be activating a grassroots response via the ENT Advocacy Network to contact your Senators. If you have any questions or would like to get involved, please contact the Advocacy Team at govtaffairs@entnet.org.
---
Prior Authorization Reform Included in Legislation Passed by House Ways and Means Committee
On July 26, the House Ways and Means Committee advanced the Heath Care Price Transparency Act of 2023 (H.R 4822), a comprehensive bill that also included the Improving Seniors' Timely Access to Care Act. The Academy strongly endorsed the Improving Seniors' Timely Access to Care Act in the 117th Congress and lauds the committee's advancement as a critical first step toward full enactment in the current Congress. The Act seeks to streamline and standardize the prior authorization process under the Medicare Advantage program, remove barriers to accessing care for Medicare patients, and help relieve the unnecessary administrative burden our physicians currently face. We will continue to work with Congress toward passage of meaningful prior authorization reform legislation in the 118th Congress.
---
ENT PAC Summer Fundraising Campaign Launches
In July all U.S. Academy members received a mailing from ENT PAC, the nonpartisan political action committee that provides otolaryngologist-head and neck surgeons with the opportunity to amplify our voice and directly impact the legislative process on Capitol Hill. Robust fundraising for ENT PAC is crucial to ensure the advocacy team can maximize interactions with lawmakers and be included in discussions when issues surrounding our legislative priorities such as physician payment, prior authorization, and scope of practice are addressed. If you have already received the mailer, please consider returning a contribution to 1650 Diagonal Road, Alexandria, VA 22314, or by contributing online. Thank you for your support, and please reach out to entpac@entnet.org with any questions.*
Want to stay up to date on these issues and more? Join the ENT Advocacy Network today (open to Academy members only) and strengthen the voice of specialty!
---
*Contributions to ENT PAC are not deductible as charitable contributions for federal income tax purposes. Contributions are voluntary, and all members of the American Academy of Otolaryngology-Head and Neck Surgery have the right to refuse to contribute without reprisal. Federal law prohibits ENT PAC from accepting contributions from foreign nationals. By law, if your contributions are made using a personal check or credit card, ENT PAC may use your contribution only to support candidates in federal elections. All corporate contributions to ENT PAC will be used for educational and administrative fees of ENT PAC, and other activities permissible under federal law. Federal law requires ENT PAC to use its best efforts to collect and report the name, mailing address, occupation, and the name of the employer of individuals whose contributions exceed $200 in a calendar year.