Published:
September 1, 2023
---
World Sinus Health Awareness Day
Public and patient information and resources for September 13.
---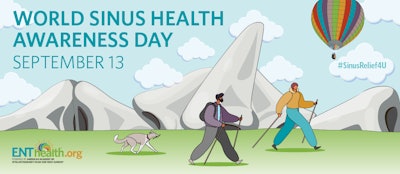 World Sinus Health Awareness Day (September 13) is designed to inform and educate patients around the world about the causes of their nasal and sinus symptoms as well as various treatment options and when they should seek additional specialized care. The American Academy of Otolaryngology–Head and Neck Surgery (AAO-HNS), in collaboration with corporate partners Medtronic and Optinose, is providing accessible public and patient information that will assist individuals in understanding their own individual journey to better sinus health.
Bringing attention to the impact of chronic symptoms of nasal obstruction and congestion, nasal drainage, facial pressure, and/or decreased smell that are not responding to medications or other treatments is a focus point of World Sinus Health Awareness Day. Arming patients and their caregivers with clinically proven information is an essential part of this campaign so that they can navigate their way to better sinus health.
How to Participate
There are several ways for you and your practice to participate in World Sinus Health Awareness Day. A tool kit of resources has been developed and is available to you and your practice to help share this crucial information. The materials available to you in the World Sinus Health Awareness Day Tool Kit include:
Printable World Sinus Health Awareness Day poster
World Sinus Health Awareness Day one-pager
List of ways to participate
Patient information handouts
Sample social media posts and graphics, including animated graphics
Sample patient letter/email
And more!  
To access all the resources developed for World Sinus Health Awareness Day 2023, go to www.entnet.org/WSHAD.
---
WSHAD Special Presentation at #OTOMTG23
Title: Comprehensive Management of CRSwNP
Time/Date: 2:15 – 3:15 pm (CT), Monday, October 2
Presenters: 
James C. Denneny III, MD, moderator
Seth M. Brown, MD MBA
Joseph K. Han, MD
Devyani Lal, MD
Ken K. Lam, MD
Where: Music City Center, Ballroom A2, Nashville, Tennessee
Description: This panel of esteemed expert rhinologists will provide accurate and reliable information about the different treatment options for the comprehensive management of chronic rhinosinusitis with nasal polyps (CRSwNP).
---
Register for the AAO-HNSF 2023 Annual Meeting & OTO Experience, September 30 – October 4, in Nashville, Tennessee, to have the opportunity to attend this session as well as the 450+ other groundbreaking education and countless networking events.