Published:
September 15, 2023
---
Stories from the Road: AMPATH Indiana-Kenya Partnership
AMPATH is western Kenya's first system of sustainable care, and it was developed on a replicable model for other regions and countries.
---
Akash N. Naik, MD, Humanitarian Efforts Committee Guest
---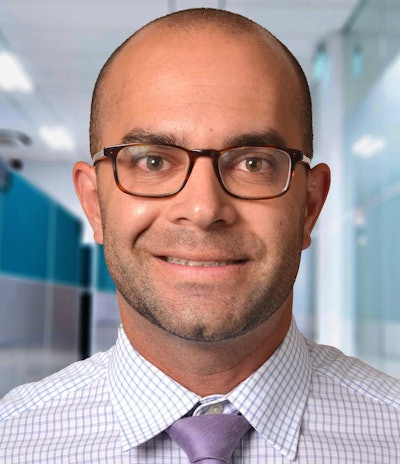 January 2023 | Eldoret, Kenya
Academic Model Providing Access to Healthcare (AMPATH) is a partnership between Moi University, Moi Teaching and Referral Hospital, and the AMPATH Consortium of universities around the world led by Indiana University (IU), the Kenyan Government, the National Hospital Insurance Fund, and so many more. The organization aims to improve the health of people in underserved communities by working in partnership with academic health centers, ministries of health, and others to build public sector health systems and promote well-being. The core pillars of AMPATH focus on providing comprehensive healthcare while reducing health disparities, strengthening medical education and training, and advancing research to improve health, policy, and justice.
The Moi Teaching and Referral Hospital, which is located in Eldoret, Kenya, and serves nearly half of the Kenyan population for care, is the primary focus of the organization's efforts in Kenya. AMPATH also supports more than 300 Kenyan Ministry of Health facilities where more rural communities receive critical treatment, medication, counseling, and more.
AMPATH is western Kenya's first system of sustainable care, and it was developed on a replicable model for other regions and countries. Their focus transcends medical care and integrates medical treatment with nutrition and family support, education, counseling, jobs, and financial independence that can truly impact lives for the better.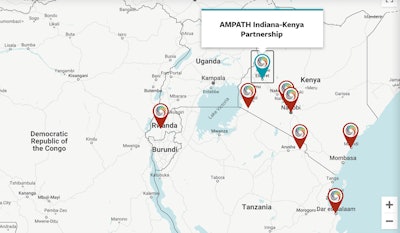 Visit the AAO-HNSF Humanitarian Efforts map for more information at https://www.entnet.org/get-involved/humanitarian-efforts/map/.
---
Location and Need
AMPATH currently serves a population of more than 24 million people in western Kenya at 300 plus clinical sites from village health centers and dispensaries to county hospitals to the Moi Teaching and Referral Hospital. In the early 2000s, the AMPATH partnership became one of Africa's most comprehensive and effective HIV/AIDS management and control systems. Today, care has been expanded to include chronic diseases such as diabetes and cardiovascular disease, mental health, maternal health, pediatrics, cancer, and surgical specialties including otolaryngology-head and neck surgery. Although the burden of otolaryngologic disease is high in the region of the world, there continues to be significant barriers to surgical care including lack of knowledge about signs and symptoms and limited access to care due to transportation, costs, or number of providers.


The Experience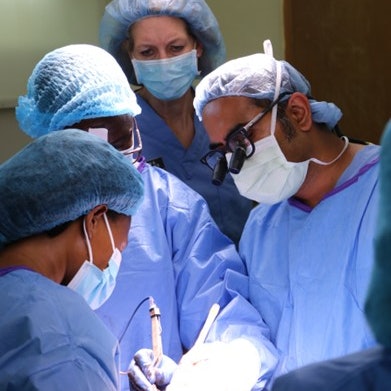 During January 2023, members from the Indiana University (IU) Department of Otolaryngology – Head and Neck Surgery and other partner institutions went on a two-week trip to Eldoret, Kenya to work at the Moi Teaching and Referral Hospital with local otolaryngology physicians and residents. A variety of otolaryngology clinic patients were examined and treated, and numerous surgeries were performed including a variety of general ENT, rhinology, and head and neck cases. Further advancement of otolaryngology education and surgical training among the Kenyan medical students, residents, and faculty was a key focus of the trip.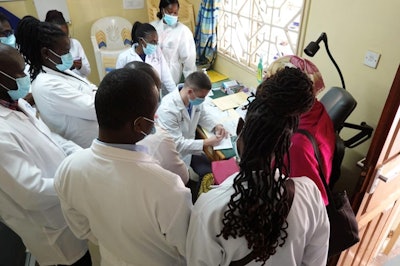 More advanced skull base and head and neck oncologic cases were also performed, including the first free flap reconstructive surgery with the IU team during this past trip. The team stayed at the "IU House" in a communal living space in Eldoret, which further contributed to the collegiality and comradery over the two weeks.
After traveling to Kenya for this first time, Alexander Jones, MD, a current PGY-5 with the IU Department of Otolaryngology – Head and Neck Surgery, reflected on his experience and how it impacted his outlook on healthcare.
"Overall, the experience was rejuvenating. It really reminded me of why I became a physician and the heart of medicine. Despite language and cultural barriers, we were able to make real connections with people and do what we love. Many of the frustrating and distracting parts of American medicine were gone—insurance, electronic documentation, the medical inbox—and we were able to focus on simply diagnosing, providing care, and operating."
Brittany Etchison, FNP, who is a clinical nurse within the IU Head and Neck Division, also joined the team in her first global outreach medical mission trip.
"I found the whole experience to be a reinvigorating sense of purpose both personally and professionally. Being able to witness the care provided in Kenya, even with limited resources and technology, was a reminder of why we choose to work in healthcare. The best part was by far the people we met and being able to instill what I learned from them into my day-to day practice on both a personal and professional level." She also discussed how eager and curious the Kenyan staff and students were to learn about and observe their first free flap reconstructive surgery, which was certainly a highlight of the trip.
"Start with care. Then do more. Truly helping people means going beyond treatment." -AMPATH