Published:
March 28, 2022
---
The Everlasting Impact of Your Annual Meeting Experiences
Connecting with Colleagues and Engaging with the Global Otolaryngology-Head and Neck Surgery Community.
---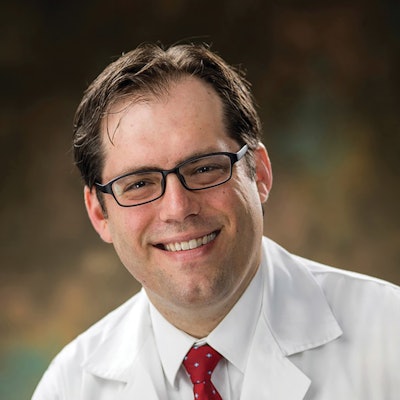 Daniel C. Chelius, Jr., MD
Annual Meeting Program Coordinator
Connecting with Colleagues and Engaging with the Global Otolaryngology-Head and Neck Surgery Community. When I hear from attendees about engagement at the AAO-HNSF Annual Meeting & OTO Experience, there are typically three main areas of focus: the cutting-edge scientific program, the interaction with colleagues from around the world through both innovative events and Academy volunteerism, and the serendipity of meeting both old friends and new in the halls, restaurants, and lobbies of the host city. The latter part became increasingly more important and appreciated when we couldn't gather in 2020 due to the COVID-19 pandemic. So, when we finally could gather in 2021, the reunion that occurred during the Annual Meeting in Los Angeles, California, was one for the books, demonstrated by overwhelming joy at the mere opportunity to be together, in one place and time to commit our time, energy, talents, skills, and expertise to the specialty, each other, and patient care.   
A Connection that Can't Be Replaced. When I think about my first Annual Meeting and the lasting impressions I have, they are all centered on personal connections. The first Annual Meeting I attended was in 2008 in Chicago, Illinois. I went to the Section for Residents and Fellows-in-Training (SRF) General Assembly and was inspired at the sight of my peers interacting with Academy leadership. Their voices were being heard by the greater Academy on critical issues in a way that I hadn't realized was both possible and so welcome until that moment. 
During that SRF-sponsored event, leaders were speaking directly to us trainees and our ability to make a difference for our patients and our colleagues through platforms and opportunities readily available within the Academy. That experience energized me to immerse myself in our AAO-HNS community. 
This feeling of community was further solidified during that 2008 meeting when I, along with some of my Baylor co-residents, were taken out to dinner by Baylor alumni. Being at dinner together with this group really drove home for me that I wasn't just preparing for a job; I wasn't just training to be a surgeon. I was becoming part of a supportive community. With every meeting over the years, that sense has grown stronger so that the Academy becomes less and less a nebulous concept and more concretely the dear colleagues at your side going through similar struggles, working toward common goals. 
Community as the Core of the Annual Meeting. The community aspect that I witnessed and experienced during my first Annual Meeting is something that I have seen over and over again, year after year, and that community has grown each year as new encounters widen my network of friends and colleagues. Even though we are all spread to the wind, one of my favorite parts of the Annual Meeting is when we all come back together for those few days each year to re-engage. 
If you are looking to grow your otolaryngology-head and neck surgery community or get more involved and engaged in the Academy, attending the Annual Meeting is the conduit to making that happen. Reengaging (or engaging for first-time attendees) with the communities we have established at the Annual Meeting is the core of the meeting, and that is likely true for every generation of physicians since that first gathering in 1896. 
The last few years, under the cloud of the COVID-19 pandemic, have not only demonstrated how resilient and responsive we are as a global otolaryngology community committed to patient health, but have also reminded us how appreciative we are of those moments when we can convene as a community, to learn, to plan, to reminisce, and be rejuvenated together. I am looking forward to being a part of it again and to seeing all the community reunions that will happen at the Annual Meeting in Philly this September.