---
FROM THE DIVERSITY COMMITTEE Targeted smoking cessation programs in high-risk populationsExpanded from the print edition
In 2014, it was estimated that there would be 55,070 new cancer cases of the oral cavity, pharynx, and larynx. Additionally, it was estimated that 12,000 of those diagnosed with this cancer would die, thus representing 2.0 percent of all cancer deaths.
---
By Sherilyn Francis, Morehouse School of Medicine, Atlanta, GA, and Charles E. Moore, MD, Emory University, Atlanta, GA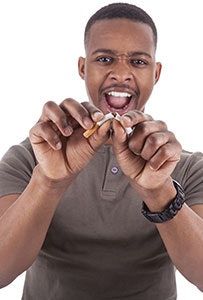 In 2014, it was estimated that there would be 55,070 new cancer cases of the oral cavity, pharynx, and larynx. Additionally, it was estimated that 12,000 of those diagnosed with this cancer would die, thus representing 2.0 percent of all cancer deaths. The five-year survival rate of these cancers is approximately 50 percent. When compared to white populations, black males are almost twice as likely to die from oral cancers. Although early detection has been proved to increase the survival rate; prevention strategies focused on high-risk behavior are critical to eliminate new cases. The high-risk behaviors most frequently associated with head and neck cancer (HNSCCa) are heavy alcohol use, but most importantly tobacco use (cigarette smoking, pipe smoking, or smokeless tobacco use). Also, HNSCCa are most frequently diagnosed in men and persons ages 55-64 years. Due to the increased mortality rate of black males, preventable high-risk behaviors, and a need to intervene in earlier age groups, the purpose of this research is to characterize smoking cessation intervention strategies available to adolescent black males to impact the prevalence rate of HNSCCa among this target audience. The following questions guided the research protocol:
How has health education/health promotion been used to engage black men around smoking cessation?
What are the barriers and facilitators to the use of programmatic initiatives geared toward smoking cessation among black men?
A structured keyword search of title and abstracts was conducted across a variety of databases representing different academic disciplines. Selected articles met the following inclusion criteria: (1) represented original research; (2) appeared in a peer-reviewed journal/publication; (3) addressed at least one of the two research questions. The methodology of Young and Solomon for Cross-Sectional Studies was used to critically appraise each article. The initial search yielded 189 articles, which were condensed to 21 articles. The chosen publications were entered into a database and stratified by which research question it addressed.
Approximately 90 percent of the selected articles focused on a mixed-gender population; 70 percent of the interventions utilized Internet-based or application-based health communication strategies; and none of the interventions reported a study population composed exclusively of adolescent black males. The primary intervention strategies focused on support, with particular emphasis on peer-to-peer communications; motivational interviewing; expert counseling; email counseling; and social network sites. Moreover, the trans-theoretical model of behavior change was a commonly applied behavior change theory. The identified barriers from this analysis were gender; cultural norms; childhood physical abuse; and childhood sexual abuse. Conversely, the facilitators to smoking cessation among the target audience were motivation; health-risk communication; personal responsibility or choice; parental involvement; and government interventions against the tobacco industry.
In summary, these findings illustrate smoking cessation programs geared toward adolescent populations and emphasize the frequent use of evidence-based health communication strategies in conjunction with traditional health behavior interventions. Furthermore, this study highlights the lack of smoking cessation interventions geared toward adolescent black males, while identifying gaps in research regarding black males' smoking behavior and smoking cessation. The Diversity Committee is committed to serving populations that may have less access to care and is devoted to educating our patients and communities.
References
Sinclair CF, Foushee HR, Scarinci I, Carroll WR. Perceptions of harm to health from cigarettes, blunts, and marijuana among young adult African American men. Journal of Health Care for the Poor and Underserved. 2013 Aug;24(3):1266-75. doi: 10.1353/hpu.2013.0126. PubMed PMID: 23974397.
Rosenthal L, Carroll-Scott A, Earnshaw VA, Sackey N, O'Malley SS, Santilli A, Ickovics JR. Targeting cessation: understanding barriers and motivations to quitting among urban adult daily tobacco smokers. Addictive Behaviors. 2013 Mar;38(3):1639-42. doi: 10.1016/j.addbeh.2012.09.016. Epub 2012 Oct 2. PubMed PMID: 23254211; PubMed Central PMCID: PMC3575130
McClure LA, Arheart KL, Lee DJ, Sly DF, Dietz NA. Young adult former ever smokers: the role of type of smoker, quit attempts, quit aids, attitudes/beliefs, and demographics. Preventative Medicine. 2013 Nov;57(5):690-5.
Ramo DE, Delucchi KL, Liu H, Hall SM, Prochaska JJ. Young adults who smoke cigarettes and marijuana: analysis of thoughts and behaviors. Addictive Behaviors. 2014 Jan;39(1):77-84.
5. Dietz NA, Sly DF, Lee DJ, Arheart KL, McClure LA. Correlates of smoking among young adults: the role of lifestyle, attitudes/beliefs, demographics, and exposure to anti-tobacco media messaging. Drug and Alcohol Dependence. 2013 Jun 1;130(1-3):115-21. doi: 10.1016/j.drugalcdep.2012.10.019. Epub 2012 Nov 20. PubMed PMID: 23182411.