---
AAO-HNSF's first Qualified Clinical Data Registry
As the Registry Task Force, chaired by Lisa E. Ishii, MD, MHS, completes its work to define what will be otolaryngology's initial Qualified Clinical Data Registry (QCDR), it is appropriate to go over some basics related to clinical registries.
---
By James C. Denneny III, MD, AAO-HNS/F EVP/CEO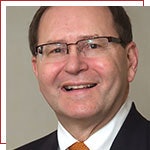 As the Registry Task Force, chaired by Lisa E. Ishii, MD, MHS, completes its work to define what will be otolaryngology's initial Qualified Clinical Data Registry (QCDR), it is appropriate to go over some basics related to clinical registries. Registries can be used for a variety of purposes and can be classified based on the type of data collected, as well as the time frame for collection. The most common are product/device registries, health services registries, and disease process registries. Data collection can be either a single-point collection or longitudinal study format. Providers participate in registries to report quality measures and participate in value-based payment systems; improve quality of care through enhanced population management; participate in recognition and certification programs (MOC); inform treatment decisions; and create data for scientific clinical research.
Probably the task force's most important decision is how otolaryngology would best utilize a QCDR. The range of options includes public reporting; informing guideline development and supporting performance measure development; demonstrating clinical effectiveness; supporting quality improvement; demonstrating payer value; informing alternative payment models; and maintenance of certification and licensure. Once those priorities are determined, the task force will proceed with validation of its decision both internally within the specialty and externally to determine the interest of other stakeholders for the use of clinical data related to otolaryngology. This validation will be done through a combination of surveys and/or interviews with the key stakeholder groups. This will help inform whether the registry will be procedure-based, condition-based, or population-based. The method of data collection will be critical. Ideally, most data can be extracted from existing electronic medical records systems. However, web-based systems can also be quite effective. We also have been conducting interviews with other registry providers to gather information on best practices in registry development, identify key vendors, and gather feedback on lessons learned given the complexity of registry development.
Once these determinations are made, the process of selecting the best vendor begins. The AAO-HNS has retained Avalere as a consultant to assist in this process. There are a number of active QCDRs operating, and their experience and diversity will be beneficial in assisting the task force in narrowing the options. Equally important and challenging will be the selection of the clinical topics that make the most sense and will apply most broadly to otolaryngology. Clinical domains, such as sinusitis, hoarseness, otitis media, tonsillitis, and cerumen impaction, will be considered, as will common procedures, such as laryngoscopy, nasal endoscopy, tonsillectomy, and myringotomy tube placement. After the registry is functioning, additional clinical conditions or procedures can be added in a phased approach so that, ultimately, the registry will represent the full spectrum of our specialty.
One of the great concerns that our Members have revolves around the ability, as well as the difficulty, of reporting quality measures. The recent passage of H.R. 2, repealing the SGR and codifying future quality parameters, consolidated the reporting requirements to center on quality, resource use, meaningful use, and clinical practice improvement. While on the surface this appears to complicate reporting responsibilities for practitioners, the clear commitment to quality as a major feature in future payment models sets the course for physicians to meaningfully participate going forward. The knowledge that this will be required allows us to proceed and develop the tools necessary for our Members to be effective participants in this type of system. This new law also reinforces the roles and utility of QCDRs. QCDR designation is important because it allows those Members participating in the registry to meet Medicare quality reporting requirements by virtue of their participation.
Our timing could not be better in terms of starting this initiative. Many with existing registries today will have to make significant adjustments to their platforms to maximize the registry's utility in meeting these new quality reporting requirements. A specialty-based QCDR can be used to report on all four areas of focus within the new Medicare payment model. The production of new performance measures and practical quality outcomes measures can be expedited and approved using the registry format. This will allow specialties, such as otolaryngology, with a broad spectrum of clinical expertise, the ability to accelerate the production of meaningful reporting and patient improvement instruments representing the needs of our Members and their patients. Look for future articles in the Bulletin and ongoing updates through ENTConnect and the Academy website. In addition, we are planning a registry Miniseminar immediately following the Opening Ceremony at the Annual Meeting.