Published:
February 20, 2023
---
Chronic Cough in Children
There can be many causes of chronic cough in children, and management often requires multidisciplinary care.
---
Swathi Appachi, MD, Samantha Anne, MD, and Catherine K. Hart, MD
---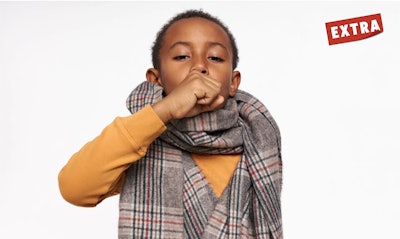 Chronic cough is defined as cough that persists longer than four weeks. It is one of the most common symptoms that prompts a visit to a physician, with prevalence estimated to be 5%-10% in all children.1 Chronic cough can be distressing to the child and the family due to an increased burden of doctor visits and parental stress.2
There can be many causes of chronic cough in children, and management often requires multidisciplinary care involving pulmonologists, pediatricians, gastroenterologists, and other specialists. It is important to recognize that the differential diagnoses can be extensive and varies vastly from causes in adults. As such, pediatric-specific cough algorithms can help direct evaluation and management of these patients.3,4
Chronic cough in children can be categorized as specific cough, with identifiable and often treatable etiologies, or nonspecific cough. Characteristics of the cough (wet, dry, productive), duration, and type of onset can often assist the clinician in identifying the possible etiology. The most common etiologies for chronic cough in children include infection and airway hyper-responsiveness. Viral upper respiratory illnesses occur frequently in school-aged children, and nearly 25% have persistence of symptoms past two weeks.5 Acute cough is often a component of these illnesses, which can be further complicated by the development of rhinosinusitis resulting in chronic cough. Airway hyperreactivity is a key characteristic of asthma, which according to the Centers for Disease Control and Prevention (CDC), occurs in one out of every 12 children in the United States. Cough is often one of the manifestations of airway hyper-reactivity. Chronic productive purulent cough should raise suspicion for protracted bacterial bronchitis, bronchiectasis, and underlying disorders such as cystic fibrosis and primary ciliary dyskinesia. Other diagnoses that should be considered in children include unwitnessed foreign body aspiration, gastroesophageal reflux disease (GERD), aspiration, and allergies/inflammation.
Treatment of chronic cough depends strongly on history, associated symptoms, and other medical comorbidities. In the otolaryngologist's office, patients will often have concomitant symptoms of chronic rhinitis. If they have no other suspected etiologies, postnasal drip could be contributing to the cough. A trial of nasal steroids can be considered. If the patient does not respond, adenoidectomy can be offered. Another common cause of chronic cough is reflux. If the patient has symptoms of reflux such as fussiness, back arching, or regurgitation, gastroenterology referral could be considered, along with dietary modifications. Of note, there are no good data regarding the efficacy of proton pump inhibitors in older children, and they do not seem to work well in infants. Finally, if there is a history suspicious for airway foreign body based on history or imaging, direct laryngoscopy and bronchoscopy should be performed.
It is important to note the American Academy of Pediatrics and American College of Chest Physicians do not recommend over-the-counter medications or codeine to treat cough. Honey can be recommended to parents for children greater than one year of age.
Algorithms, such as the one published in Chest in 2006, can also be helpful in determining treatment.4 Per the Chest algorithm, a nonspecific cough can be monitored for 1-2 weeks and re-evaluated. If the cough is wet, two weeks of antibiotics can be given for presumed protracted bacterial bronchitis. If the cough persists, another two weeks of antibiotics or a pulmonology evaluation is warranted. If the cough is dry, spirometry should be performed, as asthma is one of the most common etiologies for cough. If this does not indicate an underlying etiology, a trial of inhaled corticosteroids can be considered, along with a pulmonology referral. A chest x-ray should also be obtained for refractory, nonspecific cough.
The Chest algorithm also discusses specific cough pointers, such as cardiac abnormalities, hypoxia, wheezing, recurrent pneumonia, or failure to thrive. If these are present, a pulmonary referral is warranted. Some coughs are characteristic and can point to cause, such as a barky cough as seen in croup or a paroxysmal cough seen with pertussis. In these patients, the suspected underlying condition should be treated. A cough productive of casts can suggest plastic bronchitis and should be treated accordingly.
Most otolaryngologists will encounter pediatric patients with chronic cough. Although the differential diagnoses for chronic cough in children are extensive, a thorough history and physical exam will often lead to the diagnosis. Treatment should be directed toward the specific cause when one is identified. When a nonspecific cough is present, use of pediatric-specific cough algorithm can aide in the evaluation and treatment. An algorithm-driven approach to the diagnosis and management of chronic cough in children not only improves outcomes, it also provides clinicians with a systematic approach to an often complex problem.
---
References
Kasi AS, Kamerman-Kretzmer RJ. Cough. Pediatr Rev. 2019 Apr;40(4):157-167.
Marchant JM, Newcombe PA, Juniper EF, Sheffield JK, Stathis SL, Chang AB. What is the burden of chronic cough for families? Chest. 2008 Aug;134(2):303-309. doi: 10.1378/chest.07-2236. Epub 2008 Jul 18. PMID: 18641100.
Kennedy AA, Anne S, Hart CK. Otolaryngologic management of chronic cough in school-aged children: a review. JAMA Otolaryngol Head Neck Surg. 2020 Nov 1;146(11):1059-1064. doi: 10.1001/jamaoto.2020.2945. PMID: 33022062.
Chang AB, Glomb WB. Guidelines for evaluating chronic cough in pediatrics: ACCP evidence-based clinical practice guidelines. Chest. 2006 Jan;129(1 Suppl):260S-283S. doi: 10.1378/chest.129.1_suppl.260S. PMID: 16428719.
Hay AD, Wilson AD. The natural history of acute cough in children aged 0 to 4 years in primary care: a systematic review. Br J Gen Pract. 2002 May;52(478):401-409. PMID: 12014540; PMCID: PMC1314298.