Published:
February 20, 2023
---
NEW! Expert Consensus Statement
LISTEN: Podcast now available for Management of Pediatric Persistent Obstructive Sleep Apnea after Adenotonsillectomy
---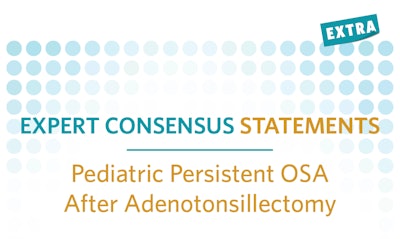 The Expert Consensus Statement (ECS): Management of Pediatric Persistent Obstructive Sleep Apnea (OSA) after Adenotonsillectomy was published online in Otolaryngology–Head and Neck Surgery on January 26. Stacey L. Ishman, MD, MPH, chaired the ECS development panel, which comprised of an expert panel of clinicians, nominated by stakeholder organizations. The purpose of the ECS is to identify areas of consensus related to the assessment, management, and postoperative care of persistent OSA in children 2-18 years of age. The primary aim was to develop statements that would address areas of controversy, identify areas where experts agree on best practices, and improve the quality of care for pediatric persistent OSA patients. 
The panel was able to reach consensus on 34 statements after three iterative Delphi method surveys. An additional 18 statements failed to achieve consensus. The statements were grouped into the following categories: general, patient assessment, management of patients with obesity, medical management, drug-induced sleep endoscopy, surgical management, and postoperative care.
Areas where knowledge gaps and lack of evidence exist identified opportunities for future research. In the meantime, clinicians can use these statements to establish care algorithms, improve clinical care, and identify areas that would benefit from future research.
The AAO-HNSF recognizes the valuable contributions made by Dr. Ishman and the panel in the development of this new ECS.
Read ECS: Persistent OSA now by visiting: https://aao-hnsfjournals.onlinelibrary.wiley.com/doi/abs/10.1002/ohn.159