Published:
February 20, 2023
---
A Surge of Pediatric Intraorbital and Intracranial Infections
Otolaryngologists work together to understand and treat the recent increase in infections.
---
Abhita Reddy, MD, MBA, Pediatric Otolaryngology Committee member
---
When Albert H. Park, MD, emailed pediatric otolaryngology chiefs in early December gauging the frequency of periorbital abscesses across the country as a surge hit the University of Utah, a flurry of responses from Florida to Connecticut, and Virginia to California quickly flooded the distribution list. Similar stories of intraorbital and intracranial complications from sinusitis or otitis were coming out of tertiary-care facilities from all over the country. Although multiple institutions had already initiated early efforts to better understand what was happening, a consensus was reached within hours to consolidate activities and share data.
At the Cedars-Sinai main campus, most of our patients had already been seen in the preceding weeks by pediatricians, in urgent care, and/or the emergency room around the region. Presenting symptoms included not only the typical sinonasal complaints, but frequently also headaches, vomiting, visual complaints, or other additional symptoms. Some were placed on oral antibiotics, others only on nasal sprays and other supportive treatment regimens. Although our pediatric otolaryngologists, ophthalmologists, and neurosurgeons have been on high alert for these potential complications, the community more broadly seemed to be relatively unaware.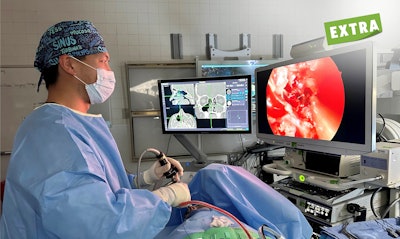 A little further out from the main campus, Alexis Rieber, MD, a fellowship-trained pediatric otolaryngologist who sees patients of all ages in our Pasadena, California, location provides this account, "I've taken on more acute management in my practice as pediatricians and urgent cares have become overloaded. I've (re)learned to diagnose common viral exanthems as well as manage croup and reflux and seen an exponential increase in patients meeting criteria for tympanostomy tubes. I went from about two tube cases a month to four to five a week." Although she has not seen any cases with complications recently, she is on the lookout.
The early days of the pandemic required frequent communication among the pediatric otolaryngology leaders. In addition to the information sharing via emails, Mark E. Gerber, MD, of Phoenix Children's Hospital said more was needed and initiated scheduled, informal Zoom meetings. "In March of 2020, when the Pediatric OTO-HNS Division Chief Forum was formed, many leaders were searching for how to best manage the challenge of caring for our patients and keeping our teams safe. The open discussions helped many of us collectively guide the way forward at a time when the path was not clear."
Clinical and operational information was shared eagerly. Commiseration and social connection were perhaps just as critical. Although the frequency of the meetings and emails have decreased since those early days, those lines of communication and the spirit of openness and collaboration persist.
There are a multitude of theories as to why we are seeing the surge in frequency and severity of infections. With the pediatric otolaryngology community more connected than ever, I have no doubt that our colleagues will soon not only achieve a better understanding of the patterns and trends, but also provide the insights we need to improve diagnostic and treatment plans for our pediatric patients.
---
Resources
Khuon D, Ogrin S, Engels J, Aldrich A, Olivero RM. Notes from the Field: Increase in Pediatric Intracranial Infections During the COVID-19 Pandemic — Eight Pediatric Hospitals, United States, March 2020–March 2022. MMWR Morb Mortal Wkly Rep 2022;71:1000–1001. doi: http://dx.doi.org/10.15585/mmwr.mm7131a4
Increase in Pediatric Intracranial Abscess Cases Seen During COVID-19; Increases seen in isolated intracranial abscess and sinusitis complicated by intracranial abscess during early COVID-19 pandemic. Physician's Briefings (August 11, 2022). Access on February 12, 2023. https://www.physiciansweekly.com/increase-in-pediatric-intracranial-abscess-cases-seen-during-covid-19/
Blitz SE, McMahon JT, Chalif JI, Jarvis CA, Segar DJ, Northam WT, Chen JA, Bergmark RW, Davis JM, Yawetz S, Arnaout O. Intracranial complications of hypercoagulability and superinfection in the setting of COVID-19: illustrative cases. J Neurosurg Case Lessons. 2022 May 23;3(21):CASE22127. doi: 10.3171/CASE22127
Accorsi EK, Chochua S, Moline HL, Hall M, Hersh AL, Shah SS, Britton A, Hawkins PA, Xing W, Onukwube Okaro J, Zielinski L, McGee L, Schrag S, Cohen AL. Pediatric Brain Abscesses, Epidural Empyemas, and Subdural Empyemas Associated with Streptococcus Species - United States, January 2016-August 2022. MMWR Morb Mortal Wkly Rep. 2022 Sep 16;71(37):1169-1173. doi: 10.15585/mmwr.mm7137a2
Ljubimov VA, Babadjouni R, Ha J, Krutikova VO, Koempel JA, Chu J, Chiarelli PA. Adolescent subdural empyema in setting of COVID-19 infection: illustrative case. J Neurosurg Case Lessons. 2022 Jan 24;3(4):CASE21506. doi: 10.3171/CASE21506