---
Register Today and Start Exploring What's New at the Annual Meeting
The Annual Meeting in Nashville offers plenty of new opportunities and enhanced offerings for your benefit.
---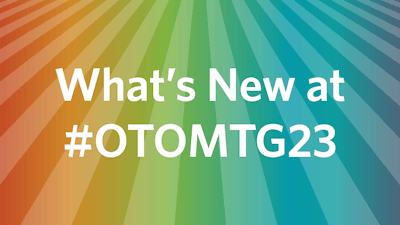 The AAO-HNSF 2023 Annual Meeting & OTO Experience will feature another round of innovative programming and dynamic events based on attendees' feedback. View the Education Program Preview and Schedule at a Glance to start planning your #OTOMTG23 experience. Below is a list of new additions and enhanced offerings, many of which focus on bringing together the community for important discussions.
ABOHNS Special Session: Upcoming Changes to the Oral Certifying Exam
American Board of Otolaryngology – Head and Neck Surgery (ABOHNS) Executive Director Brian Nussenbaum, MD, MHCM, will lead a Special Session discussing the upcoming changes to the Oral Certifying Exam for initial board certification. This Special Session is part of the EVP/CEO Spotlight Series.
New Track! CME ENThusiast
For the attendee who wants to optimize their CME/MOC credit-earning potential, the AAO-HNSF is excited to offer this program enhancement. The CME ENThusiast Track will feature back-to-back sessions every hour of the meeting beginning Sunday following the Opening Ceremony, and will run continuously from 7:45 am to 6:30 pm daily, except for Wednesday, which will conclude at noon at the adjournment of the meeting. By attending all four days, you have the potential to earn up to 35 AMA PRA Category 1 CreditsTM.
Coffee Talk with the PPSG: Tips and Tools for Success
Formerly known as Business Solutions for Breakfast, Coffee Talk with the Private Practice Study Group (PPSG) will return for its second year. Thought leaders from the AAO-HNS PPSG will lead roundtable discussions on key business challenges. Each event will offer the opportunity to discuss the most current touch points affecting physician practices as well as receive best practice pearls to help optimize the management of your practice from experts across the U.S. This will mirror some of the discussions that have been so popular on the PPSG ENT Connect community forum.
Crucial Conversations
A diverse group of esteemed experts led by Albert L. Merati, MD, will host a pivotal and in-depth 90-minute discussion focused on the future of otolaryngology education. With the collective wisdom of these thought leaders, this dialogue will navigate complex questions such as "how do we balance the needs of the entire field with the needs of academic programs?"
Great Debates
Prominent thought leaders will debate some of the specialty's most contentious issues during this year's Great Debates. Now in its third year, the 2023 Great Debates will feature some newly enhanced aspects including cross-specialty debating.
International Day
With a renewed focus on our international members and attendees, this year's International Day will feature several can't miss events including the International General Session, International Advisory Board Meeting, and the return of the International Reception (all international attendees are invited). Learn more about the Global Events taking place during the Annual Meeting.
Medical Student Track
Curated especially for medical students, these sessions include the Board of Governors Student Forum with Lunch, Harry Barnes Medical Society Student Event, Scientific Poster Tours hosted by the Young Physicians Section, and more.
Office Hours
Office Hours are back again in 2023. These large but casual discussions, led by subject matter experts focus on clinical and professional topics during lunchtime. Each discussion will be audience-driven and will feature "heavy hitters" from the different specialty areas. Ask a tough question or bring a case for the group to discuss.
Simulation Education at the "Simulation Center"
Simulation education at the Annual Meeting continues to grow on a yearly basis. This year in Nashville, there will be 30+ interactive, hands-on sessions to enhance surgical skills training at no extra charge. Given the growth of this education track, all sessions will take place in "Simulation Center" at the Omni Nashville Hotel, conveniently located across the street from Music City Center. In addition, the popular SIM Tank competition and Simulation Reception & Showcase will be held there.
Wellness Activities: Sunrise Yoga and OTOs on the Run (back again)
After a hiatus in 2021 and 2022, wellness activities make their highly anticipated return during the AAO-HNSF 2023 Annual Meeting & OTO Experience. This year's wellness activities include Sunrise Yoga and OTOs on the Run (with a guided run through Nashville's most popular sights). The activities will be held Sunday through Tuesday, providing attendees the flexibility to attend both and incorporate these wellness activities into their schedules.
Other Helpful Links for your 2023 Annual Meeting Planning
The 2023 Annual Meeting webpages are being updated frequently so check back and stay connected via the Bulletin and OTO News and follow us on our social media channels: Facebook, Twitter, Instagram, and YouTube.