Published:
August 26, 2022
---
AAO-HNSF Humanitarian Travel Grant Report: Project Ear
Michael M. Li, MD, and Akash N. Naik, MD, traveled to the Los Alcarrizos in the Dominican Republic to participate in the biannual Project Ear trip, led by Edward E. Dodson, MD.
---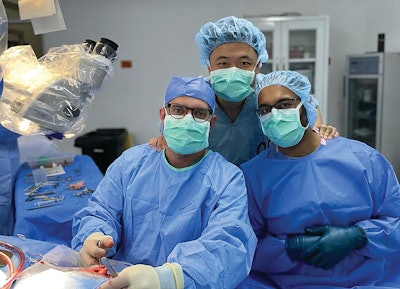 Michael Li, MD, and Akash N. Naik, MD
---
Thanks to the AAO-HNSF Humanitarian Travel Grant, we were able to travel to the Los Alcarrizos in the Dominican Republic to participate in the biannual Project Ear medical mission trip, led by Edward E. Dodson, MD. For over 25 years, Dr. Dodson has been helping the underserved population of Los Alcarrizos, while simultaneously building the foundation for otologic surgery at the nearby Hospital Dr. Salvador B. Gautier in Santo Domingo. Through the years, Dr. Dodson has not only donated microscopes, drills, and supplies to the residency program at the Gautier hospital, but he has educated generations of Dominican residents. He helped train local otolaryngologist, Roberto Batista, MD, to become one of the only Dominican physicians to perform chronic ear procedures as well as cochlear implants. During our weeklong stay, we had the opportunity to operate at both the mission hospital in Los Alcarrizos and the Gautier teaching hospital. In Los Alcarrizos, we each performed several surgeries for cholesteatoma and tympanic membrane perforation. In total, our group, which also included Laura A. Matrka, MD, a laryngologist from The Ohio State University Wexner Medical Center, performed over 30 surgeries over the course of the week including high-complexity airway reconstructions. Otolaryngology residents from the Gautier, one of only two otolaryngology residency programs in the country, came each day to operate and learn from Dr. Dodson.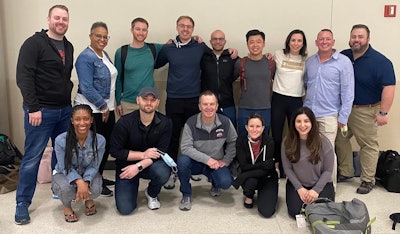 We also had the opportunity to observe and participate in two head and neck cases at the Gautier: a total laryngectomy with bilateral neck dissections and a revision parotidectomy. It was an eye-opening experience to witness firsthand the public hospital's lack of equipment and surgical instruments for the same procedures that we perform here in the United States. It truly made us appreciate all the resources and opportunities at our disposal. For the Gautier residents, they are responsible for setting up the operating rooms, cleaning instruments after cases, and even making lists of supplies for patients to buy, often at their own expense. Despite their limited resources, they were excellent surgeons, and it was incredibly valuable to learn and watch other ways to perform these cases.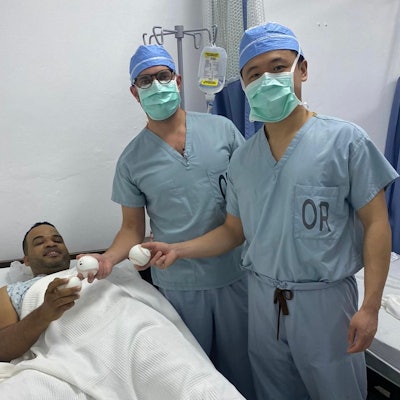 Aside from operating, one of the best parts of the trip was the genuine appreciation and kindness shown by patients and hospital staff. One particular memory that we will always cherish was when we delivered two flexible laryngoscopes donated by the Department of Otolaryngology at The Ohio State University Wexner Medical Center to the local otolaryngology residents and faculty. Witnessing the pure joy, excitement, and gratitude for equipment we have often taken for granted was humbling. 
An additional aspect of Project Ear that was especially rewarding was working with colleagues from anesthesia, nursing, and administration who also joined the trip. Working in such close proximity helped break down the usual barriers that exist in the hospital setting and created a more congenial environment back home. Project Ear was one of the most rewarding things each of us has participated in since starting residency. We both hope to return as attendings and continue the incredible work Dr. Dodson has carried on for over 25 years.