Published:
August 26, 2022
---
Foundation Education: Year in Review
As education leaders at the Foundation, we are committed to ensuring that we are adapting and evolving to meet the growing education demands of healthcare providers.
---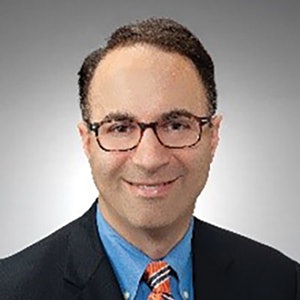 Jeffrey P. Simons, MD, MMM, AAO-HNSF Coordinator for Education
---
Core to the mission of the American Academy of Otolaryngology–Head and Neck Surgery and its Foundation (AAO-HNS/F) is education. The COVID-19 pandemic's impact on medical education and professional training has been profound. As education leaders at the Foundation, we are committed to ensuring that we are adapting and evolving to meet the growing education demands of healthcare providers.
OTO Logic is the #1 Online Source for Otolaryngology Education 
OTO Logic, the AAO-HNSF online otolaryngology education source, continues to reflect that adaptation. In the past year, our data analytics revealed that the number of returning learners has doubled from the previous year. As the AAO-HNSF 2021 Annual Meeting & OTO Experience pivoted to a hybrid event, the number of CME/MOC courses reached a new record, increasing from 400 CME/MOC courses in 2020 to 824 in 2021. This growth would not have been possible without the impressive number of faculty who offered their time, expertise, and flexibility to deliver presentations and courses, both in person and on demand.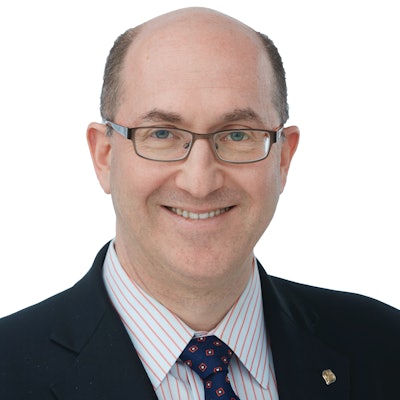 Brian Nussenbaum, MD, MHCM, Executive Director, American Board of Otolaryngology – Head and Neck Surgery (ABOHNS), addressed Foundation education leaders at the Spring Education Steering Committee meeting held in May 2022. The ABOHNS provided insightful feedback and continuing certification data analytics. As part of that presentation, the AAO-HNSF learned that we are ranked the No. 1 top provider of CME/MOC otolaryngology education (2021 and 2020) as reported to the Accreditation Council for Continuing Medical Education (ACCME). Ranked second was the American Academy of Sleep Medicine, and third was the American Medical Association.
The Proof Is in the Pudding
It is one thing for me to tell you these numbers, but it is more important for me to demonstrate to you the value of what the AAO-HNSF education has to offer. We invite you to check out the free CME activities offered, selected from the variety of learning formats available in www.OTOLogic.org. When you log in, search under the tag titled "Free CME."
Building Education for the Profession
Here are some of our accomplishments this year. I want to emphasize how the Education Steering Committee, members of the nine Education Committees with nearly 300 volunteer members, and Education staff, led by Tirza Lofgreen, CHCP, Senior Director, Professional Education & Digital Learning, have worked on your behalf to advance otolaryngology education. 
Launched eight new sections of FLEX, each offering nine different creative and contemporary learning modalities. 
Led sessions at the Annual Meeting focused on cases and controversies on obstructive sleep apnea and neoplasms, as well as lunchtime table-topics discussions based on this year's FLEX topics. 
Expanded offerings to nearly 20 simulation education sessions and hands-on surgical skills training via a collaboration of the Simulation Education Committee and the Annual Meeting Program Committee. 
Developed 15 new online digital courses.
Released 400+ new case-based questions with rationales in OTO Quest – Knowledge Assessment Tool.
Continued collaborative initiatives with ABOHNS to support CERTLink™ with 4,569 diplomates who successfully completed the program in 2021. 
Provided clinical and practice management articles in each edition of the Bulletin ("From the Education Committees" and "Pearls from Your Peers"). 
Offered 1,637 activities in OTO Logic and welcomed 7,821 new learners.
New Offerings 
Otolaryngology Patient Scenarios
This past year, Foundation education volunteers and original authors completed the Otolaryngology Patient Scenarios (OPS) library—formerly the ABOHNS Self-Assessment Modules (SAMS). There are more than 60 patient-based scenarios to assess knowledge and gain mastery. Each course offers 1.0 CME/MOC credit. 
OTO Media Gallery
Members now have free access to a searchable gallery of otolaryngology images and surgical video procedures. This visually elegant platform has been launched to share, store, track, and manipulate our growing assets. We gratefully acknowledge the image donations from Eiji Yanagisawa, MD, and AAO-HNS/F Past President Eugene N. Myers, MD, FRCS Edin (Hon). The platform includes a dynamic search function with the ability to search by subspecialty, topic, diagnosis, and other keywords as well as the option to download to use in courses, presentations, and more!
Serious Games
If you didn't get an opportunity to take the first course on Complex Airway Management Simulation, be sure to visit OTO Logic. The course assists learners to identify the critical steps to obtain and secure a difficult airway on a patient who has a large supraglottic mass that is bleeding. We will be releasing our second serious game on the topic of injectable fillers next year. The Facial Plastics & Reconstructive Surgery Education Committee will be collaborating with the Simulation Education Committee to build this new course. 
I would like to especially acknowledge and extend my gratitude to the following Education Steering Committee leaders for their dedication and service during their term as Chair of their respective committees.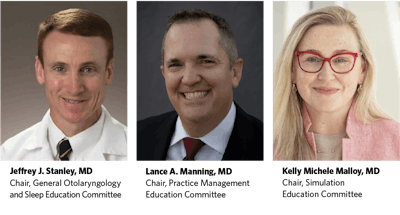 Secure FLEX Early-Bird Pricing by September 14. For more information, please visit https://www.entnet.org/education/flex/.