Published:
February 28, 2022
---
The 2022 Global Grand Rounds Webinar Series Kicks Off with Record-breaking Attendance
Global Leaders Discuss Chronic Rhinosinusitis with Nasal Polyps and Biologics
---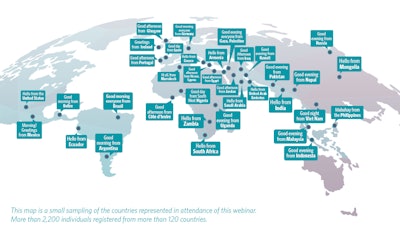 The AAO-HNSF 2022 Global Grand Rounds (GGR) webinar series was kicked off on February 12 by Mark E. Zafereo, Jr., MD, AAO-HNSF Coordinator of International Affairs. The topic demonstrated to be one of keen interest across the global otolaryngology community with more than 2,200 registered attendees from approximately 120 different countries—the largest to date!
The hour and a half webinar, "Chronic Rhinosinusitis with Nasal Polyps and Biologics," was moderated by J. Pablo Stolovitzky, MD, and included the following distinguished panel of presenters: Wytske Fokkens, MD, PhD (Netherlands); Joseph K. Han, MD (United States); Dong-Young Kim, MD, PhD (South Korea); and Fabrizio Ricci Romano, MD, PhD (Brazil).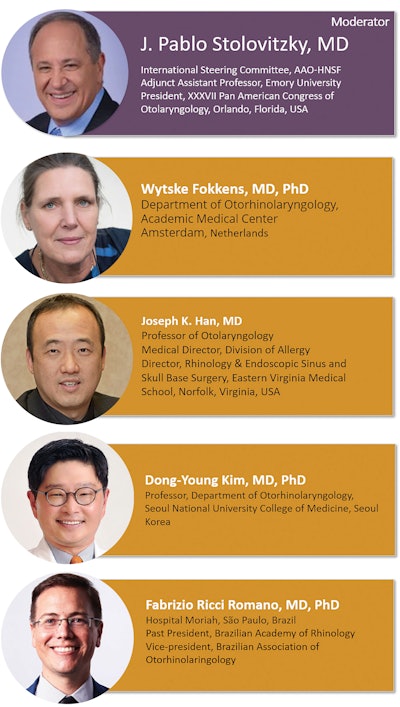 Dr. Stolovitzky welcomed attendees, noting, "We have a tremendous faculty with outstanding thought leader experience as we continue to weave the world of otolaryngology through the International Global Grand Rounds." The presentation was divided by each of the faculty detailing the use of biologics in treatment for chronic rhinosinusitis with polyps (CRSwNP) within their respective countries. 
Each presenter shared their real-life experiences with the use of biologics, including the criteria for determining patient eligibility for treatment. Another common theme expressed was the cost of biological treatments.
Dr. Han was the first faculty to present, representing the United States. He described a recently published stepwise treatment algorithm for an effective and safe treatment option of biologics for CRSwNP patients and his real-life experiences with the use of biologics compared to the results in clinical studies. He also discussed challenges related to cost and coverage as well as dosage compliance by patients, especially during the pandemic. 
He shared mechanisms he follows to overcome some of these challenges. They include documenting detailed treatments given to patients; incorporating a multidisciplinary approach; providing the nasal polyp score in the procedure notes to educate physicians/healthcare providers to describe size of nasal polyps to middle or interior turbinate; and having more frequent office visits to see how patients respond to the treatment, allowing for open and honest dialogue about dosing regimen. 
Dr. Fokkens followed with the Netherlands experience discussing the science and guidance surrounding two dominating questions that occur in daily practice as it relates to use of biologics in the management of CRSwNP:
How do we determine which patient should get a biological based on criteria?
And then, which biological to give a patient?
She noted the value of biological treatments as a new option in the management of Type 2 CRSwNP with a great deal of effect both on symptoms and on the polyp volume. She shared the approach they took in the Netherlands to address coverage challenges of this costly treatment and encouraged attendees to reach out to the insurance companies in their countries to reiterate that when expert physicians use proper criteria for a limited group of patients, most will benefit from this new treatment. She also shared the guidance that came from the EPOS2020 Guidelines to Rhinosinusitis (https://epos2020.com/). 
Biologics in Korea were more recently approved in 2021. Dr. Kim noted that as a result, the Korean Rhinology Society is updating the Guideline for CRS to now contain biologics. The real-life experiences to date have demonstrated that biologics are expected to increase efficacy of the nasal polyp score, nasal congestion score, CT score, SNOT-22, and asthma control with no serious side effects. 
Dr. Kim also shared that, even though costly, many rhinologists in Korea, are willing to prescribe biologics. He equated that phenomenon to the fact that, like in Western countries, the proportion of Type 2 CRSwNP is heavily increasing in Korea and now there is finally another "weapon to control" CRSwNP besides corticosteroids. 
Dr. Romano rounded off the panel of experts with a discussion of Brazil's status in using biologics in the management of CRSwNP and the challenges faced as a low-resource county when the cost is high, but the funding is limited.
Brazil is currently undergoing a national multicenter study to determine the predominance of Type 2 CRSwNP and having that information will help better define challenges related to cost and coverage. The patient journey in Brazil is very similar to those around the world with some requiring multiple revision surgeries. He noted, "a great indication of the biologics is to get these patients out of the cycle." 
Questions regarding the usage of biologics in the management of CRSwNP patients seemed similar across borders and around the world. Here are a few that the panelists answered at the end of the webinar during the Q&A session: 
Will there ever be a time that we start patients on biologics before surgery? 
Who is paying for the biologics? 
Can you do biologics in lieu of surgery?
When do you start biologics for a patient who fails surgery? How long after they fail? 
As the webinar ended, it was the welcome remarks at the start of the GGR that resonated from Ken Yanagisawa, MD, AAO-HNS/F President, "It is always such a pleasure to see colleagues from around the world to join together, learn, and collaborate. It represents the core of our continued dedication to building and maintaining excellent international relationships, one of the core tenets of our Academy's Strategic Plan."
If you missed this webinar, a recording of it will be available, free of charge.