Published:
February 1, 2022
---
From the Education Committees: Management of Pediatric Thyroid Nodules
Thyroid nodules are present in 1%-5% of people under 18 years of age. Additionally, pediatric thyroid nodules are more likely to be malignant, with 22%-26% of them cancerous, compared to about 5% in adult patients.
---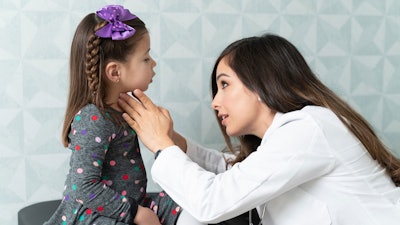 Meredith Merz Lind, MD, Chair, Pediatric Otolaryngology Education Committee
---
While less common in children than adults, thyroid nodules are present in 1%-5% of people under 18 years of age. Additionally, pediatric thyroid nodules are more likely to be malignant, with 22%-26% of them cancerous, compared to about 5% in adult patients.1 New cases of thyroid cancer in pediatric patients also appear to be increasing in the United States, with thyroid carcinoma now the second most common cancer seen in girls.
Papillary thyroid carcinoma is by far the most common subtype of differentiated thyroid cancer, representing about 90% of cases. Pediatric patients are more likely to have multifocal and locoregional disease at presentation, and younger patients are more likely to have persistent disease or recurrence. Given the different risks, outcomes, and goals of therapy in children, a pediatric-specific clinical practice guideline was developed and published by the American Thyroid Association in 2015.2
Many guidelines for evaluation of thyroid nodules in children are similar to those in adults; however, there are a few recommendations that differ. Included here is the recommendation that clinical context, including genetic conditions or history that increases the risk of thyroid carcinoma, and ultrasound characteristics, such as hypoechogenicity, irregular margins, increased blood flow, microcalcifications, and abnormal cervical lymph nodes, are considered in the decision to obtain a fine needle aspiration (FNA) biopsy of a dominant thyroid nodule. 
It is also recommended that all FNA performed in children be done with ultrasound guidance and that surgery (total thyroid lobectomy with isthmusectomy) is favored over repeat FNA in children with nondiagnostic FNA. Surgery is also recommended for nodules > 4 cm in size, even with benign pathology, due to a high false-negative rate in FNA in these nodules. Finally, it is recommended that thyroid scintigraphy be performed in the case of a thyroid nodule associated with suppressed thyroid stimulating hormone and that nodules confirmed to be autonomously functioning ("hot nodules") be treated with surgery, as long-term effects of medical treatment options are not well understood in pediatric patients.2
When differentiated thyroid carcinoma (DTC) is identified in a pediatric patient, a comprehensive neck ultrasound is required to help identify locoregional metastases and optimize surgical planning.1 Additional imaging with computed tomography or magnetic resonance imaging may also be considered in certain clinical scenarios. Total thyroidectomy is recommended for most pediatric patients with DTC. This is due to the increased risk of bilateral disease and decreased risk of local recurrence when bilateral surgery is performed. Central neck dissection is recommended in patients with clinical evidence of extrathyroidal invasion or gross lymph node disease and should be considered for all patients with DTC to help direct the need for additional therapy. Routine lateral neck dissection and berry picking are not recommended; however, lateral neck dissection should be performed in patients with confirmed lateral neck disease. Measurement of intact parathyroid hormone in the immediate postoperative setting can help to identify those patients at risk of developing hypocalcemia and allows for early treatment with calcium and calcitriol.2
It is recommended that pediatric thyroid surgery be performed only in hospitals with the full spectrum pediatric care, including a high-volume thyroid surgeon, pediatric endocrinologist, anesthesiologist, intensive care, radiation therapist, and radiologist. These characteristics are associated with lower complications, decreased hospital stay, and lower costs.2 Treatment by multidisciplinary teams of experts has also been shown to optimize postoperative treatment and monitoring by balancing risks and benefits. For more detailed information about the evaluation and management of pediatric thyroid nodules and differentiated thyroid cancer, please refer to the eCourse in OTO Logic that reviews this topic in depth.  
References
1. Rah C-S, Kim WW, Lee Y-M et al. Recent trends in the clinicopathologic features of thyroid nodules in pediatric patients: a single tertiary center experience over 25 years. Int J Endocrinol. 2019. doi:10:1155/2019/1829043
2. Francis GL, Waguespack SG, Bauer AJ, et al. Management guidelines for children with thyroid nodules and differentiated thyroid cancer. Thyroid. 2015;25(7):716-759. doi:10:1089/thy.2014.0460