Published:
February 1, 2022
---
#BOGMTG22 Features Keynote Presentation by Kate Stewart Raise Your Voice: Paving the Path for an Equitable Future
The AAO-HNS/F Leadership Forum & BOG Spring Meeting is featuring a keynote presentation by Kate Stewart, Vice President and General Manager, ENT for Stryker, on the topic of pay parity in healthcare.
---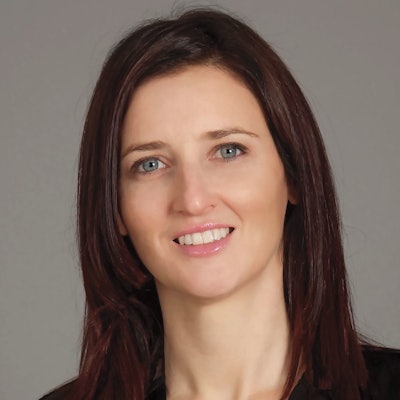 The AAO-HNS/F Leadership Forum & BOG Spring Meeting is featuring a keynote presentation by Kate Stewart, Vice President and General Manager, ENT for Stryker, on the topic of pay parity in healthcare. In an interview with the Bulletin, Ms. Stewart shares her insights on this topic and why this is a can't-miss event on April 9.
What is pay parity, and how did you become involved in advocating to close the gender pay gap?
Pay parity means ensuring equal pay for equal work. Despite significant growth of women in the labor force and increasing education attainment, gender pay parity largely continues to be an issue across multiple industries.
There are several contributing factors that are referenced in a multitude of literature. Salary anchoring, preferential promotions, career breaks impacting years of experience, and selective opportunity targeting are the most commonly cited. Companies and leaders must work to address those issues.
I am a champion for diversity, equity, and inclusion and having mentored many women across different industries that face pay parity issues, I am passionate about advocating for equal pay for equal work. I am fortunate to work for a company that values diversity, equity, and inclusion and takes the issue of pay parity seriously.
What can individuals do to make a difference and effect change?
Certainly, we have work to do to achieve gender balance and equity opportunity across the MedTech and healthcare industry, but I am very inspired by the progress we are making and by the commitment that has been shown across our industry to make change. We should continue to address unconscious bias and barriers to opportunities while prioritizing the development of females as we advance our journey. The most powerful thing we can all do as individuals is use our voice to be an advocate for change.
What are some key points that you will be discussing during your presentation?
I will address how we can collectively raise our voices to influence change.

What efforts are underway at Stryker?
An essential part of our culture has always been the respect for each individual's strengths and values. To continue our journey, we have also formalized our company commitments for diversity, equity, and inclusion. We are committed to strengthening the diversity of our workforce; advancing a culture of inclusion, engagement, and belonging; and maximizing the power of inclusion to drive innovation and growth.
More than a decade ago, we founded Stryker's Women's Network (SWN). This employee resource group works to advocate for the advancement of women. Today we have over 7,600 members in over 35 countries and I am currently president of this global organization.
Our purpose at SWN is to improve Stryker's results by fostering an open and inclusive culture, with a focus on attracting, developing, and retaining talented women, and driving active engagement of our membership.
We accomplish this by advocating for representation of women on task forces, councils, and diverse interview slates; promoting a culture committed to seeing the authentic self in others; recognizing the value all individuals bring to work; engaging with others meaningfully to cultivate an inclusive culture; and empowering our members to be advocates for themselves and others to drive the advancement of women within Stryker.
Stryker recently hosted an event, "Nevertheless, She Persisted: Paving the Path for Future Generations of Medical Devices and Women in ENT," which addressed the journey toward equality for women, including the impact we have seen on that journey over the past two years.
The event was led by the head of ENT's Research & Development department, and we discussed the steps we are taking for inclusive design, which includes products that are designed for everyone. The stories shared by our surgeon panelists about their experiences were exceptionally powerful. This led to a unified commitment to raising our voices to change the future for the next generation of ENT women.
I have learned on our journey at Stryker that listening to those impacted is critical. In 2020 as a member of CEO Action, we launched "Days of Understanding," a global initiative designed to foster more in-depth conversations around the experiences and perspectives of our employees to understand the gaps and opportunities at Stryker. The results were aggregated and shared with leadership and functional teams who reviewed and committed to actions addressing what we heard.
We are also constantly working on job requirements, skill equivalencies, and how we evaluate experience by role, which has helped to ensure leadership stays focused to benefit and pay parity.
At Stryker, we have also been very intentional about investing in the development of our female talent to help them acquire new or advanced skills, knowledge, and viewpoints and offering avenues where they can apply new ideas.
If you have questions that you would like answered during the presentation, please email them to BOG@entnet.org.