---
At the forefront
The AAO-HNSF call for nominees for Chair-elect of the International Advisory Board (IAB) was highly successful and resulted in the selection of Muaaz Tarabichi, MD.
---
Announcing the International Advisory Board (IAB) Chair-elect
The AAO-HNSF call for nominees for Chair-elect of the International Advisory Board (IAB) was highly successful and resulted in the selection of Muaaz Tarabichi, MD.
Dr. Tarabichi is a native of Syria where he grew up and started his medical education. He left Syria in 1980 and arrived in the United States as a political refugee. He then went to Montreal, Quebec, and did his residency at McGill University, during which he received the 1988 AAO-HNS Award for Excellence in Original Investigation for his study on application of finite element methods. He then returned to the Middle East and has been practicing in Dubai, United Arab Emirates, for 24 years.
Much of Dr. Tarabichi's professional life has been centered on innovating, advocating, and teaching endoscopy ear surgery (EES), being widely referred to as the "Father of EES." He struck a long-lasting friendship with the late Heinz Stammberger, MD, FRCS Ed(Hon), during years of travel teaching endoscopic techniques in ear and sinus surgery. This relationship was the seed for their mutual project–TSESI: Tarabichi – Stammberger Ear & Sinus Institute in Dubai (www.TSESI.org). The facility includes a wet lab and state-of-art broadcasting and video production facilities and offers scholarships, including travel and boarding, for younger otolaryngologists from around the world.
Dr. Tarabichi's term as Chair-elect will start at the conclusion of the AAO-HNSF 2020 Annual Meeting & OTO Experience, September 13-16, in Boston, Massachusetts, when current Chair-elect Karl Hoermann, MD, PhD, assumes the IAB Chair position. For more information about the IAB and the AAO-HNSF International Program visit https://www.entnet.org/content/international-outreach.
AAO-HNSF Board of Directors Selects Mark E. Zafereo, Jr., MD, as Board Coordinator-elect for International Affairs
Mark E. Zafereo, Jr., MD, is an associate professor of head and neck surgery at MD Anderson Cancer Center in Houston, Texas, where he also serves as section chief of head and neck endocrine surgery and associate medical director of the Endocrine Center. He has held many roles within the American Academy of Otolaryngology–Head and Neck Surgery and its Foundation over the last 15 years, particularly within the international realm, and looks forward to serving the AAO-HNSF Board in collaborative leadership of the International Program.
As Coordinator-elect, Dr. Zafereo will shadow the current Coordinator for International Affairs, J. Pablo Stolovitzky, MD. The Coordinator for International Affairs, which is a four-year term appointment, oversees implementation of the high-profile, important portfolio of AAO-HNSF's global outreach and programs and ensures alignment with the strategic plan.
AAO-HNSF Quality Resources on Allergic Rhinitis

Read the Clinical Practice Guideline on Allergic Rhinitis by visiting www.entnet.org/allergicrhinitiscpg.
In addition, review the Qualified Clinical Data Registry (QCDR) measures on allergic rhinitis. These measures were developed by the AAO-HNSF measure development workgroup in partnership with the ECRI Institute and available exclusively through the Reg-entSM registry:
AAO23 – Allergic Rhinitis: Intranasal Corticosteroids or Oral Antihistamines
AAO24 – Allergic Rhinitis: Avoidance of Leukotriene Inhibitors
To view the measure specifications and learn more, visit www.entnet.org/2020-measures.
June is National Dysphagia Month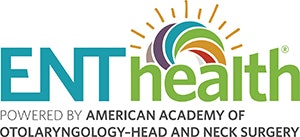 ENThealth.org offers information for your patients on these topics and more:
Dysphagia
Aging and Swallowing
Do I Have a Swallowing Problem?
For more patient information on ENThealth, search under Conditions and Treatments and Be ENT Smart for articles using the keyword "swallowing."
ENThealth.org is dedicated to helping patients. The content is developed from a team of AAO-HNS members, and information is delivered via peer-reviewed articles, interactive features, and video content featuring physicians. Learn more about the site and our contributors at https://www.enthealth.org/about-us/.
Education Opportunities

With more than 200 education modules as study guides and numerous surgical videos, OTOSource provides a wealth of free information on multiple topics. From basic immunology with regard to allergies through specific topics such as dysphagia, consider reviewing treatment options, case studies, and possible complications at www.otosource.org.
"Supporting the Specialty: Meet Our Academy Member Donors" Online Brochure
https://www.entnet.org/foundation
The AAO-HNS foundation offers its sincerest appreciation to our donors for creating a tradition of giving back to their specialty and providing opportunities for the next generation of otolaryngologists around the globe.