---
Individual and System Well-being: How Do We Resume Caring for Others during and Post Pandemic?
The insightful article "Peer Support: Taking Care of Ourselves and Each Other," by Jo A. Shapiro, MD, in the May issue inspired us to focus on four core principles during and after the COVID pandemic:
---
Julie L. Wei, MD
The insightful article "Peer Support: Taking Care of Ourselves and Each Other," by Jo A. Shapiro, MD, in the May issue inspired us to focus on four core principles during and after the COVID pandemic:
Value what we do.
Acknowledge our pain.
Rely on our professional collegial community.
Individual peer support is key.
All of us have been grappling with our own anxiety, fear, and concerns not only for our own safety, but for that of our trainees, colleagues, office staff, patients, and loved ones for what feels like a lifetime. As you read this, we have likely returned from shutdown mode to a phase of restrictive or nonrestrictive surgical and office practice. Regrettably, some of our colleagues have had to close their practices permanently due to this pandemic.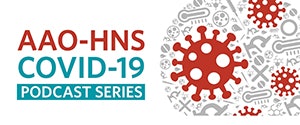 LISTEN NOW!
The AAO-HNS COVID-19 Podcast Series includes a number of episodes related to managing wellness, reducing stress, and boosting resilience.
No matter your geographic location or practice setting, each of us likely has developed a recovery plan. In addition to the logistics of resuming surgeries and seeing patients safely, hopefully you have also reflected upon and developed increased self-awareness in preparation to live our new "normal" as we resume our roles as physicians, surgeons, teachers, and colleagues.
Since governors' stay-at-home orders and mandates to stop all nonemergent elective cases and appointments, many of us have mounting anxiety over the immense backlog of cases, cancelled appointments, and revenue. Many of our staff were furloughed. Despite rapid adoption of telehealth—with perhaps surprising, even successful experiences and the likelihood of continuing telehealth in some form—we MISSED physical interactions with patients and families. Those of us who care for children ACHED to hold a child, see their smiles, hear their giggles, and steal some hugs. This pandemic robbed me of the joy of caring for and holding children of all ages, especially infants.
We surgeons are a highly driven, overachieving stereotype. Our years of training shaped our identities with immense internally and externally imposed pressures to produce in EVERY aspect of our careers. For the first time ever, some of us had "time" and "space" because we didn't live and practice in the pandemic's epicenters such as New York, Washington, or Louisiana. Those caring for adults, including pediatric ENT colleagues in New York, worked exhausting hours or were redeployed to care for COVID-19 positive adults. They experienced unimaginable stress, bearing witness to unanticipated mortality of the young and the old, sharing in the heartbreaking devastation of so many affected families. Some of us lost family members, friends, and colleagues to COVID-19, contracting it as they cared for others.
No matter our individual experiences through this pandemic, we must reflect on who we are and represent in humanity as healers and surgeons. We must admit that doctors ARE human and not immune to what threatens those we treat. We have been forced to confront our natural tendency to be in denial about our own needs. The truth is, many of us have had trauma in our lives; suffered pain and loss; have anxiety, depression, and unhealthy coping mechanisms including addiction; and have endured divorce, separation from loved ones, and broken relationships.
How many of us, if forced to be honest and vulnerable, will admit that we have neglected to invest in the loving and healing of ourselves and the most important relationships in our lives? How many have used our profession and career as a noble and convenient excuse to maintain the status quo, leaving the needs of our loved ones unmet? I mean undivided attention, time, and mindful presence for those who love us most. Who among us cares for our bodies with mindful eating? We tell our patients to avoid certain food and beverages because they cause poor health, obesity, high blood pressure, and cardiac and pulmonary diseases, yet do we consume ourselves? How many of us smoke despite performing cancer procedures or having trained in resecting parts of vital head and neck anatomy? How many of us know we must MOVE and exercise but have not made the commitment?
Resuming clinics and surgeries will never be the same because we can never "unknow" what we have seen and heard. The SARS-CoV-2 virus, as will future viruses and pathogens, taught us that we are NOT immune and will never be. Yet despite the best algorithms and protocols with appropriate PPEs, AGPs, or not, each of us will have to banish that tiny voice of fear and uncertainty every morning as we show up to see patients, perform office procedures, and be the healers as we have always been.
Many hospitals and health systems have lost employees to COVID-19 or furloughed them. Some have or will declare bankruptcy. Many colleagues lost loved ones during the pandemic to non-COVID-19 causes. This is a wake-up call. We must heed it and not waste what silver lining there may be to this pandemic. We already had a glaring epidemic of physician and provider burnout pre-pandemic, so what will happen to us now?
We can and must CHOOSE individual and collective optimism and positivity, because that is the only way forward. We can become as contagious as the virus, but with positivity, for ourselves, others, and our hospitals. But first, for our physical and emotional well-being, we must embrace where we came from—acknowledge and forgive ourselves for the lack of personal accountability. Without self-love and forgiveness, we won't be able to fully embrace and love others professionally and personally.
BE WELL, so we can leverage our collective talents and intellect to care for patients and others who desperately need us now more than ever, especially those who—as the pandemic highlighted—suffer disparities in access and care. If your well-being requires mental health support for ANY reason, please find it NOW. We need you.
During this pandemic, I went to the hospital daily and checked in with my team, stayed in my office to perform telehealth, did administrative tasks as chief, joined Webex meetings, made ED/inpatient consults, and saw urgent patients. To ensure my own physical and mental well-being, I walked during the week and continued my weekend four-mile walks and tennis. I continued witnessing the sun rise and set each day and feeling gratitude for my coronavirus-free zone. I sent positivity emails to my team and others daily. Journaling is my love; it lets me hear my inner voice and increases self-awareness. I initiated family Zoom calls every Sunday, including my amazing cousin Justin Wei who just finished otolaryngology training from Tripler Army Medical Center. We shared laughter and tears from New York, Oahu, Los Angeles, Orange County, and Orlando. Did it really take a pandemic for us to realize the love that we shared but were always "too busy" to experience?
Our Health and Wellness Committee staff continued monthly meetings and sponsored virtual peer support sessions with the psychologists who were accessible 24/7 to all residents and faculty. We even hosted a virtual happy hour! We acknowledged and showed gratitude to our hospital environmental service and security teams whose daily work kept us safe. I am indebted to volunteers in Los Angeles who, through my sister's connection, sent our hospital 2,000 hand-sewn masks and to several women in my neighborhood who dropped off masks for our hospital. The human spirit and capacity to love others is infinite, but our capacity to love ourselves has not been realized.
Dr. Shapiro is wise: "We can't fix each other's pain, but we can go a long way to helping each other through the pain." Start with self, then ask others what they need. Listen generously. Let them know they are not alone, because none of us are and we don't need to be. Inspire your hospital or practice to create a culture of well-being—volume and productivity will never be enough again.