---
#OTOMTG125 to Feature Neha Sangwan, MD, as Keynote Speaker
The AAO-HNSF is honored to welcome Neha Sangwan, MD, as the AAO-HNSF 2021 Annual Meeting & OTO Experience keynote speaker.
---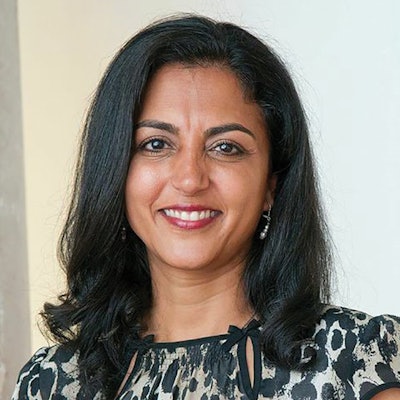 The AAO-HNSF is honored to welcome Neha Sangwan, MD, as the AAO-HNSF 2021 Annual Meeting & OTO Experience keynote speaker. As the specialty comes together to celebrate our 125th anniversary, Dr. Sangwan will provide a positive outlook on wellness for the medical community both as a whole and as individuals.
Otolaryngologist-head and neck surgeons are trained to put the patient first, leading to decades of behaviors placing the needs of oneself on the back burner. This was no truer than during the heights of the ongoing pandemic. The AAO-HNSF is setting the tone for the 2021 Annual Meeting by affording attendees access to the expertise of a presenter like Dr. Sangwan, providing the knowledge, tools, and inspiration for self-reflection, self-care, well-being, and resilience.
About Dr. Sangwan
Dr. Sangwan's style is informative, experiential, and inspiring. A gifted speaker, she uses storytelling from her experiences in both the corporate world and on the front lines of patient care to spark breakthrough experiences for others.
Both a physician and engineer by training, Dr. Sangwan is CEO and founder of Intuitive Intelligence, a leadership consulting firm. Through combining the science of medicine with the art of communication, her innovative program, the i-Five Experience™, uses scientifically proven techniques to reduce stress, build resilience, and foster individual and team accountability. An internal medicine physician who has discovered the prescription for inspiring transformation in leaders and teams, Dr. Sangwan's keynote will provide practical tools that elevate self-awareness and connect the dots between health and leadership performance.
She works with innovative companies such as Apple, Google, and American Express and also partners with healthcare institutions and universities such as Kaiser Permanente, Harvard's Brigham & Women's Hospital, Stanford University, and University of Michigan. Dr. Sangwan has pioneered programs that measurably improve metrics related to culture transformation, employee engagement, productivity, provider-patient communication, and client satisfaction. She has shared her learnings on multiple TEDx stages and also as the author of Talk Rx: Five Steps to Honest Conversations that Create Connection, Health, and Happiness.
After earning her BS in mechanical and biomedical engineering at Michigan State University, she worked as a manufacturing engineer at Motorola before attending medical school at State University of New York at Buffalo. She went on to complete her internal medicine residency at Temple University, where she practiced as a hospitalist and became a physician-partner at Kaiser Permanente in Northern California. Dr. Sangwan discovered the connections between health and productivity as she explored the root causes of her hospitalized patients' ailments. Dr. Sangwan is faculty for the Center for Mind Body Medicine and is also nationally certified by the International Federation of Coaches (ICF).